Hello dear friends! Today I am joining 10 creative bloggers for a Pinterest challenge put together by sweet Cindy of County Road 407. As soon as I found out that the topic was "heart wreaths" I couldn't wait to share my DIY shabby-farmhouse heart rag wreath with you. Before we move on, let's take a look at the Pinterest photo that was chosen as the inspiration for our challenge:
We all loved this gorgeous book page wreath styled inside a frame by The DIY Mommy. Our challenge was simply to come up with our own unique heart wreath and display it in a similar way. I have been wanting to share one of my rag wreaths here on the blog for quite some time, so this challenge was the perfect opportunity.
When I spotted this Valentine heart at Dollar Tree last year, I realized that I could use it as an inexpensive heart wreath form by removing the arrow and tinsel. I went to Dollar Tree this weekend to look for some other craft materials and I noticed that these hearts are still available this year.
Last year I made this cute Farmhouse Valentine's Day "Love" rag wreath for my Etsy shop. I used the leftover red ticking stripe cotton and ivory muslin fabric from the Love wreath for the heart wreath I am sharing today.
Since I used fabric scraps from my stash, I am not sure exactly how much fabric is needed for this wreath. It doesn't take much, so I would guess that about half of a yard of fabric (red ticking stripe and muslin or an off-white cotton) would be more than enough for the heart wreath, since it only takes a single row of alternating fabric strips/ribbon tied around the perimeter of the heart. Using coupons at Jo-Ann Fabric or Hobby Lobby, you can easily purchase enough material for under $10.00.
These types of rag wreaths are so simple to make!
DIY Skills required:
*Ability to cut fabric in strips.
*Abilitiy to tie a knot.
That's about all there is to it!
Materials needed:
*Dollar Tree heart door decor or any other type of heart form
*Red and white ticking stripe fabric, ivory muslin fabric, ivory wide lace ribbon or scraps, crocheted ribbon, knitting yarn or similar yarn cut into 7″ x 1 " or 7 " x 1 1/2 " strips
*Scissors or fabric cutter
I cut the material in both 7″x 1″ or 7″ x 1 1/2 " strips. This is one of those crafts where perfection isn't necessary or even desired. If you can't cut a straight line (like me) or if some of the strips are a little wider than others, no worries. Once the strips are tied on the wreath form, the size variations are barely noticeable. The fraying of the fabric also adds to the "farmhouse charm" of the wreath.
In addition to the ticking and muslin, I used a stretchy, wide lace ribbon from my stash (purchased last year from Hobby Lobby) and some crocheted ribbon from Dollar Tree. For a little extra texture I added some fuzzy knitting yarn that I found on clearance for .99 last spring. I just kept cutting fabric and ribbon as needed until I had finished the wreath.
DIY!
If you are using the Dollar Tree heart, begin by removing the tinsel and arrow. If you can't find this particular heart, you can always make a simple heart form using a wire coat hanger or similar wire.
Starting at any point on the heart form, simply wrap a strip of fabric or ribbon around the form and tie it in a single knot.
Repeat the process, alternating fabric and ribbon until the entire form has been covered.
For the most part I alternated the ticking stripe and muslin, but every now and then I would get distracted and put two of the same fabric back to back which really isn't noticeable at all in the finished wreath. I spaced the crocheted ribbon, lace ribbon and yarn further apart in random patterns all around the wreath, just "eyeballing" the spacing until it looked visually appealing.
Other than cutting the strips of fabric, it really doesn't take long to make this wreath. Once you have cut all the strips you can sit and tie them on while you are watching your favorite show or maybe you can just sit quietly somewhere to daydream while tying away. Before you know it, the wreath will be finished and ready to hang. I find making rag wreaths to be rather relaxing!
I am really happy with how the heart wreath turned out! Using our Pinterest challenge photo as inspiration, I displayed the wreath inside of an antique frame using some of the crocheted ribbon as a hanger.
After I "finished" the wreath I still felt like it needed a little something more. I remembered this pretty vintage sheet music garland sent to me by my sweet Instagram friend, Becky @sweetcottagedreams (gorgeous account!) I draped the garland loosely around the wreath and frame for an extra touch of vintage goodness.
The garland gives the wreath a bit more of a shabby chic look along with the lace, yarn and crocheted ribbon I used.
I just finished packing away all of the festive, red Christmas decorations and transitioned our home to neutral winter decor, so I'm not quite ready to see a lot of red Valentine's Day decor just yet. I am not sure exactly where this pretty wreath is going to be displayed or if I will use it in some type of Valentine's Day vignette, but for now it is simply hanging on the wall at the top of the stairs, layered inside two other lovely antique frames.
If you are looking for a quick, easy, and inexpensive farmhouse style craft project for Valentine's Day I encourage you to give this heart wreath a try! You can also make a circular rag wreath similar to my "Love" wreath by following the same steps and using a round wreath form.
I am finishing up another heart rag wreath using some different materials and it is turning out so pretty! I am looking forward to sharing it with you, so do plan to stop back by this weekend to check it out. If you enjoy these types of crafts and vintage home decor, be sure to subscribe by email to receive my weekly newsletter with all the latest posts and upcoming events.
Now it's time to be inspired by all of the other unique heart wreaths from the Pinterest challenge. Click on each link below to take a look at each respective post. I think they all look so beautiful!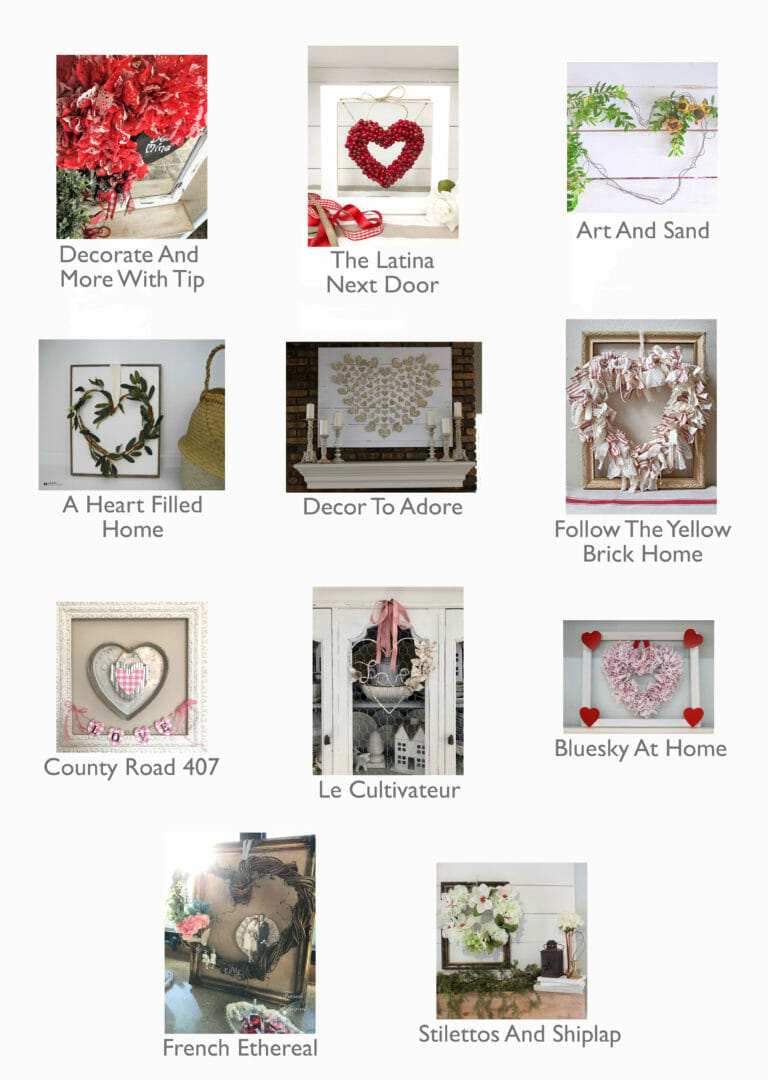 Thank you so much for visiting today!
Amber