Add classic elegance to your Christmas tree or holiday vignettes with an easy, inexpensive and Elegant DIY Christmas ornament using Mod Podge, paper napkins and craft ribbon.
I am excited to once again be joining a talented group of blogging friends for a monthly Pinterest Challenge hosted by my sweet friend, Cindy of County Road 407. If you are coming over from The House on Silverado, or if you just happened to stop by today, I am so glad you are here!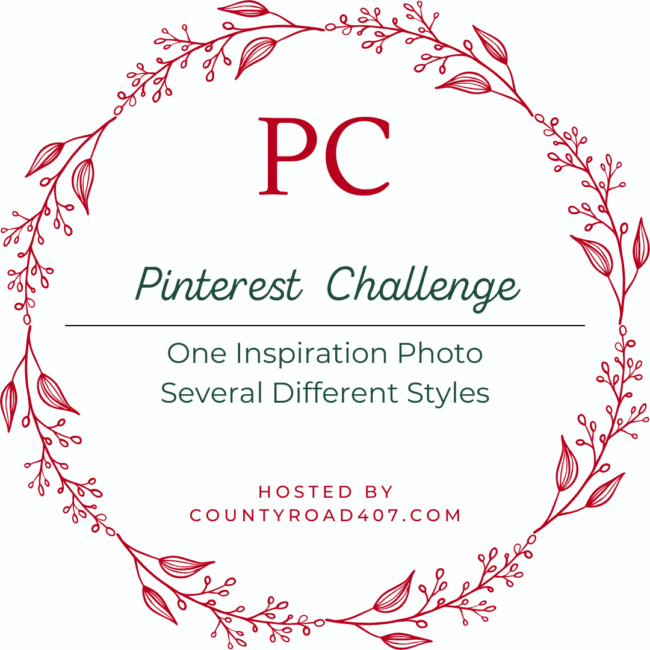 This month's theme is DIY Christmas ornaments…so fun!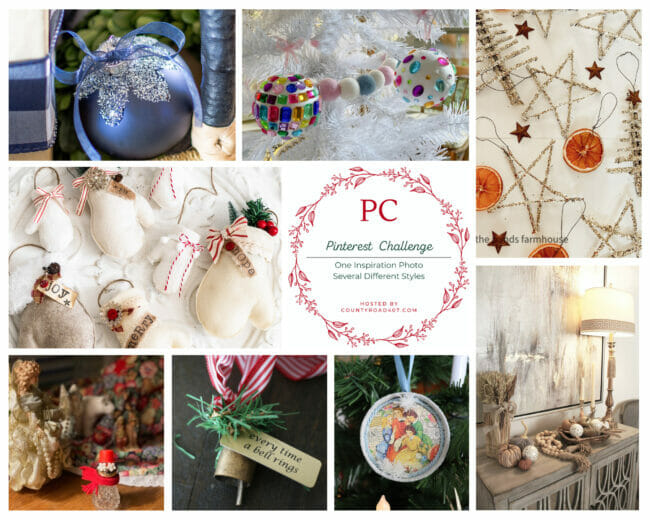 There are 17 different DIY ornaments to check out on the hop today, so prepare to be inspired! You find link's to each tutorial at the end of this post.
How to Make an Easy and Elegant DIY Decoupage Christmas Ornament
Supplies needed:
Plastic ornament from Dollar Tree or any old plastic ornament from your stash. * Choose a bulb color that is close to the color of napkins you will be using since the ornament can sometimes show through the thin paper.

Paper napkins (I used an ornate gold and ivory napkin for my first ornament)

Mod Podge or Elmer's Glue slighlty watered down

Foam Craft Brush

Scissors

Hot glue gun

Gold Acrylic Paint (optional)

Ribbon for embellishing (optional)
There are always beautiful napkins at TJ Maxx and Home Good for under $5.00. I paid 2.99 for the ones shown here. I also have plaid paper napkins I can't wait to try out.
The process is very straightforward and easy, but it can be a little messy and sticky. Simply brush Mod Podge on the ornament in sections and cut or tear small peices of the napkin and press onto the wet areas. Then brush another coat of Mod Podge on top of the napkin piece and gently smooth into place with your fingers. * I used a plastic cup as I worked instead of trying to hold the ornament with wet Mod Podge.
I cut and tore pieces as I went along so I don't have a picture of that process. Next time I will cut random small strips and pieces ahead of time to make the process go faster. My napkin had a busy pattern so I didn't try to line up the design exactly all over the ornament, but using larger pieces showed off the pattern pretty well. It is fine to overlap sections and even cut tiny pieces to fill in any gaps.
*TIP: As you get sections finished, use a hair drier on low setting to speed up the drying process.
Repeat the process until the entire bulb is covered. Don't worry about getting the napkin perfectly smooth or a few wrinkles. Just keep pressing gently until it is as smooth as you can get it. If you overwork the wet napkin pieces they will just tear. I used a little but of gold foil acrylic paint and dabbed over any thin areas and to give it the ornament just a bit of subtle shimmer.
After I was finished with the decopauge process, I felt like the ornament was pretty, but a little plain and needed some type of embellishment. I headed to my trusty craft abyss room and found a bag of misc. gold ribbon.
I layered two types of ribbon around the center of the ornament. Use hot glue to attach the ribbon at the back of the ornament.
I also used gold metallic paint to paint the plastic top of the ornament and changed out the original string with tiny gold foil rope ribbon. I just love how this ornament turned out! It certainly has that vintage, French country look I love. This project has given me the inspiration to make different orb bowl fillers for year round use.
I don't have my tree up yet, but the ornament looks pretty on display on the mantel for now. I think several of these ornaments would make a beautiful bowl fillers too.
Can we just take a moment to appreciate this before and after? It's amazing what you can do with a simple and inexpensive plastic ornament, a napkin and basically glue! I can't wait to make a few more. I also have plaid tissue paper which I plan to try next. I definitely want to look for blue and white paper napkins, so I can make some Chinoiserie ornaments like Christy's at our Southern Home too!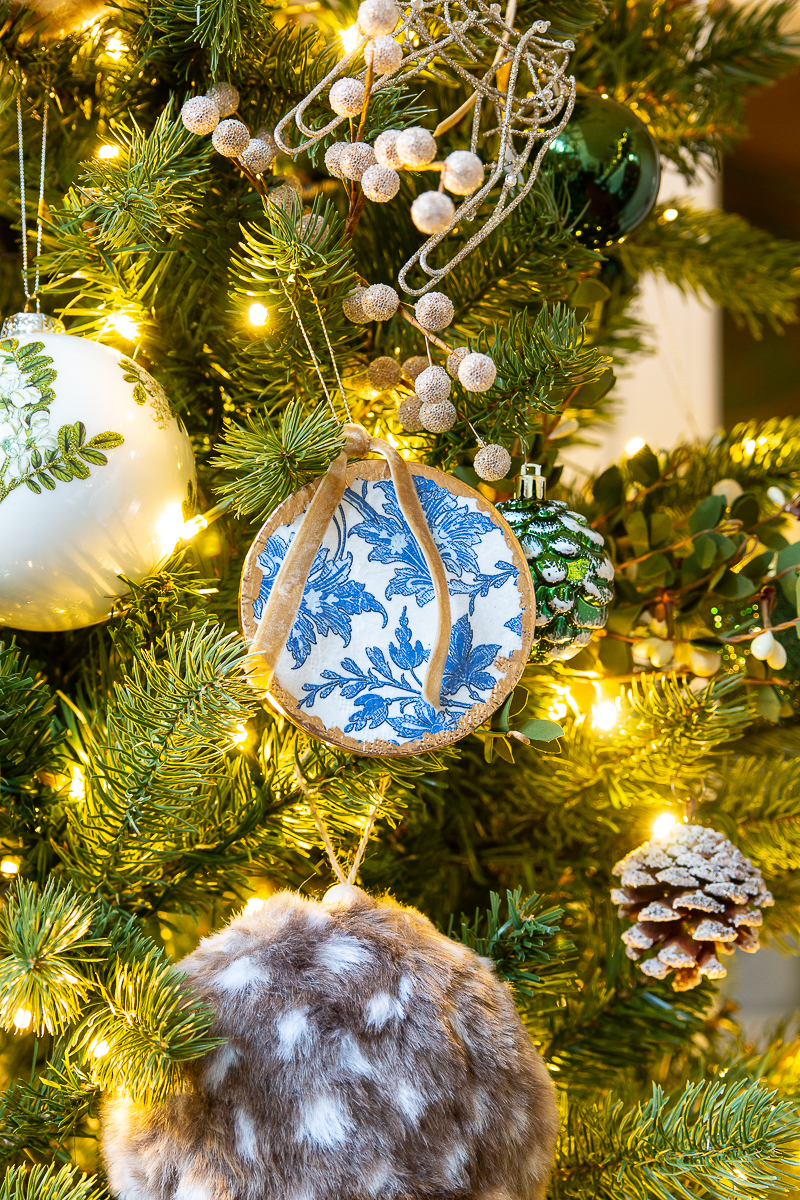 I definitely want to look for blue and white paper napkins, so I can make some DIY Chinoiserie ornaments like Christy's at our Southern Home too! Aren't they so pretty?
I hope you have enjoyed learning how to make an elegant DIY Christmas ornament using an inexpensive plastic ornament, Mod Podge and paper napkins. Now it's time to continue checking out the all of the other beautiful and creative DIY ornaments on today's challenge. Head over to Peacock Ridge Farm to check out Renae's pretty jingle bell ornaments. If you missed any of the other ornament DIY's you can visit them via the links below.
Thanks for stopping by and have a very Happy Thankgiving and Christmas season ahead!
Amber
You are invited to the Inlinkz link party!