Hello friends! It's less than a week until Valentine's Day, but it's not too late to put together some sweet Valentines Day vignettes using vintage valentines. Today I am sharing some creative ideas for decorating with vintage valentines, and some highlights from Country Sampler Farmhouse Style Magazine's recent online newsletter (featuring one of my vintage Valentine vignettes!)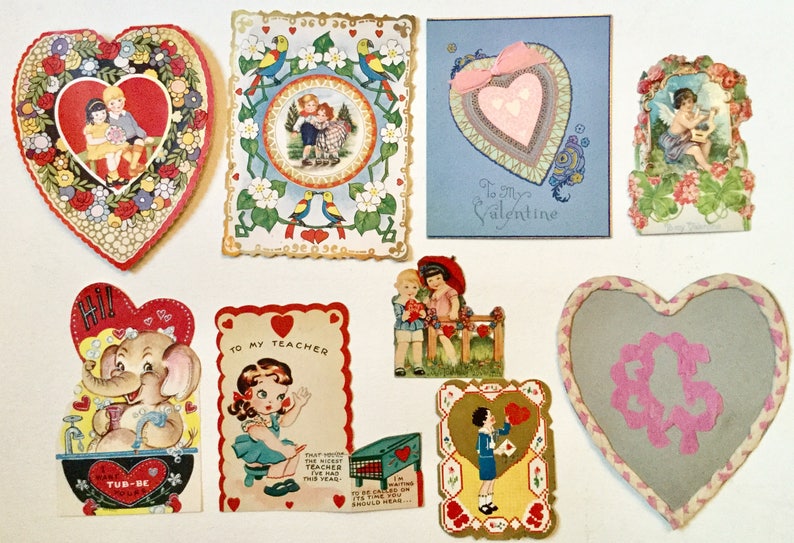 I have always loved vintage valentines, from cutesy-kitschy, mid-century cards to romantic Victorian style post cards from the early 20th century.
source
How adorable is this sassy lassie and her wee scottie?
I love creating vignettes using the old Valentines combined with some of my thrifted vintage finds.
This is one of my favorite antique Valentine that was gifted to me from a blogging friend. You can read all about it and see more of my favorite Valentines in my my Lovely Antique Valentines post.
My Vintage Valentines and Roses post caught the attention of Country Sampler Farmhouse Style Magazine and was featured in their online newsletter this month! Thanks CS Farmhouse style!
I love that the antique postcard in the background ("A Valentine Message") is part of the vignette in the featured photo. It was sent to me years ago by my best friend, Stephanie. She has been encouraging me on my decorating adventures since we were kids, so that makes this feature very special to me!
Here are some snippets from the newsletter:
source: Country Sampler Farmhouse Style
source: Country Sampler Farmhouse Style
To read the full article, be sure to sign up for the free monthly newsletter over on the Country Sampler Farmhouse Style Website!
Additional Vintage Valentine Features
I was honored to have my photo chosen for the article, along with two other fun ideas for decorating with vintage valentines.
Adirondack Girl at Heart
I was happy to find that my vintage-loving friend Diana's Vintage Valentine Banner was also featured in the newsletter! Her blog is a must-read for finding information about antiques and vintage treasures. She always styles the most creative vintage vignettes.
Country Peony
This super cute DIY Vintage Valentines Card Wreath was featured in the newsletter as well. I simply must find more vintage valentines to make a similar wreath. LOVE it! I just discovered Country Peony via the newsletter feature, and I am excited to check out more of the beautiful blog.
Where to Find Vintage Valentines
Several years ago vintage Valentines could easily be found at antiques shops and flea markets. In recent years have found some old postcards at antiques shop for only a few dollars each, but the retro and mid-century cards a little harder to come by when I am out on my junkin' adventures. Still, you can often find reasonably priced lots of assorted valentines on Etsy or Ebay. Reproduction cards like my "puppy love" valentine pictured above can be found in retail shops (mine came from Home Goods.)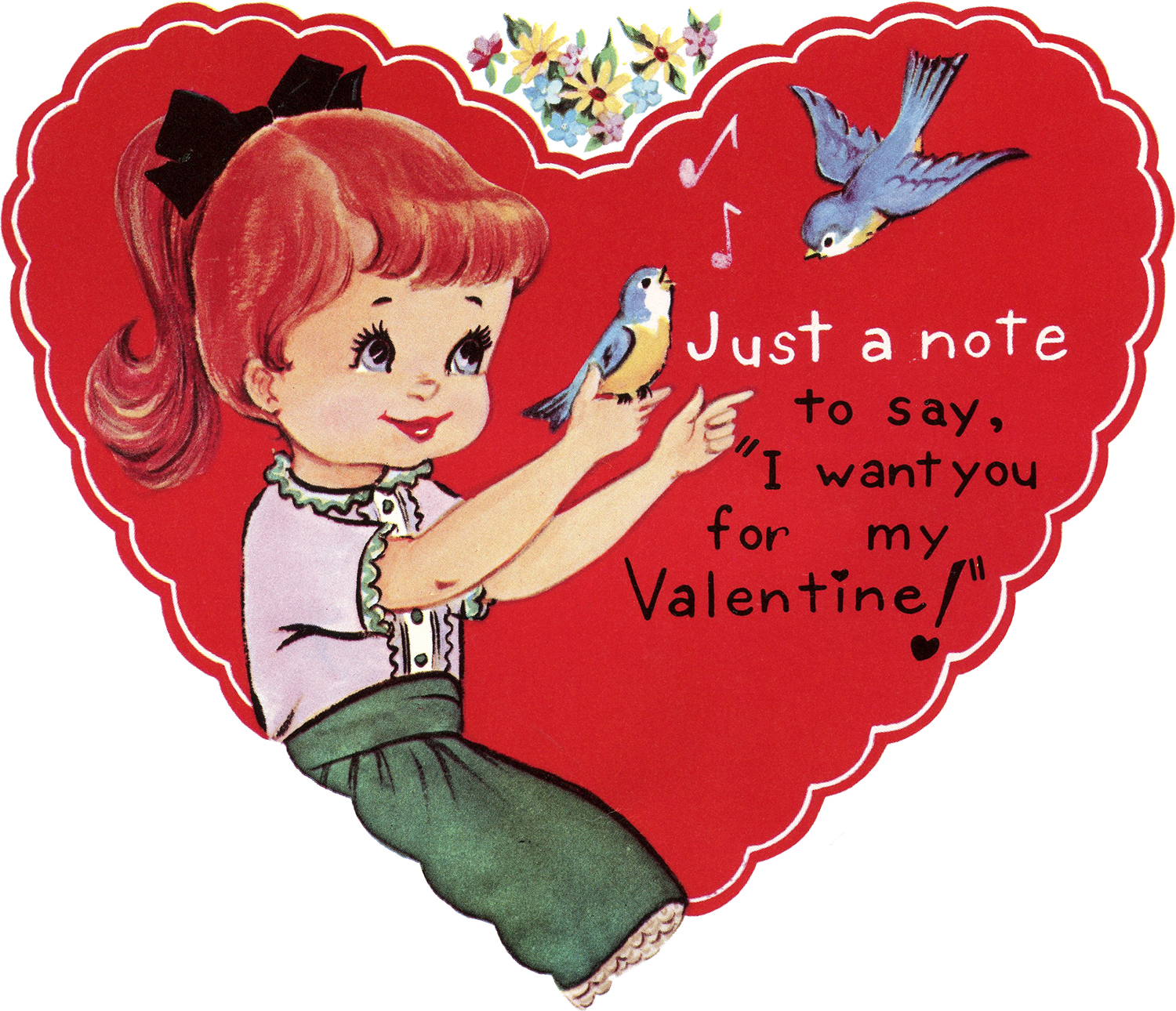 You can also find printables online to make your own. This adorable valentine is part of 12 Colorful Retro Valentines you can print for free from the Graphics Fairy.
For many more creative ideas for decorating with vintage valentines, check out the Vintage Valentine's Day Blog Hop that I hosted last year and another hop from 2018, with beautiful vintage Valentine's Day posts from some of my talented blogging besties. Here are some highlights from the hops:
Queen of Hearts Dress Form~My Thrift Store Addiction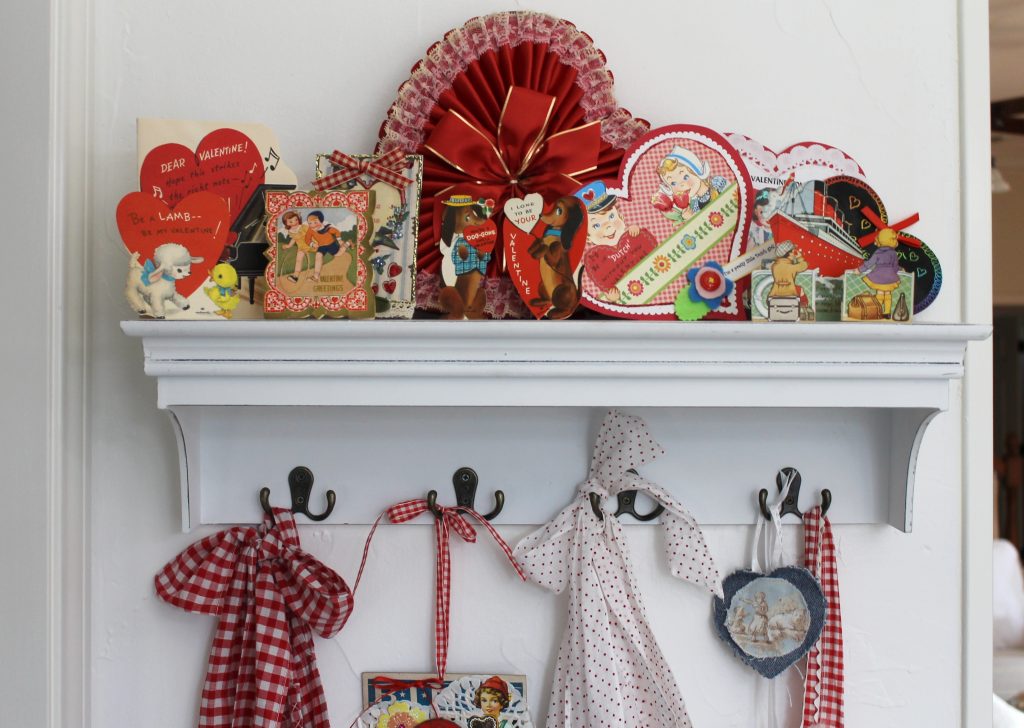 Simple and Sweet Valentine Breakfast~Decor to Adore
Valentine's Day Makes and Entrance~Common Ground
Bingo Valentine Hutch~Decorate and More with Tip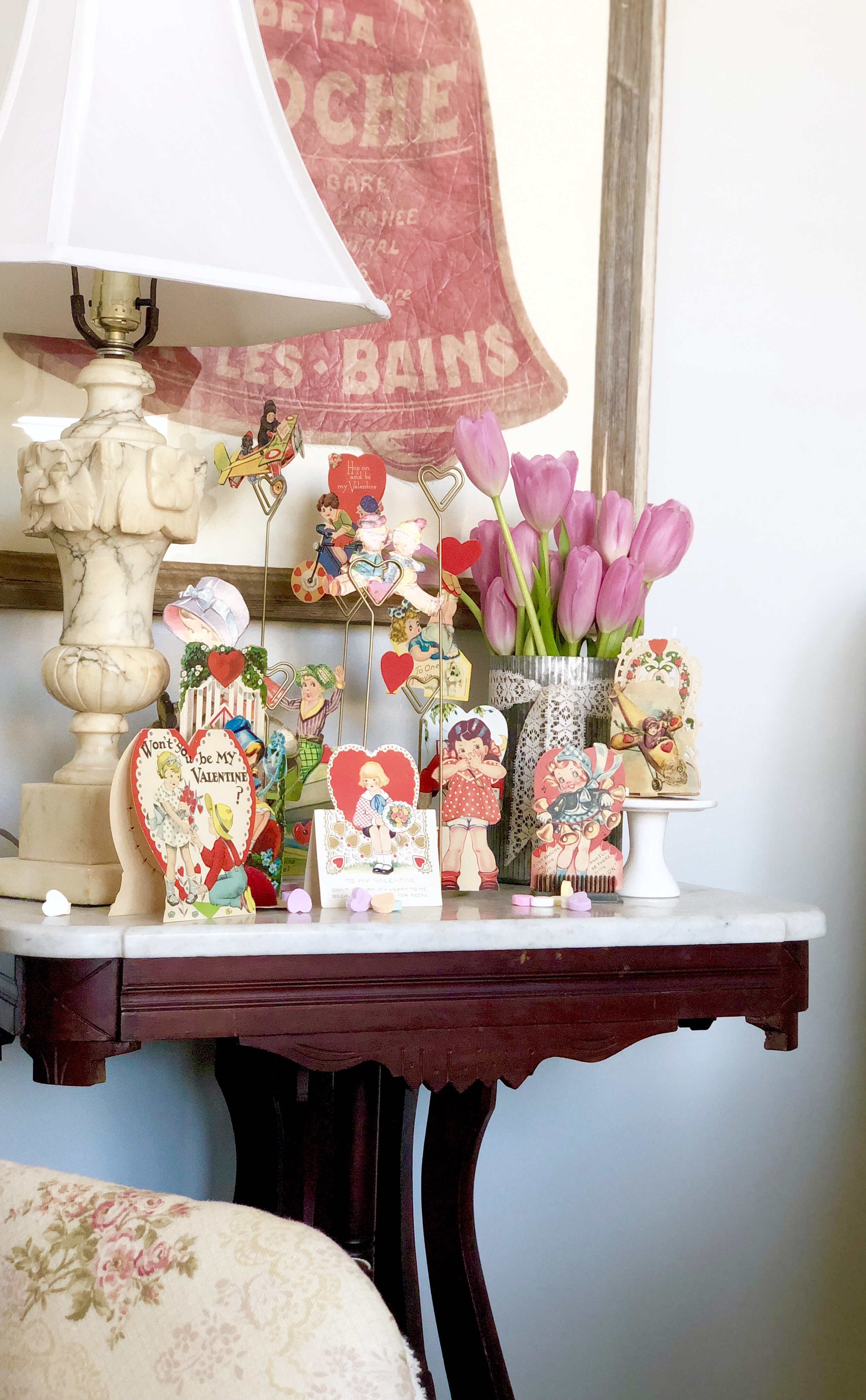 Vintage Valentine's Day Decor~Thistle Key Lane
I hope this post has inspired you to dig through old drawers and totes for vintage valentines, or to use free printables to create cute vignettes and crafts for the upcoming holiday. You can find many more posts on this subject in my Valentine's Day category.
Which of the ideas shared here today is your favorite? I love hearing from you, dear readers!
Thanks for visiting today!
Amber