Happy Wednesday friends! A little birdie tweeted that spring is only three weeks away! So even though a light snow is on the ground here in KY today, I am transitioning to spring indoors. In March I always start bringing out my little birds, nests, birdcages and birdhouses to create spring vignettes that will last into summer. Today for my Pin Away Wednesdays post I am sharing highlights from my Birds and Bird Decor Pinterest board. Enjoy the post and pin away!
Birds are perfect for transitioning from spring to winter. This year Easter is in late April, so I haven't started adding bunnies to my decor just yet, but the little faux birds are beginning to nest on the mantel and in my dough bowl on the dining room table.
Rustic Farmhouse St. Patrick's Day Tablescape
All through spring and summer  you will find little birds styled in vignettes all around our home.
Late Summer Nesting: Simple Bird Vignettes
Something about birds and blooms just puts a song of spring in my heart!
I love old bird paintings or reproductions of vintage bird prints.
Rusty birds can always be found in my garden too!
Vintage bird dishes, trays and tins are on my radar when I am out junkin'.
Bird nests under cloches are wonderful for spring, Easter and summer.
This antique birdcage is styled beautifully in this space!
I just can't stop pinning little birds styled in unique ways!
I have always loved birdhouses! I just realized I don't have any indoors…I must add a beautiful birdhouse to my junkin' wish list!
source
In all honesty, I won't touch a real bird nest with a ten foot pole since they are unsanitary, but I do love faux bird nests. Little nests add an organic feel to a mantel or any spring vignette.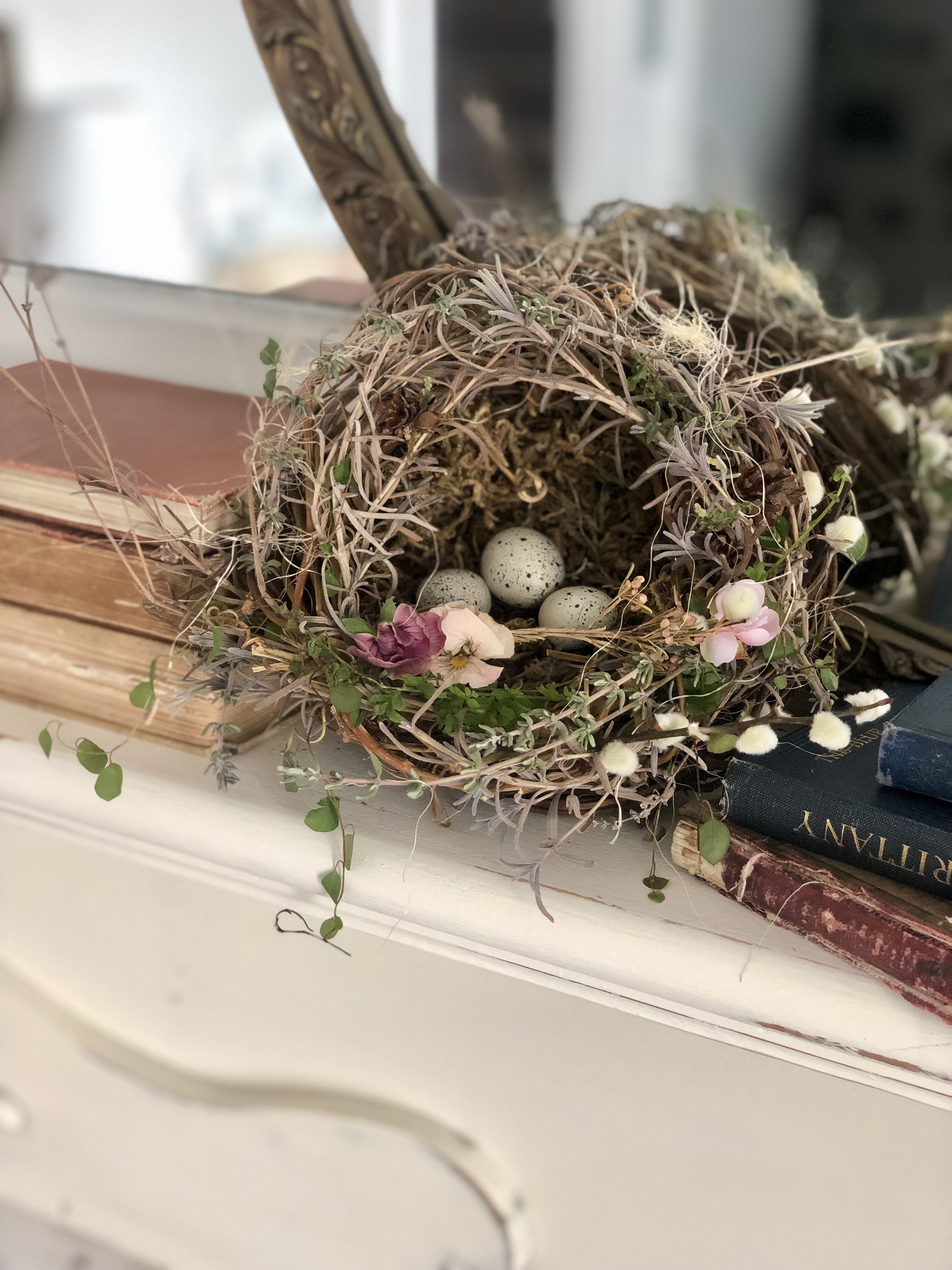 I hope you have enjoyed this post all about birds and bird decor and that it has put you in a spring mood too. If you love birds and bird treasures, be sure to follow my Birds and Bird Decor Pinterest board as I am always pinning pretty bird-themed pins.
Have you already started feathering your nest for spring?  I love hearing from you dear readers! Thanks for visiting today!
Amber
Shop Similar Items (*affiliate links)