With spring and summer on the way, we all start to dream of the great outdoors. Whether it be time spent in a small herb garden, grilling at a family cookout on the patio, or hosting a huge pool party if you have that particular type of entertaining area, there is plenty of inspiration online for ways to enjoy the outdoors in style. While most of us may be limited by budget or the actual layout of our properties, that doesn't mean we can't enjoy our own stunning outdoor garden spaces and entertaining areas. Here are some inspiring ideas for creating beautiful outdoor entertaining areas. *This post contains affiliate links.

Small Spaces With Big Style
If you have limited space, or perhaps even physical limitations that prevent you from tending to a large garden, you can still create a beautiful outdoor entertaining area around your back porch, deck or just outside your front door. Container gardens can be extremely rewarding. Grouping plants together in attractive containers can really dress up any area around your home.
Even a small area of your yard can yield a harvest! Why not try a beautiful and lush French style potager garden? Herbs are great for gardening in small spaces and can be transform any yard. I found some amazing herb garden ideas here.
A small herb garden in a celtic knot design is very classy and easy to achieve with just a bit of planning.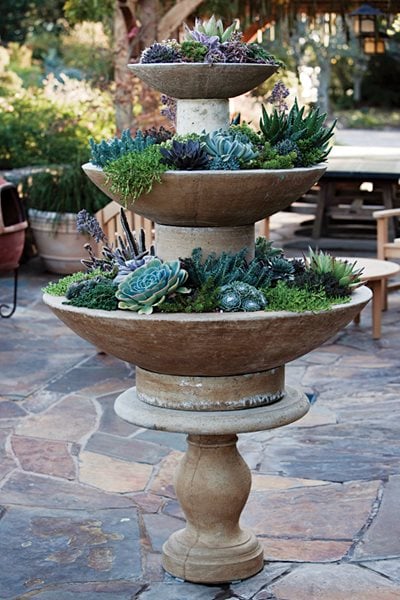 Succulents need little maintenance once established and look great in a variety of containers or in a flower bed.
Patios, Decks and Pergolas
If you have any yard space at all there are many different options for creating a brand new patio area or sprucing up an older one you may already have. Whether you choose hardscaping materials such as tile, gravel, or concrete to design a patio, or if you prefer a wooden or composite deck, you can always dress up the areas with comfortable patio furniture and beautiful landscaping.
Use natural stones and rocks to create an area for a fire pit as an "island" in the lawn, or form or lovely walkway to a magical secret shade garden.
Consider building a stunning DIY pergola, arbor or gazebo to add shade, privacy and curb appeal. You can also purchase a prefabricated structure at your local hardware store or online.
Hang beautiful garden lights or privacy curtains to create "A Midsummer Night's Dream" atmosphere when entertaining.
Globe String Lights with Clear Bulbs-Timer Included 13Ft Outdoor Globe String Lights 40LED Warm White Fairy Twinkle Lights
Sunjoy 12′ x 10′ Sonoma Wicker Gazebo, Large, Brown/Gold Trim
Backyard Discovery Cedar Pergola
An outdoor fireplace is on my wishlist of future home projects! I also love the idea of having an outdoor kitchen.
Stylish and functional outdoor kitchen areas can be free standing on a deck or patio, or they can also be attached to part of the house if it has brick or stone siding. Other options include designing a stone BBQ or outdoor cooking area which looks like an authentic pizza oven for cooking and grilling all kinds of savory summer meals. Check out https://www.seriouslysmoked.com/outdoor-kitchen-ideas/ for your outdoor kitchen needs.
Or course you can do plenty of cooking and entertaining on lovely traditional deck using a gas or charcoal grill too!
Even a small deck can be stunning with simple landscaping.
Pools
Not everyone has space for a pool or wants to deal with the upkeep and maintenance. If you do have a pool or hope to have one someday, they can really become a true oasis and vacation at home all summer long.
I am always inspired by pools in various shapes which are surrounded by bricks, stones and lots of beautiful landscaping and flowers in pots.
General Landscaping
No dreamy outdoor space is complete without landscaping, so the floral aspect is very important to consider if you really want to create a beautiful outdoor entertaining area.
My dream garden and patio is lined with rows of fragrant lavender and roses!
Deciding which plants and flowers to use for your unique property and entertaining area can be a bit overwhelming at first, but you can always check out websites such as unique-landscapes.com for more ideas.

Once you have finally established your dream outdoor garden or entertaining area, be sure to set up a weekly routine to maintain it during the spring and summer. Planting low maintenance evergreens and small trees is a great choice for busy homeowners since they will virtually take care of themselves once established. Plants in containers need extra attention since they are likely to dry out. Also be sure to cover patio furniture for the fall and winter, and pack away any seasonal outdoor decor. A well designed area that is taken care of will provide plenty of outdoor entertaining for years to come.
I am so inspired now to get to work on designing a new herb garden area for right outside my back door and hopefully a new space for entertaining. I am searching online and in books for more ideas, and I will be sharing another garden inspiration post very soon which will focus more on vintage and country cottage garden style. If you love gardening ideas, be sure to subscribe by email as I will be sharing a lot of gardening posts here on the blog in the months ahead.
Happy "almost" spring!
Amber