Hello friends and welcome to the 79th All About Home Link Party! I hope you had a wonderful Valentine's Day and that you are staying safe and warm wherever you are. I am going to be brief because we are in the middle of a winter storm and I might lose internet. We have been without power for a couple of days now, but we are staying cozy with the aid of a generator. Needless to say, I am looking forward to either some cozy ideas or spring ideas at this week's party!
In addition to enduring the the ice and snow and all the hard work getting the generator set up and running, my husband had also thought ahead when the storm was forecast, and had bought me a bouquet of roses and tulips for Valentine's Day. I feel blessed for sure! It is dark and gloomy and we have no lights of course, so I braved the icy temps to snap a picture outside for lighting and to give you an idea of what we are dealing with. Notice the ice on the plants behind the bouquet. We are expecting 4-8 more inches of snow over the next few days!
Debra and I are thrilled to be your hosts each week! Before moving on to the features and link-up, here's what we have been up to recently:
On Sunday I shared a post about my Vintage French Couple Figurines (and a Valentine's Day Tale.) I find it quite whimsical myself!
I was so excited and honored that Country Sampler Farmhouse Style Magazine took notice of my "Vintage Valentines and Roses" post (which happens to be my "Throwback Thursday post for last week too!) One of my vintage vignettes from the post was included in their February online newsletter article:
After reading the article I was inspired to share my own round-up of Creative Ideas for Decorating with Vintage Valentines along with extra highlights from the Country Sampler Farmhouse Style newsletter. You can sign up to receive the free monthly newsletter full of awesome ideas over at farmhousestylemag.com.
You can see more of my vintage Valentine style in my Vintage Valentines and Roses post from 2019.
Debra shared the most gorgeous Valentine's Day Botanical Farm Table Vignette. Swoon!
Now it's time for some beautiful features from last week's party!
Nearly Natural Flower Arrangement~Let's Add Sprinkles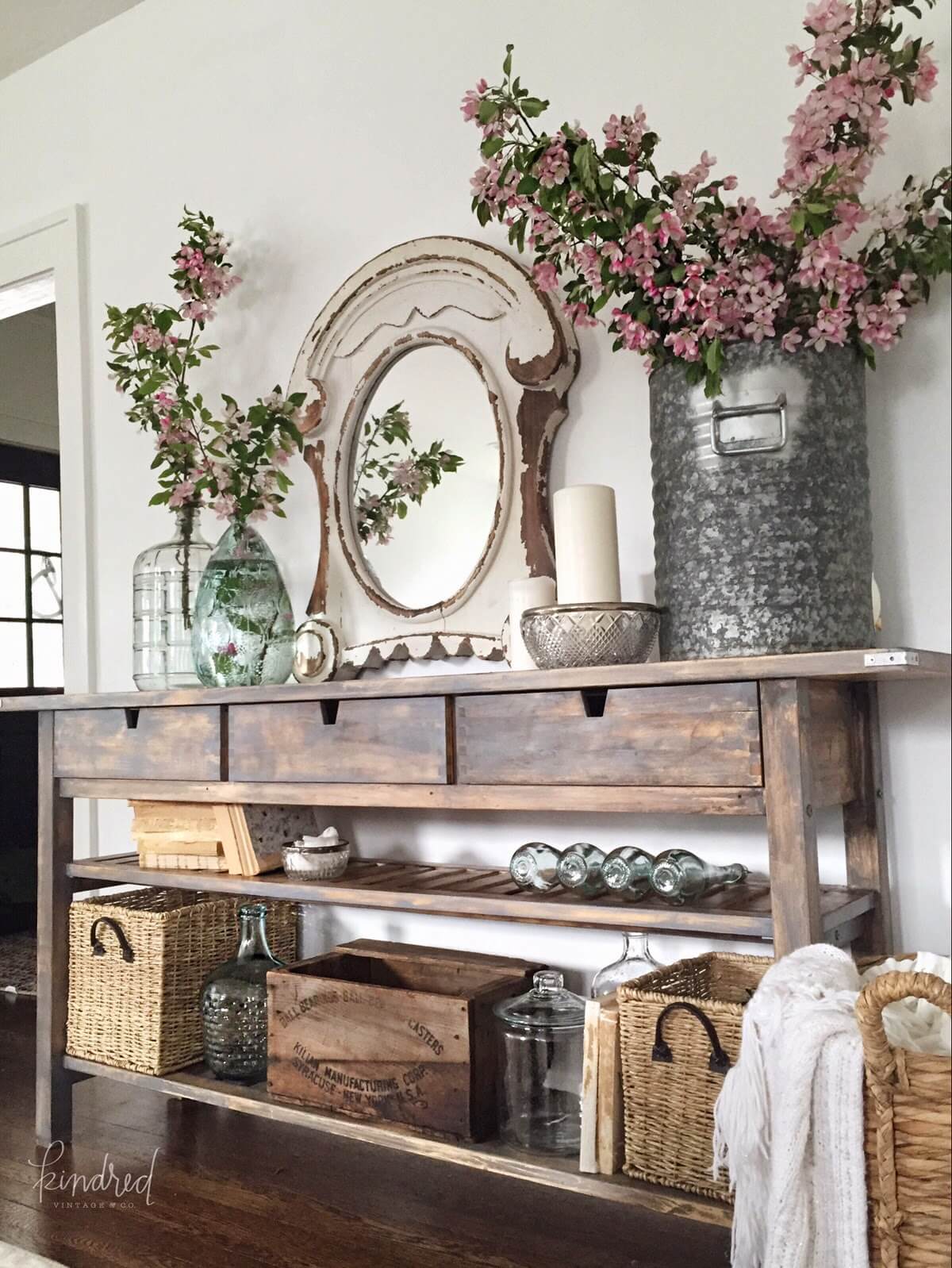 Create an Inviting and Welcoming Home~Comfort Spring Station (Photo: Kindred Vintage)
Cozy Neutral Winter Living Room~Rever Un Couleur
Thanks to everyone who visited last week! Enjoy the party!
This Link-Up is for all of us that love Home Decor, Vintage and Antiques, Garden and Outdoor Spaces, Seasonal Fun, DIY, Crafts, etc. We think Link Parties are a great way to share our homes and find inspiration and ideas from like minded bloggers. From Room Reveals to your latest Thrifting and Flea Market finds, we want you to join in the party fun!
Party Guidelines:
*The party runs Monday at 7:00Eastern/6:00Central p.m. through Thursday at midnight.
* Please share up to three posts related to things that are "All About Home" such as home decor, DIY, crafts, gardening, recipes, vintage and antiques, etc.
You are invited to the Inlinkz link party!