Hello and welcome to the 46th All About Home link party! It has been a super busy week between participating in blog hops, "finishing" up garden projects and resuming our kitchen renovation (and throwing in hosting a weekend yard sale in for good measure!) I am going to have so much to share over the next week too as I break up my garden posts in segments, so I hope you will stop by daily!
I took some garden photos the day before yesterday and I am sure glad I did…the deer discovered my beautiful lilies and sunflowers overnight and had a feast! Ugh! We have lived here for six years and the lilies have never been more spectacular than they have been this year. Upon closer inspection in the photo above, I can see that the deer must have been snacking on them some already, but there were so many blooms I hadn't noticed it until this morning when 3/4 of the blooms were gone!
At least they did skip over most of the deer resistant plants in my herbacious border. I had planned to share a garden post featuring my potting bench this weekend, but we ended up having an impromptu yard sale on Saturday when our neighbors decided to have a moving sale. Yard sales are always a lot of work, but it was worth it to get our garage and basement cleaned out on the spur of the moment. I am feeling rather accomplished!
Well… I am having a bit of seller's remorse after letting this 1970's yellow beauty go in my sale… for only ten. dollars. I know, I know. Please, don't remind me how cute it was and how I could have put a basket on the front and at least styled it in my garden for photo shoots! Actually I really, really, really needed to get rid of some excess things during this sale, and since I already have a beautiful teal vintage bike I decided to let this one go. It's all good. I will forget it in time…I think!
I am working on a garden post this evening and it will be live on the blog tomorrow. After discovering my bloomless lily stalks sticking up all over my new landscaping early this morning, I am definitely ready to see some beauty here at our party! At least my newly planted succulents in vintage McCoy pots are still safe and sound lined up on the back of the potting sink bench!
Debra and I are thrilled to be your hosts each week. Before we move on to the link up, here's what we have been up to recently:
Farmhouse Patriotic Styled Basket Tray
I also had so much fun styling a patirotic basket tray vignette for a creative Pinterest Challenge hosted by County Road 407. Check out my post to see the beautiful inpsiration photo by Liz Marie Galvan and to find links to 15 other beautiful interpretations of her Fourth of July decor.
Simple Farmouse Patriotic Patio Tablescape
Styling his patriotic patio tablescape for the Patriotic Tablescapes blog hop last Tuesday was just the most fun! It really was simple and fast to put together. Once I dragged out a few of my favorite summer vintage finds and thrifted farmhouse style table setting supplies, everything came together quickly. The old-fashioned American vibes really put me in a summer mood! You can find links to 20+ other beautiful red, white and blue tablescapes at the end of my post.
Debra shared how she added festive Patriotic Color in the Garden Room . Don't forget to visit Debra's blog to check out her post and features.
Now let's enjoy some beautiful features from last week's party!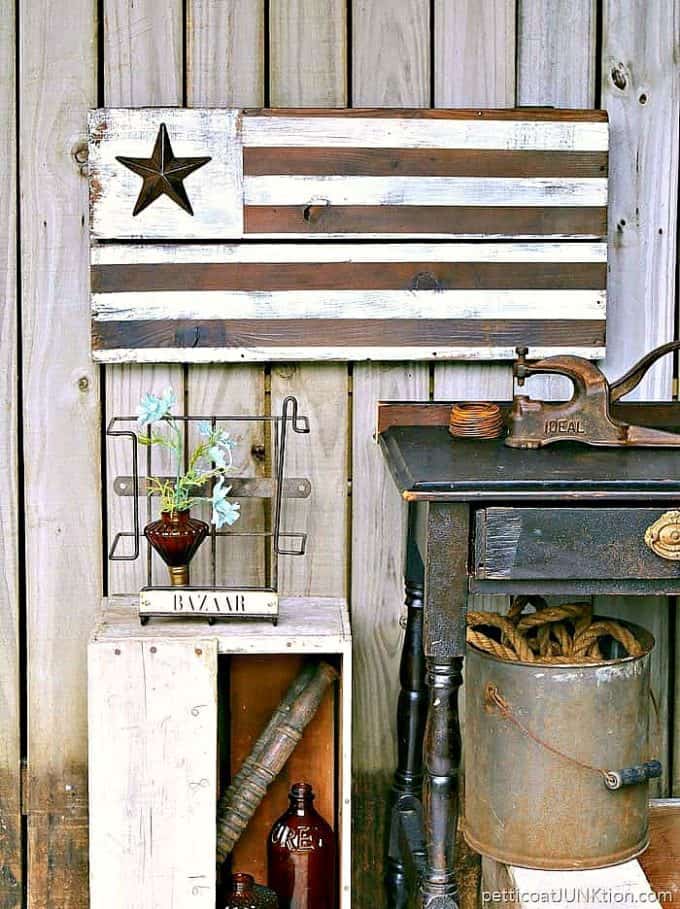 How to Make a Rustic Wood Flag~Peticoat Junktion
4th of July Tablescape~Celebrate and Decoration
Some Faux Vintage Look Sparkler Boxes~Let's Add Sparklers
Midwest Gardening-Monday June Poorman's Bouquet~Old New Green Redo
Thanks to everyone who visited last week!
This Link-Up is for all of us that love Home Decor, Vintage and Antiques, Garden and Outdoor Spaces, Seasonal Fun, DIY, Crafts, etc. We think Link Parties are a great way to share our homes and find inspiration and ideas from like minded bloggers. From Room Reveals to your latest Thrifting and Flea Market finds, we want you to join in the party fun!
Party Guidelines:
*The party runs Monday at 7:00Eastern/6:00Central p.m. through Thursday at midnight.
* Please share up to three posts related to things that are "All About Home" such as home decor, DIY, crafts, gardening, recipes, vintage and antiques, etc.
*(Please do not link up posts that pertain to fitness, beauty, fashion, diet, business and finance, homeschooling, blogging tips etc. Those links will be deleted.)
* Do not link up individual items from Etsy Shops, EBay or other selling sites.
You are invited to the Inlinkz link party!