One of the most special aspects of holiday decorating is bringing out those treasured Christmas collections year after year. From ornaments, to snowmen or nativities and snowglobes, I think everyone has a favorite Christmas collectible.
Today I am happy to be joining my friend Cindy of County Road 407 and several blogging friends for the vintage Lifestyle of Love blog hop! This month's theme is "collections." You know I am all about this one!!!!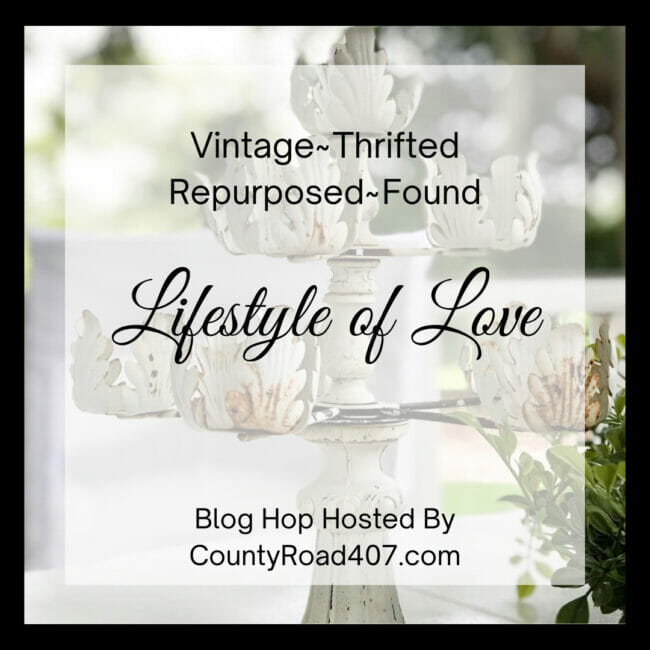 I am a huge collector of a variety of vintage treasures and I always love seeing my friends' collections too. If you are coming over from Kim's beautiful cottage at Shiplap and Shells, or if you are just visiting today, I am thrilled to have you here! You will find links to all of the other bloggers' posts at the end of my post.
Since it's December I decided to share my collection of vintage style German Belsnickel (sometimes spelled Belsnickle) Santas. I started collecting these beautiful figures when I moved to the yellow brick home eight years ago.
I have always loved images and ephemera of these antique German or European Santas. They seem so magical, kind and benevolent.
In reality, a Belsnickel is anything but! By tradition, they are unkind and rather ugly (some even evil-looking!) But hey, Christmas is all about imagination and beauty, so we'll just go with the idea of beautiful and elegant vintage Belsnickel around here!
It all started when I first laid eyes on this very Belsnickle at a primitives shop right after Thanksgiving. I was obsessed with Santa's dark green velvet cloak and vintagey-primitive style. I couldn't bring myself to pay $60 for him at the time. I went back after Christmas and was suprised to find all the Santas were 50% off, so I snatched him up with my Christmas money.
While I was there I also spotted this black painted cloak Belsnickel. I didn't buy him when I bought the green velvet cloak Belsnickel, but I lost sleep for a few nights afterward. Needless to say I went back and bought him! Even though three items usually means a collection, I knew after purchasing this Belsnickel that a collection was in the making!
Over the past few years I have collected 11 Belsnickels, from large to small ornament figurines. I have displayed them all over the house individually in vignettes or small groupings. My favorite place to showcase them is on the piano in the music room.
I also collect Christmas items with images of Belsnickels or similar vintage Santas.
I have also displayed them in groups on my antique sideboard. They just look beautiful everywhere! I love them at night in the soft glow of Christmas lights and candles.
I enjoy playing with my Belsnickels like toys throughout the holidays and moving them around here and there in different vignettes. This year my smaller red Velvet Belsnickel started off the seaso by the built-ins in my Very Merry and Bright Vintage Christmas Kitchen.
In previous Christmases Belsnickels have found their way to the farm table as part of holiday and winter tablescapes.
Here are just a few other ways I have displayed my Belsnickels over the years:
Creating Christmas in the Dining Room
I also have a small collection of vintage knee-hugger elves who are always making merry mischief during the holidays, but that's another post for another time!
While I didn't add a large Belsnickel to my collection last year, I found this commemorative 1921 German style Santa to mark our home's 100th Christmas.
I certainly do not "need" any more Belsnickels, especially since I have been working very hard on purging a lot of my store bought Christmas decor in favor of a simpler, traditional Christmas decorating aesthetic. However, I won't pass up any good deals on a Belsnickel Santa if I come across them during after Christmas sales.
I hope you have enjoyed seeing my small and growing army collection of German Belsnickel Santas! Who knows, maybe I will find a new one on after Christmas sales to share with you in winter vignettes or on next year's Christmas tour.
If you missed any of the other wonderful collections shared on today's hop, you can visit them via the links below.
Thanks for visiting and Merry Christmas!
Amber
You are invited to the Inlinkz link party!