Happy Monday and welcome to the 137th All About Home Link Party! Spring break has begun for me and as I write this post I am currently en route to the beach for a short four day birthday-week getaway! My son turned 17 today and my birthday is on Thursday, so we thought it would be fun to do something special to celebrate since our birthdays lined up with Spring break!
As much as I can't wait to see the ocean, I will miss my Kentucky garden. The daffodils are glorous right now and all the tulips my husband planted for me in the fall were starting to bloom this morning as we left so I am not sure if they will be opening up fully by the time we get back. So for now, I will gettting all of my spring flower, decor and craft inspo here at the party!
Debra and I love getting together each week to host this fun party, and we are looking forward to sharing inspiration with you! Before moving on to the features, here's what we've been up to:
This past week was super busy and productive around the house and on the blog. On Friday I shared my Vintage-Traditional Cottage Spring Home Tour for the Bloggers' Best Home Tours featuring 25 bloggers. You can find all the links to the fabulous spring tours at the end of my tour.
Last Tuesday I joined several blogging friends for a fun monthly Pinterest challenge hosted by Cindy of County Road 407. This month's challenge was a cute spring centerpiece. Check out my Bunny in the Herb Patch post to see the original challenge photo and to find links to all of the other cute spring centerpieces.
Vintage Cottage Weekend
Debra and I are having such fun with our new series, Vintage Cottage Weekend! Each Sunday we share posts related to the vintage cottage garden, decor and lifestyle. I shared a post featuring an adorable vintge thrifted flower girl basket filled with vintage alabaster eggs.
Vintage Easter Basket with Alabaster Eggs
Debra shared an amazing post on Vintage Florist Baskets for Easter. Each picture is full of gorgoeus spring inspo!
Now it's time for more spring ideas from last week's party!
Seven Beautiful and Thrifty European Farmhouse Spring Ideas ~Open Doors Open Hearts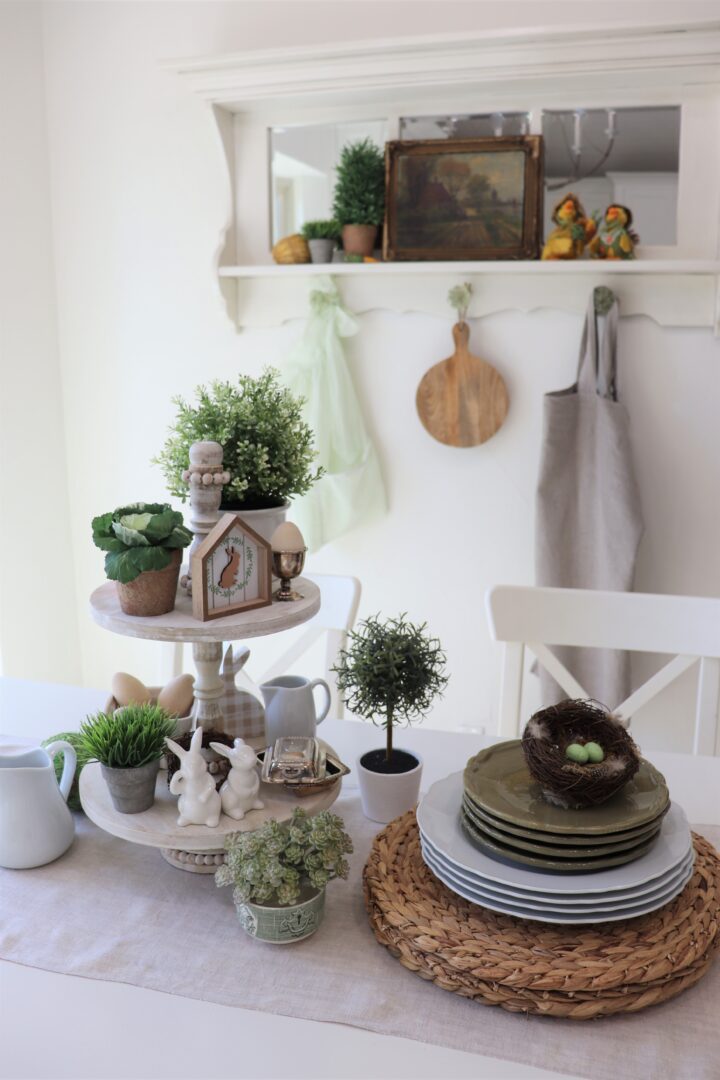 Happy Spring Decor in the Kitchen~ Decor to Adore
Easy Spring Terrarium ~ Decorative Inspirations
DIY Clothespin Carrot ~ Me and My Inklings
Thanks for stopping by! Enjoy the party!
You are invited to the Inlinkz link party!