Create a Cottage-Farmhouse Spring Centerpiece using some simple farmhouse decorative accessories and spring garden accents.
Happy spring, my friends! Today I am excited to be joining my friend Cindy of County Road 407 and a wonderful group of blogging friends for another fun Pinterest challenge. If you are coming over from Laura of Decor to Adore or if you are just stopping by for a visit, I am so happy you are here!
Each month Cindy chooses a photo from Pinterest for inspiration, then each of the hop participants comes up with her own interpretation using similar elements, but with a bit of personal flair too. This month's inspiration photo of a vibrant spring centerpiece comes from Suzy at Worthing Court.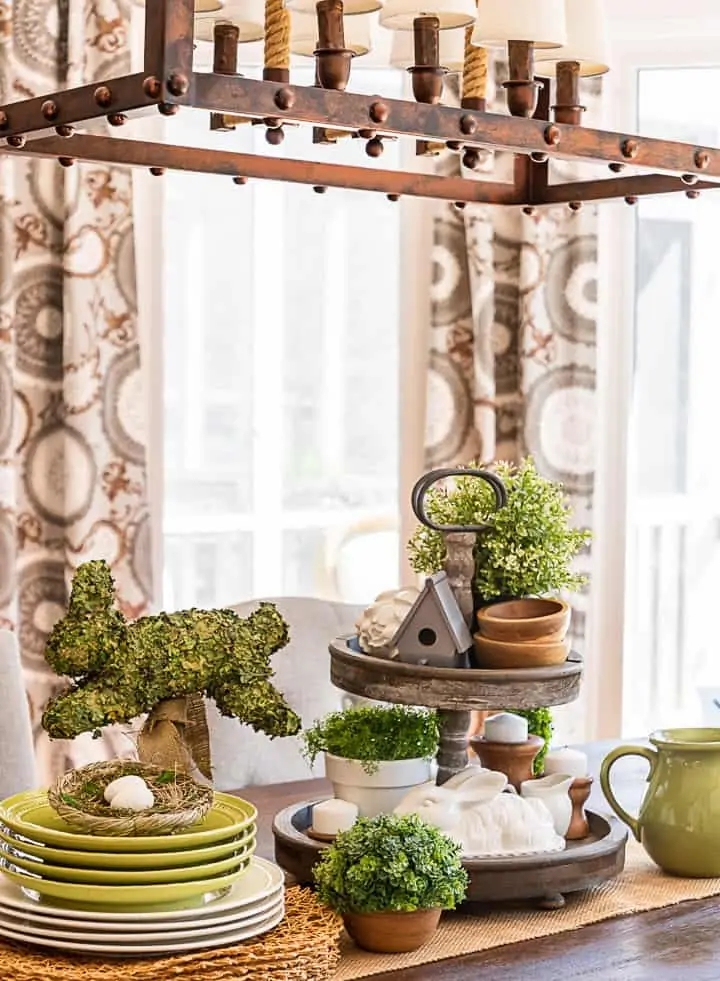 Let's take a look at Suzy's centerpiece elements:
Stacks of white plates and green saucers

Bird nest with eggs, small bird house

Tiered Tray

Rattan placemats, burlap runner

Boxwood Bunny and White Resin Bunny

Various greenery in terra cotta pots/greenery orbs and spheres

Candles on small wooden candlesticks

Green Pitcher

Ceramic artichoke
When looking over the inspiration photo I realized I didn't have all of the items to "copy" the photo, but I could get creative using decorative elements on hand to come up with something similar. I actually just purged a ton of decorations and craft supplies, including the very same placemats that Suzy used, but no worries. The great thing about these challenges is that you only need to use the inspiration photo as just that— inspiration.
Cottage- Farmhouse Spring Centerpiece: Bunny in the Herb Patch!
For today's challenge I set up a mini-centerpiece on the bistro table in the breakfast nook since I am still doing some spring re-decorating in the dining room and our farm table is currently being used as a catch-all.
Of course this vignette can't stay put since we use this table daily, but it would be easy to re-create this centerpiece on our farm table, making it even more similar to the inspo photo by using a burlap table runner, natural placemats, and some extra candles.
The elements Suzy used in her spring centerpiece are similar to the kinds of things I usually use for spring in the dining room, as you can see here (last year's spring centerpiece.)
One of the major differences between my centerpiece and the inspiration photo is that I didn't use a tiered tray. Can you believe I am an interior decorating blogger who loves cottage, farmhouse and creating vignettes, and I don't actually own a tiered tray? I have had big plans to make my own, but I have never gotten around to it. One of these days I will!
Instead of buying a tiered tray just for this challenge, I used a marble topped cake stand with a wooden base as a type of pedestal stand and a tall wooden candleholder to create a tiered effect. The weathered finish on the wood candlestick is similar to Suzy's farmhouse tiered tray.
Suzy used two small bunnies, but I used my favorite medium sized shabby-farmhouse bunny to create a whimsical "bunny in the herb patch" centerpiece.
Spring is in the Air Dough Bowl Display
You might remember this bunny from previous spring and Easter posts. It hops around all over the house during spring. You never know where it will end up!
I didn't have a green pitcher, so I filled a vintage ironstone pitcher with a mix of faux green herbs. A trio of vintage butterpats stand in for the terra cotta saucers on Suzy's tiered tray.
Since I didn't have room for wicker placemats or a burlap runner on the little bistro table, I brought in the rustic, natural texture with a wicker herbs basket.
This sweet basket with faux herbs in little terra cotta pots was a thrifted find from late winter that couldn't wait to decorate with this spring.
I have some small birdhouses, but they are outside packed away with my spring and summer garden accessories. I do have several bird nests around the house, so I grabbed one and just tucked it in down in between the herb pots.
Birds will make nests just about anywhere in a garden!
I didn't have four green plates, so I improvised with two different green Feistaware saucers from our everyday dishes in the kitchen cabinet. If you have been following me for a while then you know that it wasn't hard for me to find some white ironstone plates to use!
And there's a lot more where that came from!!! If you love ironstone and all things, be sure to subscribe by email so you don't all the vintage goodness here!
I had a lot of fun getting creative for this challenge using what I already had on hand. As you can see, you don't have to have the exact items to recreate a vignette or to style a space similar to an inspiration photo. Shopping your own home and using things in new ways is the way to go, especially if you are like me and you are trying to cut down on the clutter by not buying new things just for seasonal decorating.
Don't forget to "hop" on over and check out all the other spring centerpieces via the links below. I know you will be amazed by all the creative interpretations of this month's challenge. Hopefully these posts will inspire you to create your own spring centerpiece!
Thanks for visiting today!
Amber
You are invited to the Inlinkz link party!