Hello dear readers! I can't believe a whole week has passed since I posted my Holiday Music Room Tour as part of It's A Wonderful House Christmas home tours with 20 bloggers! After taking the tour I was inspired to do a little "round up" featuring my favorite photos and highlights from the tour. If you didn't get a chance to take the tour, all the links are still live so you can visit any time.
For this highlights post I will just be following the tour schedule and sharing a photo or two that I found to be inspiring. Here we go!
It's A Wonderful House Tour Schedule:
Angelina at Petit Haus has opened the doors of her new swoonworthy home just in time for Christmas and it is truly breathtaking. In part one of her tour she shared her French country Christmas style in this gorgeous room, so perfect for Christmas decor!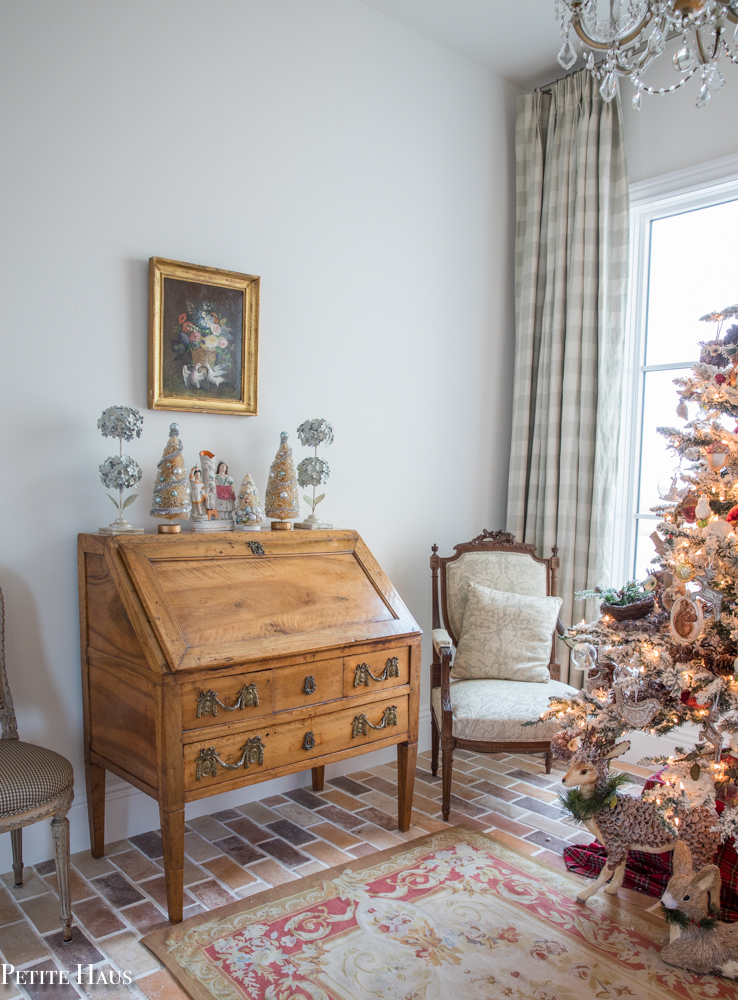 In part two of her tour she showed us several more trees and this cozy fireplace sitting area. I loved the simplicity of the fresh cedar garland on the mantel and old wooden nutcrackers. Simply stunning French country style!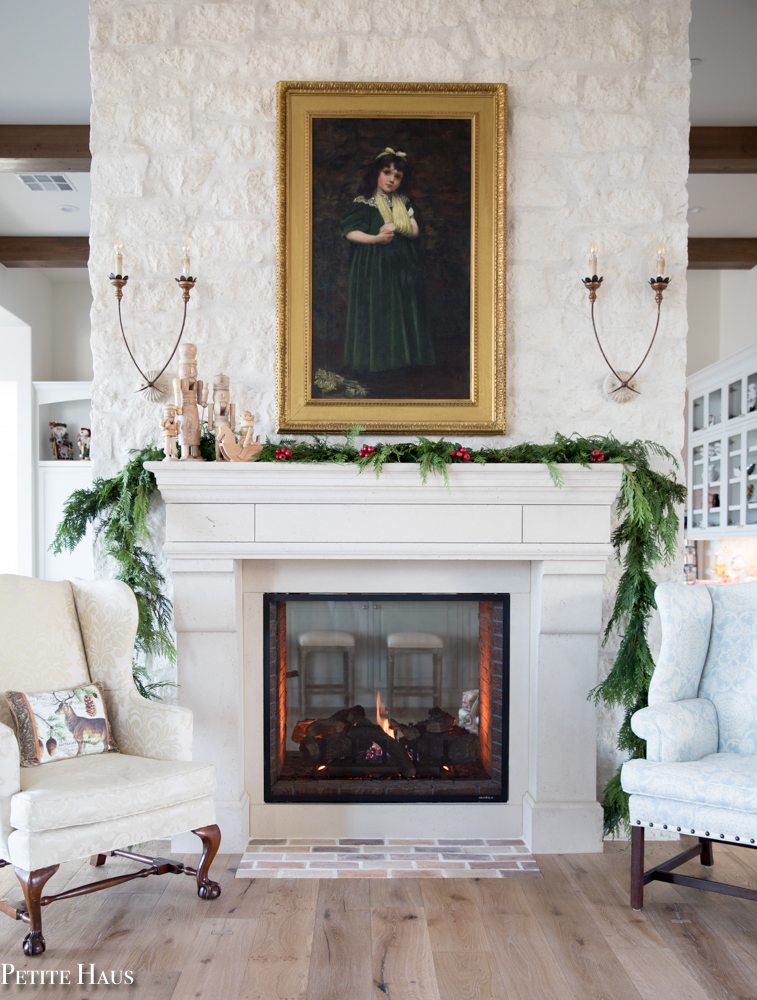 North Country Nest
Brett and Kelly at North Country Nest shared so many cute and inexpensive rustic Christmas decor ideas! Their woodsy style is perfect for winter decorating too, which I always enjoy.
Welch House- Reinvented Collection
Larissa_Jenkins IG  has transformed her 100 year-old historic Welch House into a romantic, fairy tale Christmas house! Her beautiful blush and pink Christmas decor inspired me to add a few of those colors into my own decor this year!
Areeba at Mint Candy Designs shared how she creates a cozy and beautiful winter decor theme in her lovely home.
Christene at Keys To Inspiration showed us how she styles her home with traditional Christmas decorations. I loved her beautiful traditional Christmas tree and bell garland on the banister!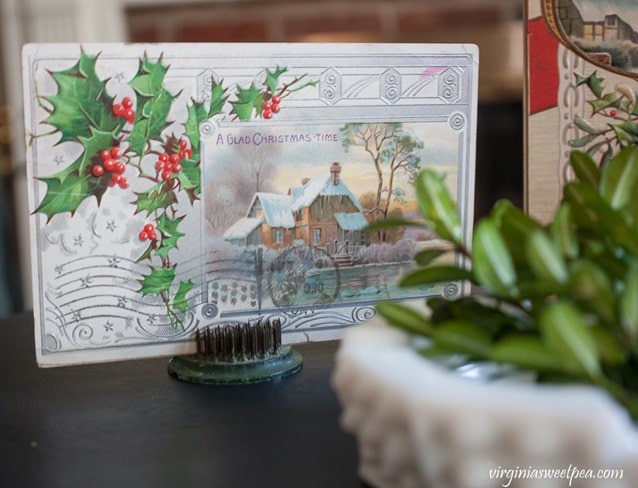 Paula at Virginia Sweet Pea shared the most charming and quaint vintage inspired Christmas living room. There were so many vintage finds that had me "oohing and ahing." I especially loved a darling collection of antique Christmas postcards and vintage flower frogs that belonged to her grandmother. So special!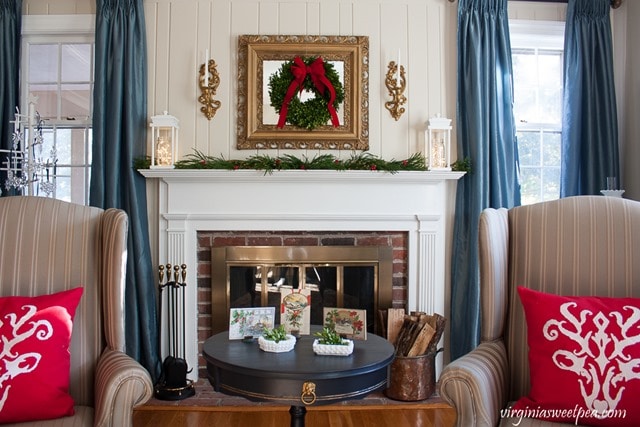 Leanna at Faires and Fauna has a beautiful, light and airy open concept living space that she has decorated with a calm and bright winter woodland theme. I love how she added some flocked branches to her tree to give it a bit of a wintry look in lieu of purchasing a flocked tree
Summer at Raising A Farmhouse has created a beautiful, rustic, modern glam farmhouse Christmas this year. So much eye candy! I mean, that mirror!!!!
Olivia at Reinvented Collection was gracious enough to put together this whole tour which requires so much work behind the scenes and I want to encourage everyone to head on over her blog and give her a "thank-you" when you finish up this post! In addition to hosting she pulled off a stellar Romantic French Farmhouse Christmas home tour with her signature style all over it. I just fell in love with her amazing photos on this tour, with so much attention to detail and two of the most magazine worthy Christmas trees!
Kristin at White Arrows Home continually creates the most cozy, story book spaces in her Northwoods log cabin. Her amazing rustic style always has me wanting to jump into every photo to curl up with a good book and enjoy the picturesque views.  In her Christmas tour Kristin shares her secrets to decorating a Christmas tree!  Her "big girl" tree this year is over the top gorgeous so I will be definitely be trying out some of her tips!
Michelle at Our Crafty Mom is very crafty indeed! Her home tour is full of her creative DIY projects. I am just loving her creative ideas for wrapping with craft paper too! So cute!
Rebeca at Lincluden Cottage Life shared her amazing Canadian Cottage and yellow Christmas decor. I have never even considered yellow as a Christmas color but Rebeca has made it look just perfect for her beautiful holiday home!
Sue at A Purdy Little House has a lovely neutral Christmas decor with pops of red theme. There are so many cute ideas on her tour, but I am just in love with her silver platter wall!
Wanda at From House To Home created a lovely blue and white Christmas! I loved her mantel design. I spotted the pretty little glittered music note leaves right away!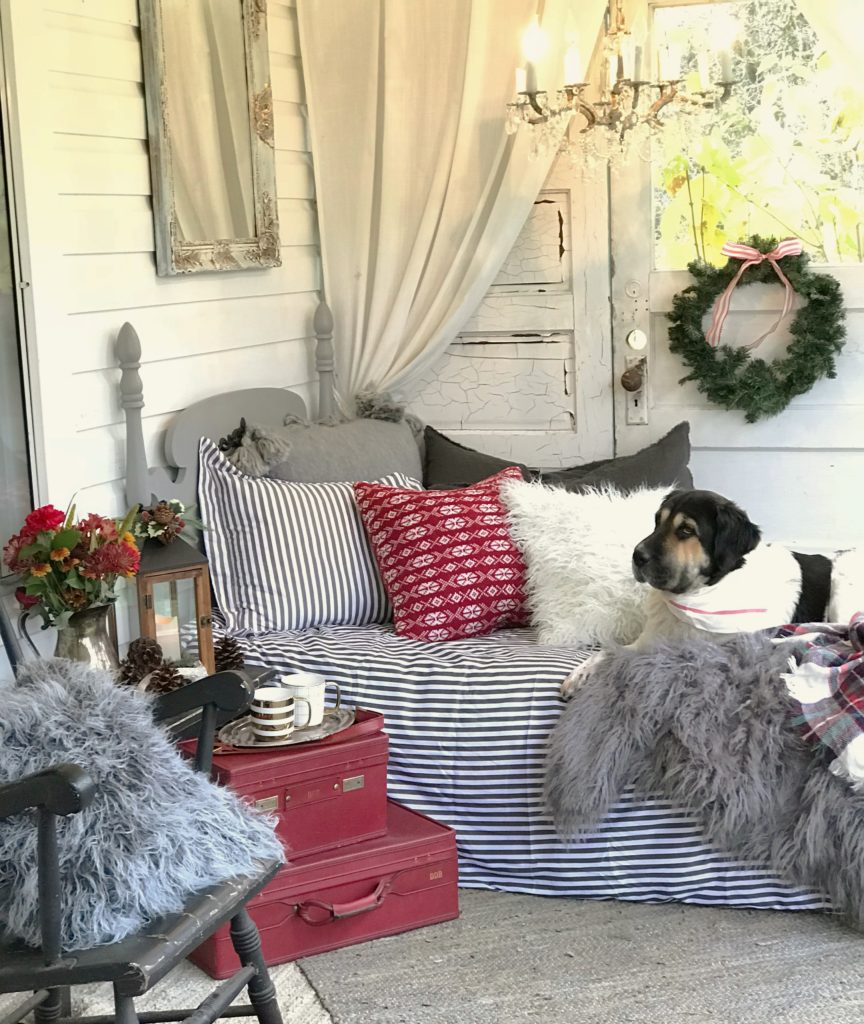 Rhonda at Hallstrom Home always styles the most creative outdoor spaces. I loved her modern farmhouse Christmas porch. It seems so cozy! Apparently, I am not the only one who thinks so!
Lynn at Back To The South styled a festive front porch for her Raliegh, NC home. Since it is unlikely she will get much snow, she sprinkled some fake snow for an adorable winter Christmas porch, snow and all! How creative!
Nanct at Slightly Coastal shared a tour full of eye candy, but this photo made my heart go pitter-patter! I only like shiplap in some situations and had considered it for an accent wall in my dining room, but after seeing this glam Christmas dining room with shiplap I am really thinking It could work with my more traditional and shabby chic cottage style too!
If you haven't seen my holiday music room tour yet, I hope you will check it out! It took a lot out of me to decorate under pressure and on a deadline ( I don't decorate for Christmas before Thanksgiving so I was pushing it to be ready by Dec.1st!) but in the end it was worth it and challenged me to pull out all the creative stops. There are a lot of new looks this year, including a brand new wall color and lots of new vintage finds too. Our traditional Christmas tree takes center stage in the music room ("The Christmas Room") and is loved by all who visit.
Dru at Polka Dot Poplars created such a comfortable and welcoming Christmas home for her family to enjoy and make memories! I loved all of her homespun holiday touches, like the use of plaid and super cute plates in this creative holiday tablescape!
Well this finishes up my tour highlights and favorites for the "It's A Wonderful House" holiday home tour (blog hop). I always enjoy collaborating with such talented bloggers, making new friends and finding all kinds of new inspiration. There are so many styles represented on this hop with something that is sure to appeal to everyone! In closing once again I would like to thank Olivia at Reinvented Collection for hosting and Rhonda at Hallstrom Home for helping promote this hop on IG.
Just a reminder about Home For Christmas Blogger's Link Party hosted by the wonderful and talented Debra at Common Ground and myself is LIVE NOW through December 26th! Please join us for this fun party, it's going to be a winter wonderland of inspiration. See you all there!
Amber
 Linking Up With:
Best Of The Weekend
No Rules Weekend Blog Party