Hi friends! I am so happy to introduce my dear friend, Kristin, from White Arrows Home! She is here today as a guest blogger while I am on vacation at the beach this week. I love how Kristin incorporates vintage finds in and around her dreamy log cabin to create a style that is all her own. We share a love of all things plaid and cozy cottage living. It is a joy to have her here today! Here is Kristin!
Hello from The Northwoods of Wisconsin! My name is Kristin and I'm a blogger over at White Arrows Home where I write about decor, entertaining and life in our lakeside cottage in the vacation town of Minocqua, three hours north of Madison. I couldn't be more excited to be guest posting on one of my favorite blogs, Follow the Yellow Brick Home. When Amber asked, I was so honored!
I started blogging two years ago, and I have to say my two favorite things about this adventure have been the creative outlet it gives me and most of all the amazing people I have met. Amber was one of my first friends in this community and she has been such an inspiration to me!
Vintage Decor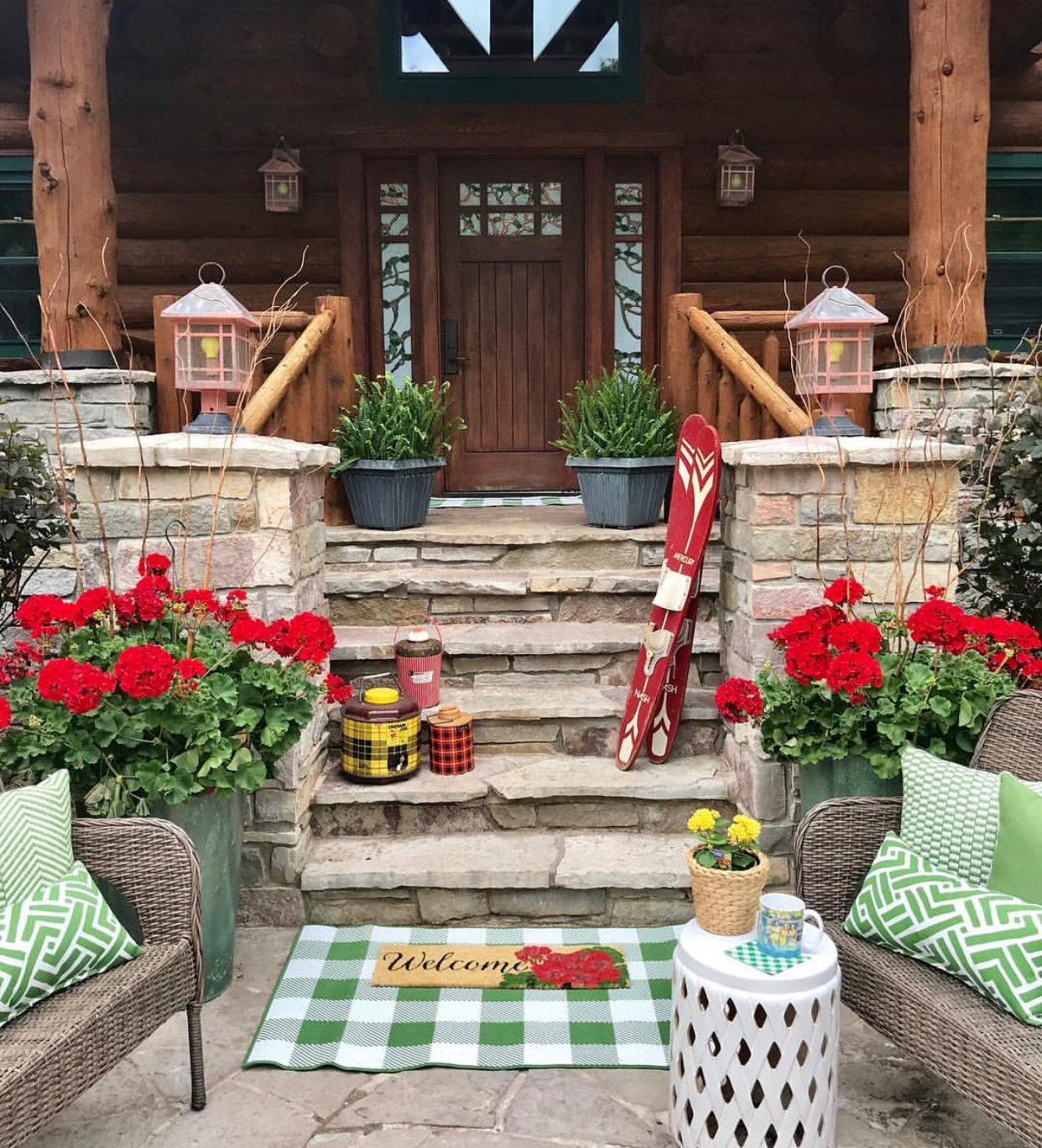 One of the things Amber and I have in common is our love for vintage decor. If we lived closer together we would have so much fun hunting for treasures together! I thought I would share for you the ways I incorporate a few of my favorite pieces into my summer decor. My front porch above showcases a pair of old, red waterskis and some of my ever-growing thermos collection.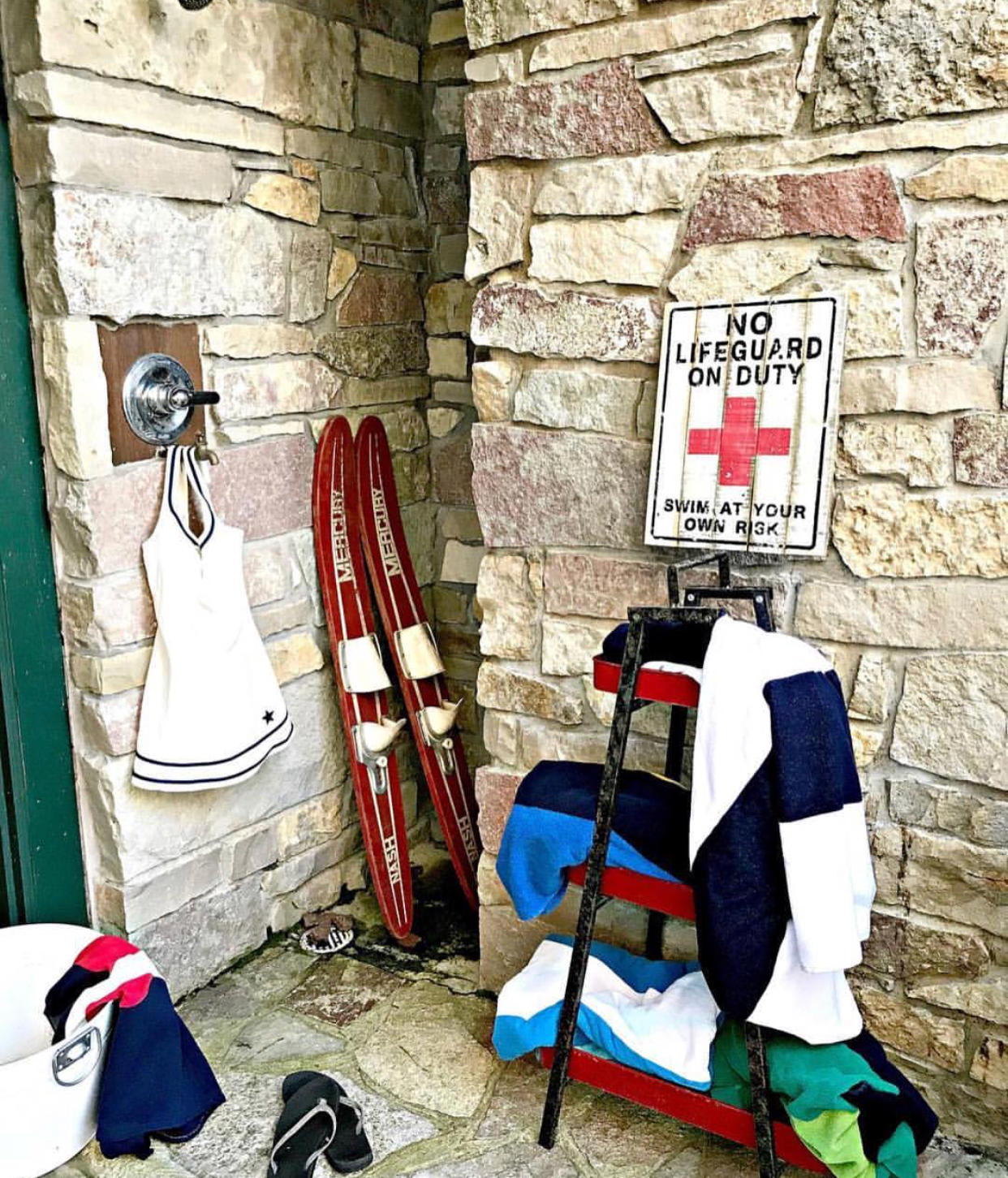 Another pair of red, wooden water skis join a couple of vintage bathing suits by our outdoor shower.
Minnow Buckets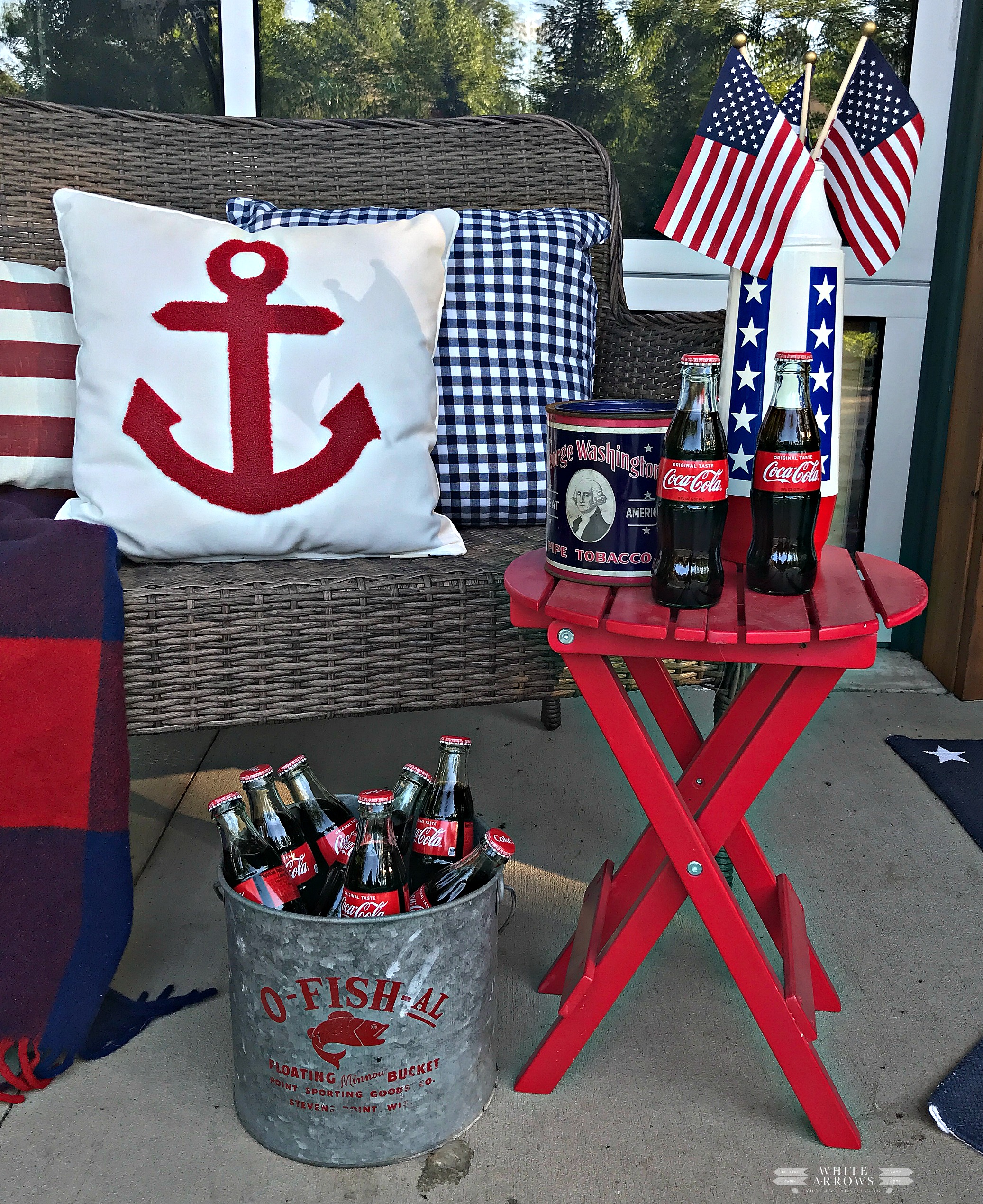 Vintage metal minnow buckets are always on my junkin' list. I use them for so many things: drink cooler, plant holder, toilet paper holder in the bathroom… Below Honey, our Great Pyrenees, greets our guests.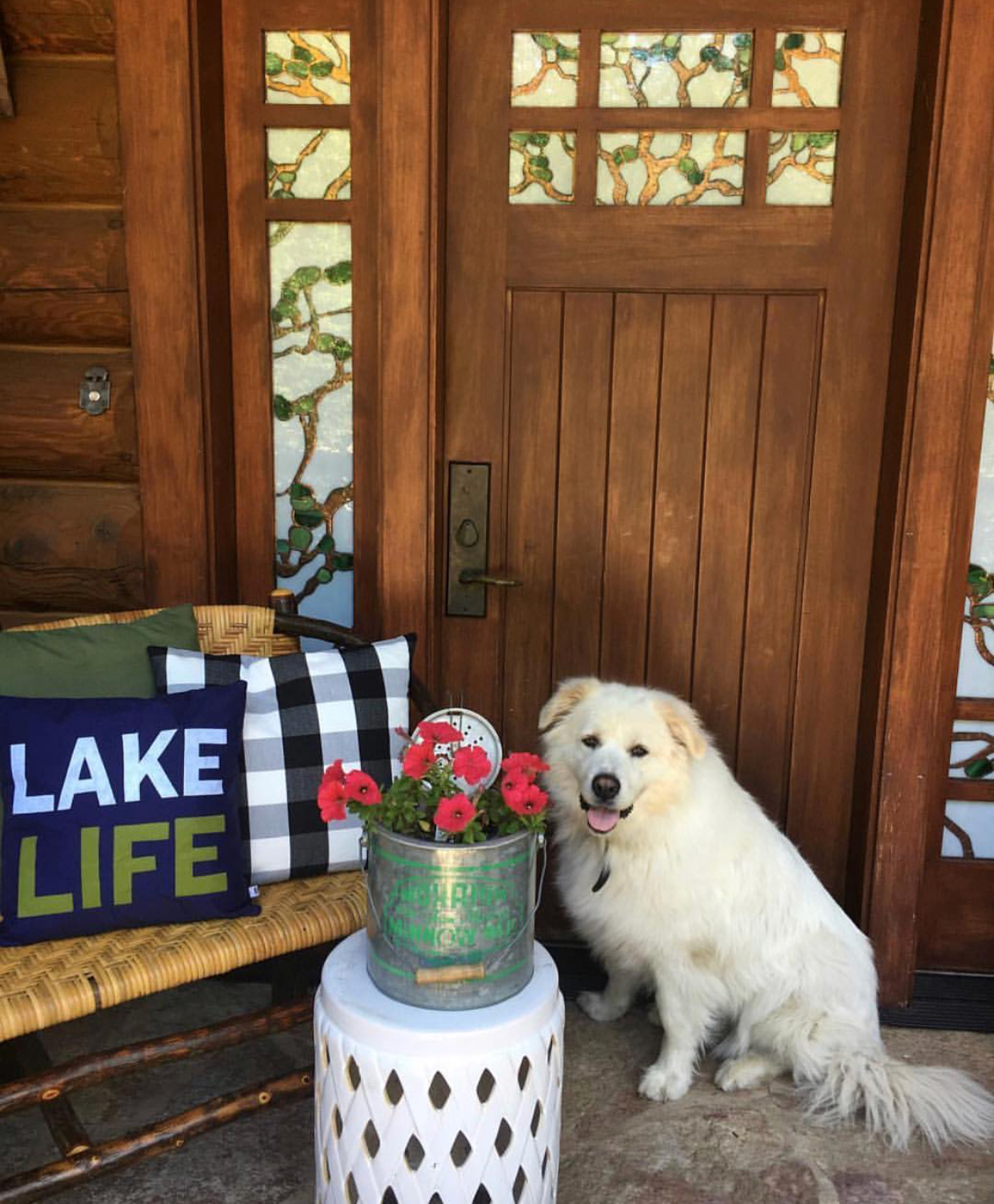 Soda Crates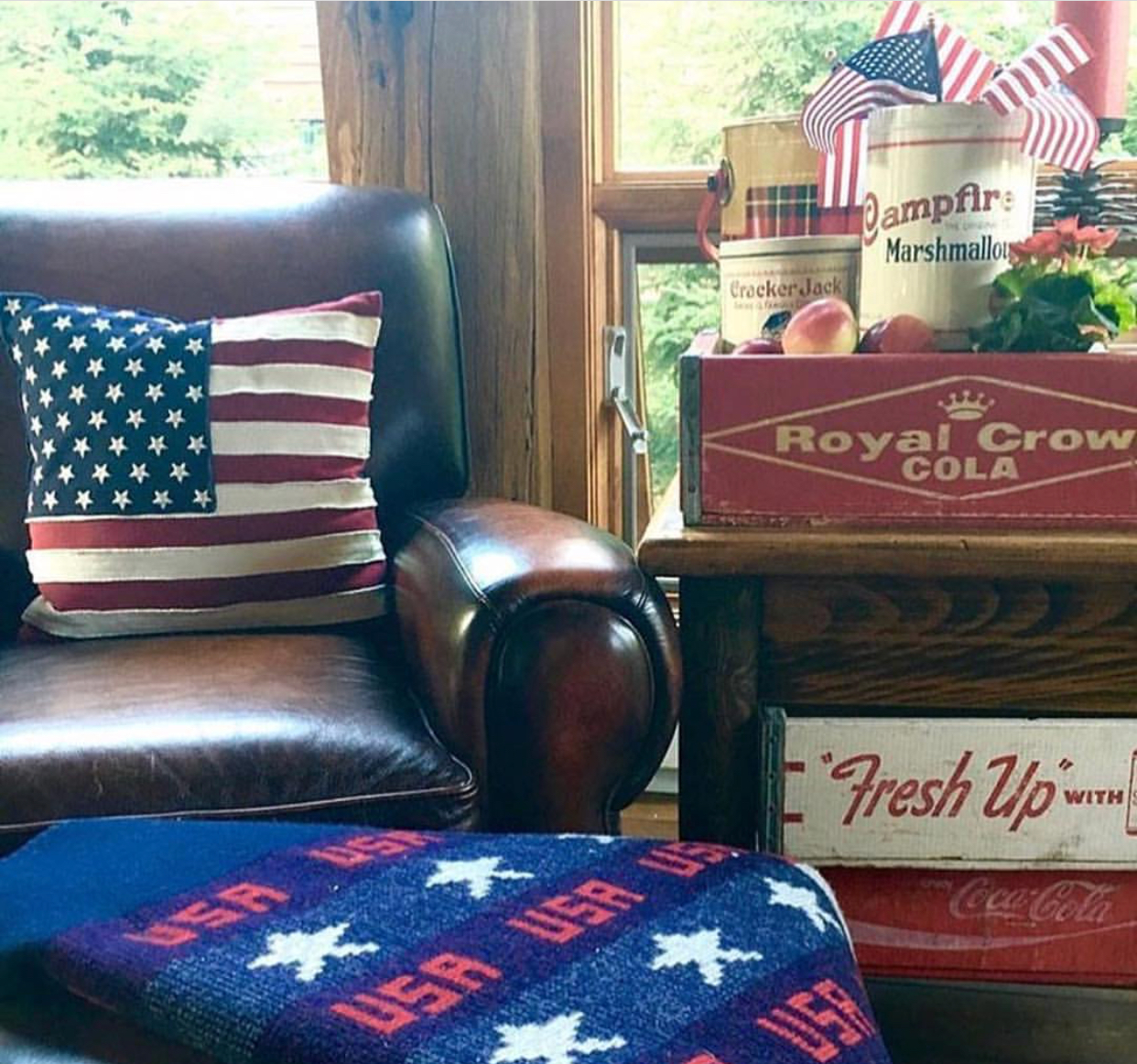 I love using vintage soda crates for serving trays.
Thermos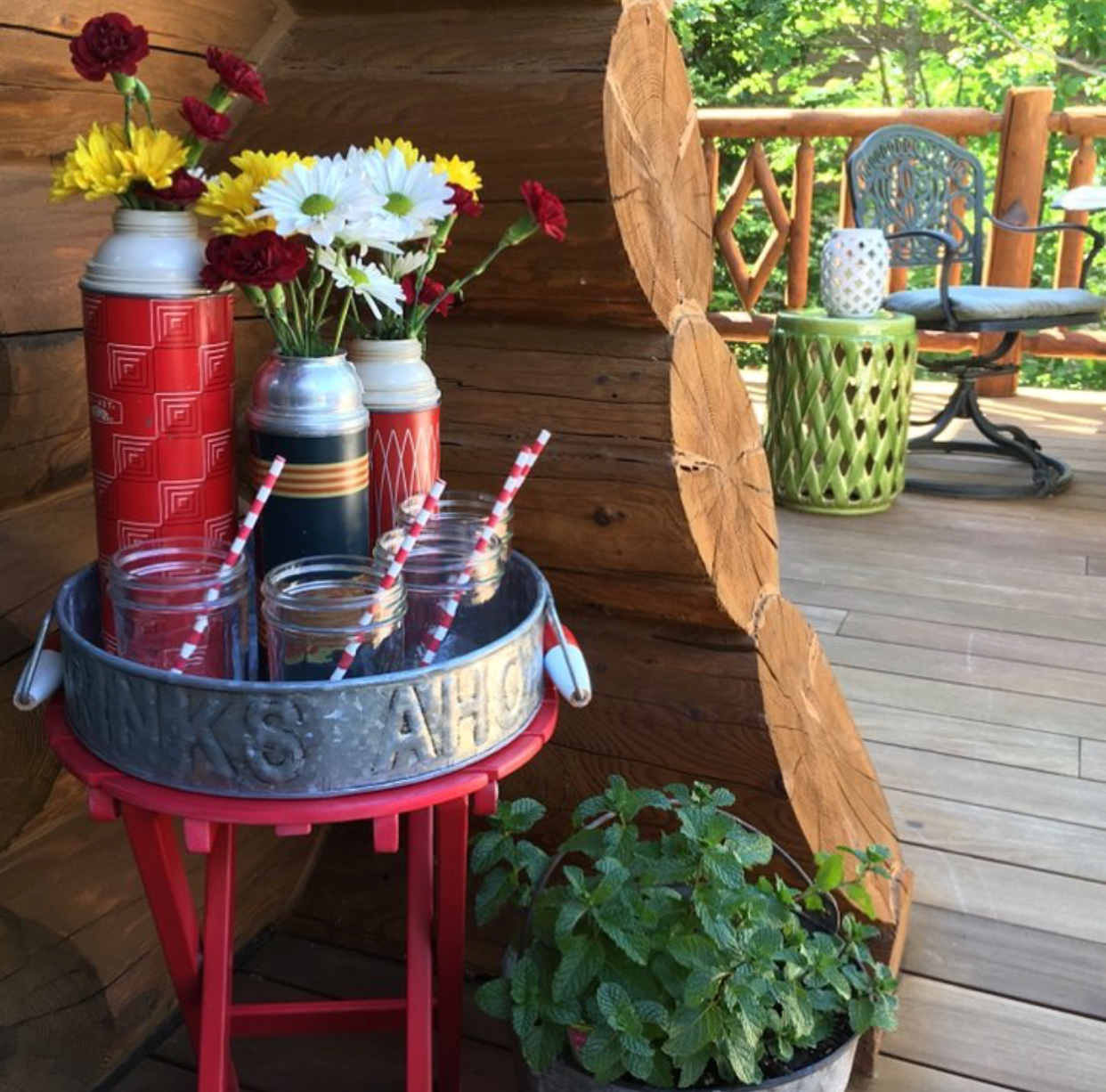 My thermos collection is one of my favorites! There are so many sizes and patterns to collect, it is fun to hunt for them. I use them in so many ways! Often as vases, like above, or even a wine cooler, like below.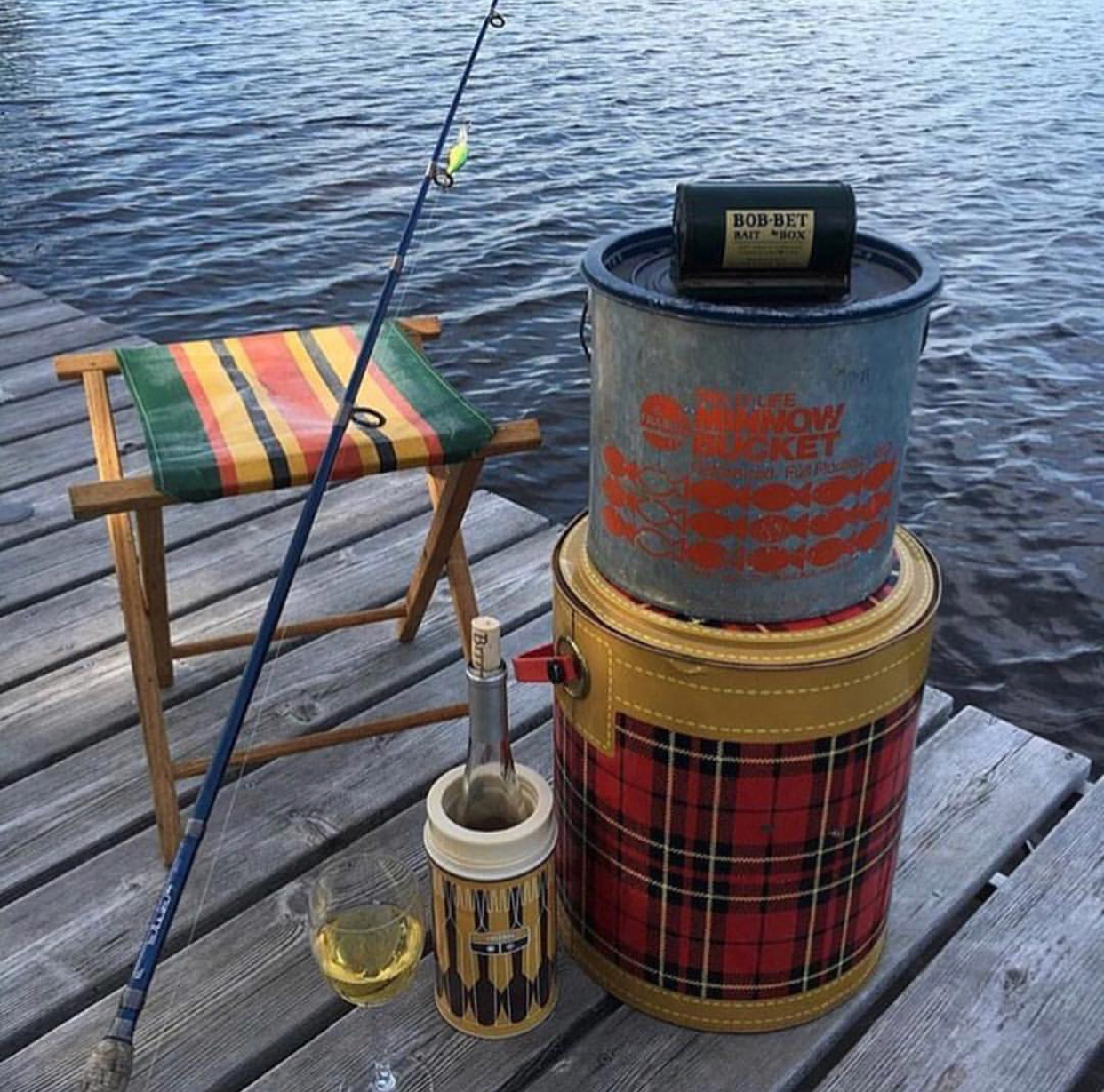 Camp Blankets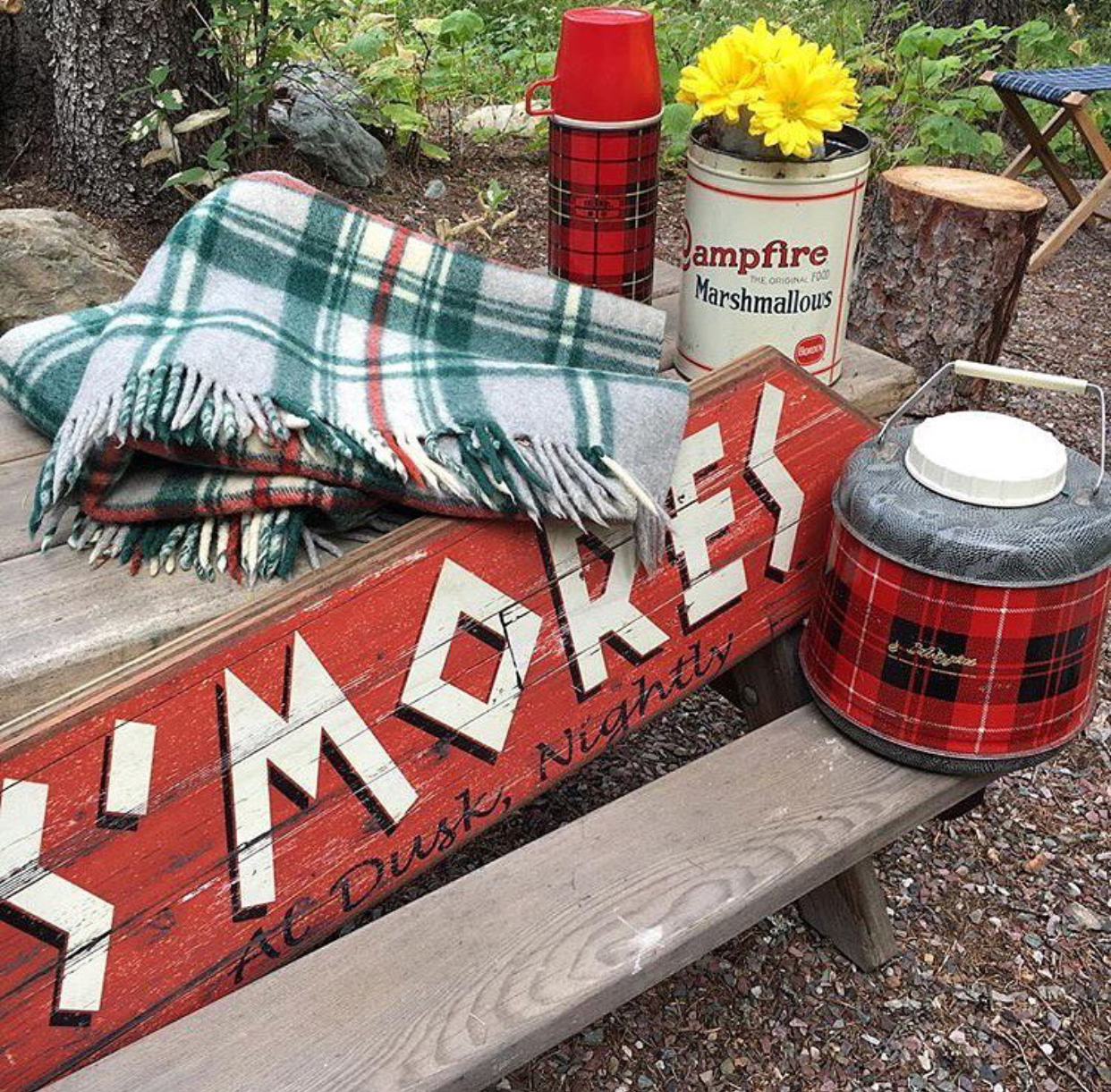 I love having vintage camp blankets on hand for cool nights around the campfire.
Fishing Creels
Antique fishing creels are truly a work of art and a fun find! I also love old lanterns, tea cups and books. So this photo above holds many of my favorite things! Below does too! Antlers, paddles and plaid, Amber and I both love plaid!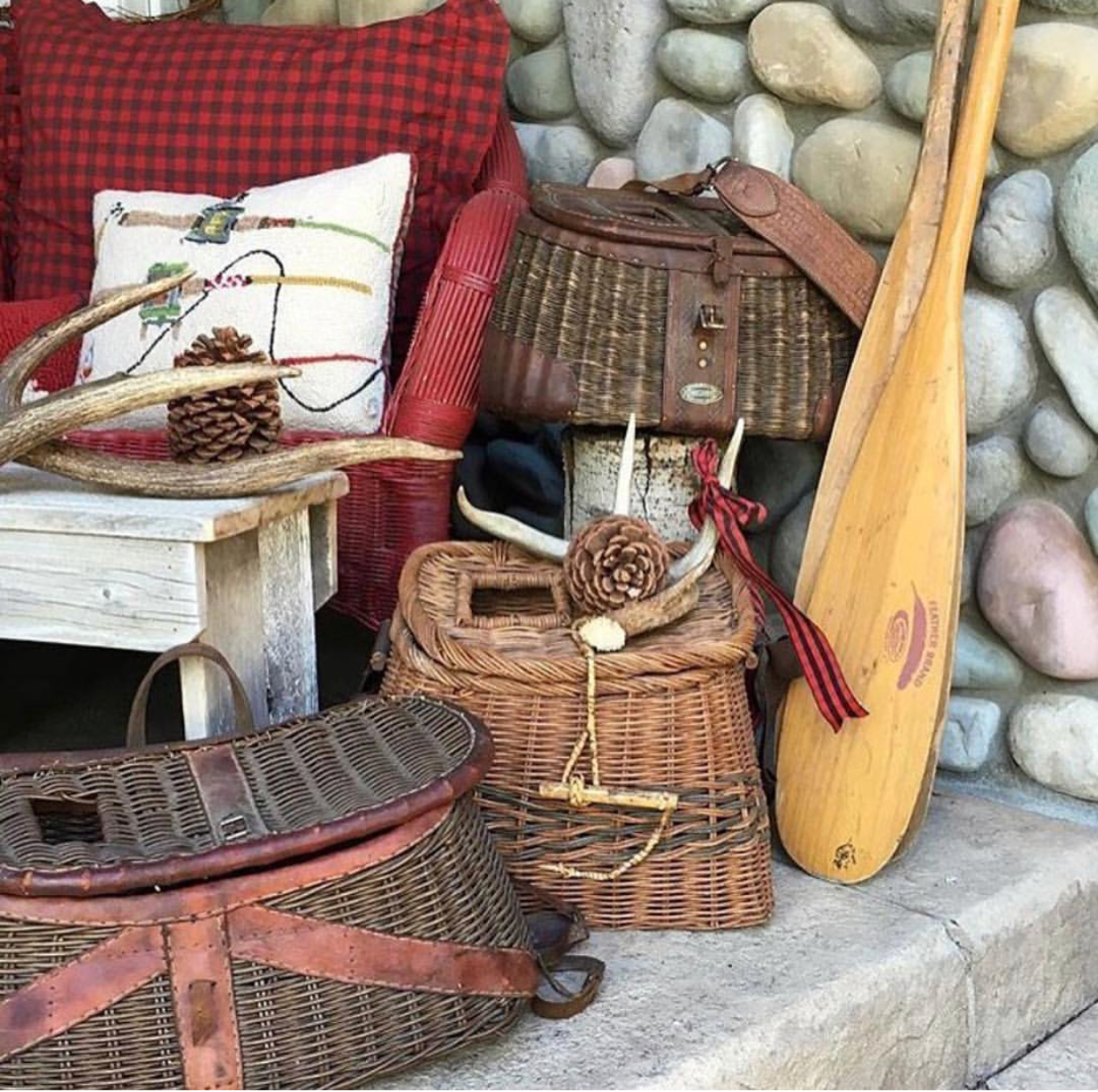 Picnic Baskets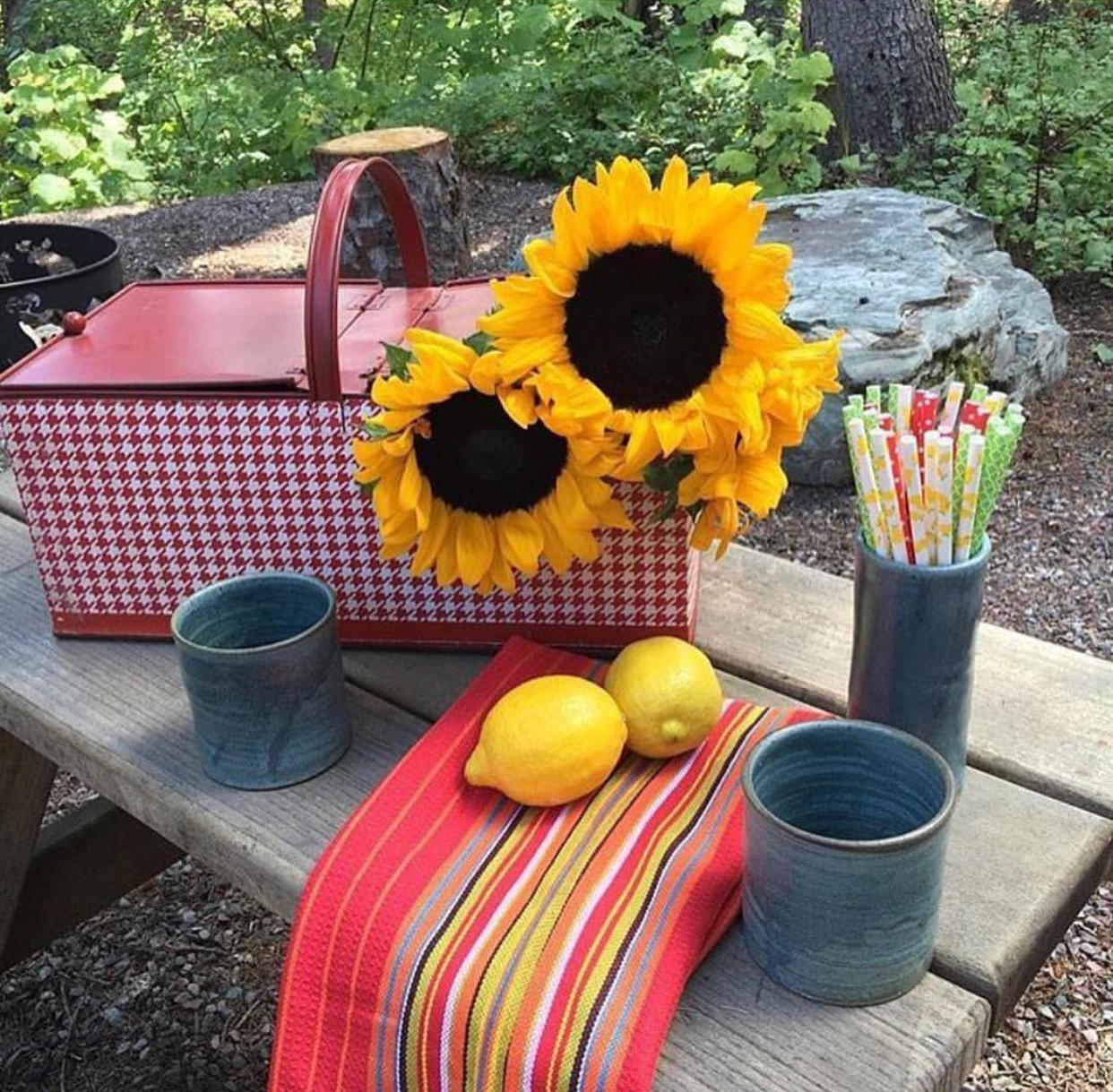 I love collecting old picnic baskets, especially metal ones like the red gingham one above and the blue and white ones below.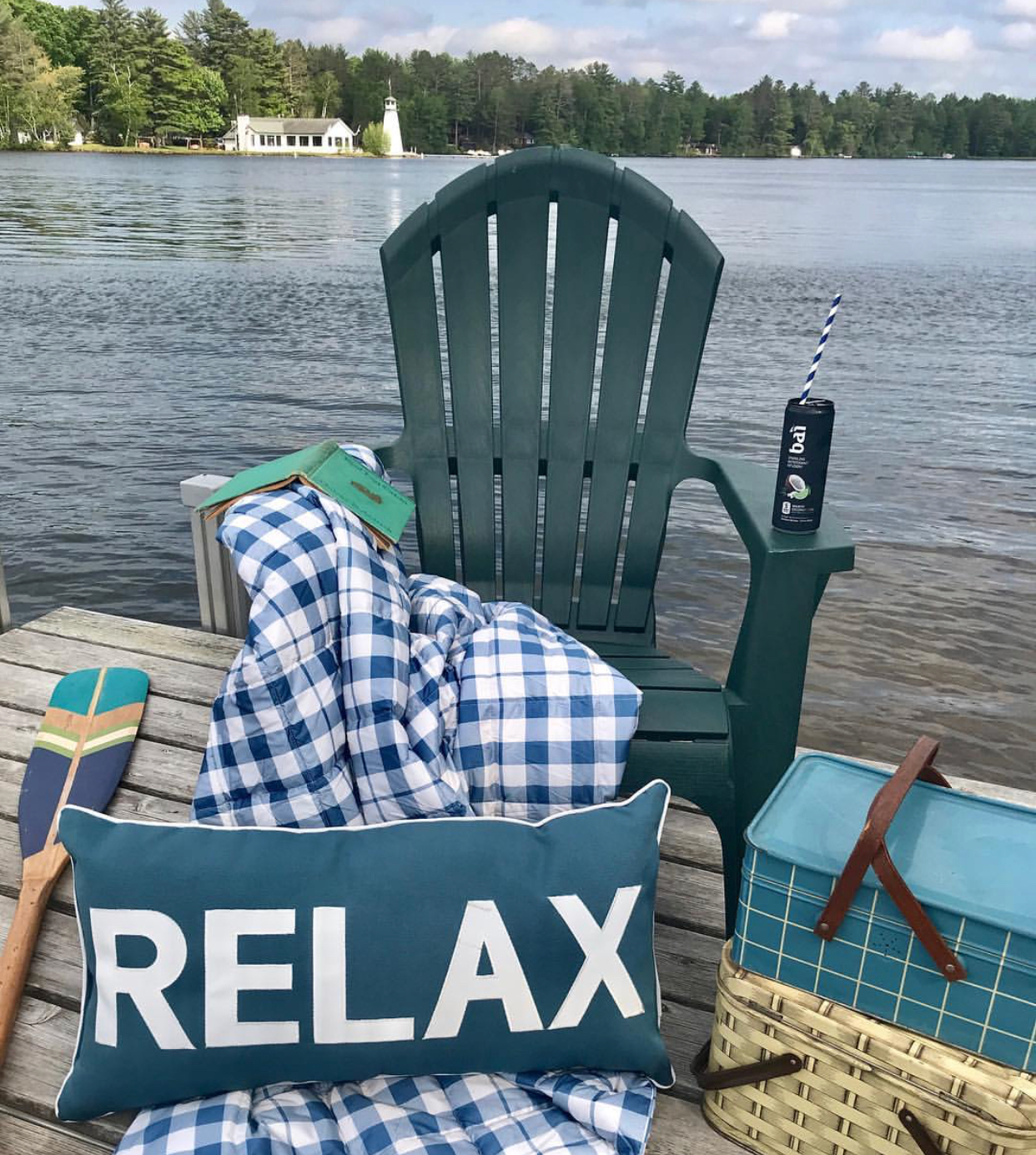 I think what I love most about these vintage items and collections is that they bring a sense of nostalgia to happy times and memories spent relaxing and enjoying cottage life.
I'm so glad I was able to spend some time on Follow The Yellow Brick Home today! I hope you will join me over at White Arrows Home!
What a beautiful post, Thanks Kristin!
Thanks everyone for visiting today. Don't forget to say hello to Kristin and visit her fun and inspiring blog!
Have a great summer!
Sharing at:  Create, Bake, Grow, Gather The Farmhouse Friday Link Up Create, Bake, Grow, Gather  Feathered Nest Friday  Funtastic Friday Fridays At The Fire Station  The Charm of Home Share Your Cup Thursday  Keep In Touch Vintage Charm Party Wonderful Wednesday Wonderful Wednesday