Hello and welcome back to the Home Ownership series! Over the past couple of months I have shared a lot of inspirational kitchen posts, from French country, to farmhouse, to ideas for maximizing space and creating big style in small kitchens. Today's focus is a little more practical, but very important: kitchen safety. It is easy to get carried away in the design and decorating when building a new kitchen or remodeling an old one, but safety should always be a concern. Here are some top safety features for modern kitchens.
Kitchen Design and Function
"Design must be functional, and functionality must be translated into visual aesthetics without any reliance on gimmicks that have to be explained" – Ferdinand Porsche.
Austrian engineer, Ferdinand Porsche's vision of the purpose of design would almost be perfect if it included safety. One of the spaces that can pose a great risk to a family's safety is the kitchen. Modern kitchen design has seen a new value give to space, minimalism, and technology, but considering that the preparation and enjoyment of food is the glue that keeps families together, safety should always be a top priority.
Details matter
Today there are many ways to make your kitchen more functional, stylish and safe. If you are redesigning your kitchen, why not try a stylish and functional pot filler above the stove? Large pots of water can actually be quite heavy and can put a strain on your back and neck. A convenient pot filler eliminates the need for carrying heavy pots from the sink to the stove and also minimizes spills.
This fitting doesn't take away from the beauty of a contemporary designed back splash. New retractable designs by brands such as Signature Hardware are sleek and can even be attached to your counter rather than your back splash, folding away nicely and discreetly when not in use.
More Safety Considerations
Obvious kitchen safety design includes slip-resistant flooring and the installation of electrical switches and lighting features far away from water sources. Kitchen cabinets should be postitioned in such a way that easy storage is possible, with most frequently used items being kept close to work spaces. In addition it is important to make sure that all the appliances and knobs are in working order.
Don't forget to keep things sanitary as well to avoid bacteria from food on the countertops or utensils. Take the time to wipe down stove, descale the kettle, and give the refrigerator a deep clean. Keep the floor swept and trash removed to avoid potential pest issues.
Safe Kitchen, Safe Children
If you have children, think of all the small safety details you can. These include having safety locks in ovens and good installations to prevent burns when the oven door is opened.
Knobs can be placed at a height at which little hands can't reach them or stove knob covers can be used. Microwaves should be out of kids' reach and temporary "locks" should be considered for appliances to prevent possible injury to small children.
Keeping temperatures right
The majority of children aged four and younger who are hospitalized for burn-related injuries suffer from scald burns (65%). Within a home, the most likely place for this to occur is the kitchen. Anti-scald faucets work well to prevent sudden bursts of hot water, by using pressure or temperature to regulate hot water flow.
Cooking spaces should also be large enough to be able to turn pot handles away from the stove's edge without bumping into other pots. Counter tops should also be large enough to be able to plug grills and other devices directly into an outlet.
Keeping baby out of the kitchen
Water is one thing; appliances working with steam are another. Pressure cookers have been known to burst open on occasion, which is good reason to consider waiting until contents are cool (the absence of steam from the spout can be misleading) before opening them. Consider the temporary installation of a safety door so that kids cannot enter the kitchen under any circumstance when specific appliances are being used.
Retractable Child Safety Gate for Doorways Hallways Stairs
If safety gates clash with your kitchen design, you can invest in a retractable mesh gate which rolls up to sheer minimalist discretion when not in use.
Light Up Your Work Space
General lighting should be bright enough throughout the kitchen, but for extra safety, install task lighting beneath cabinets to avoid accidents while cutting and chopping.
For lighting that makes a statement and adds a rustic touch, industrial pendants can be hung above a central island or bench, in styles that compliment the back splash, counter tops or floor. If you do opt for hanging lighting features, mix metals to create a funky, 'perfectly imperfect' feel.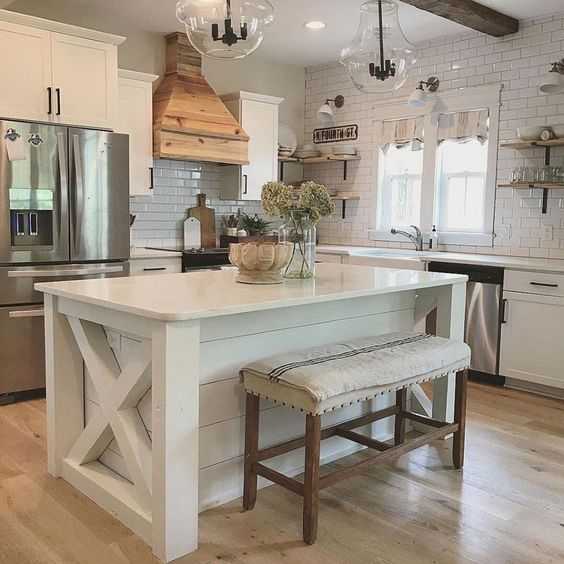 Via Michael Biondo Lifestyle Design
Keep A Fire Extinguisher Within Close Reach
No kitchen is complete without a fire extinguisher! You can store the extinguisher in a cabinet or pantry that is easy to reach or you can even paint the can to look stylish and keep it out on display. Just make sure you have one! For small fires you can also use a foam spray designed to extinguish fires.
First Alert AF400-2 Tundra Fire Extinguishing Aerosol Spray
Lastly don't forgot to make sure all of your kitchen appliances are funcitional properly. Have the number of a reputable repairman closeby in case you quickly need to order any repairman for replacement parts.
When designing a safe kitchen, key features to include are good lighting, child-friendly features (which can be temporary and easily removed when children are older) and details that reduce the likelihood of accidents. Ultimately, it is up to each family to think of the traffic that goes through their kitchen. Burners should be placed far from high traffic zones, small details such as curved (rather than pointed) countertops should be considered, and all items should be safely stored away from tiny hands. Lastly don't forgot to make sure all of your kitchen appliances are funcitional properly. Have the number of a reputable repairman closeby in case you quickly need to order any repairman for replacement parts.
I hope you have found these kitchen safety tips helpful! Thanks for visiting!