Hello everyone! I am so happy to say that I finally am getting down to business on my spring cleaning! I still have a long way to go, but day by day I am making progress. Recently I started reorganizing and deep cleaning the bathroom. Even though I routinely straighten up and disinfect the bathroom, for spring I have been wiping down walls and baseboards, and cleaning out the medicine cabinet. I still need to tackle the shower grout though! I didn't take any before pics of my dirty bathroom, so instead let's just look at a couple of beautiful, squeaky clean bathrooms for cleaning motivation! *This post contains affiliate links.
I love a bright, clean bathroom! I was in the mood to really deep clean ours the other day, but I was out of my green homemade bathroom cleaner. Instead of taking the time to make up some simple cleaner in my spray bottle, I got impatient and used a toxic name brand cleaner I still had under the sink. I should have known better!
I am extremely sensitive to household chemicals, and within a few minutes I noticed I was feeling a bit nauseated and my lungs felt tight. I won't make that mistake again!  There are plenty of inexpensive, natural products around the house that can can be used to clean the bathroom without any adverse health consequences. Here are the best DIY non-toxic cleaners I have used.
For a general all-purpose cleaner and a great one to clean the shower, Dawn and vinegar works well and is very inexpensive to make. Simply use one part Dawn to one part vinegar. Don't worry, the vinegar smell dissipates quickly. You can always add a couple of drops of essential oil for fragrance and extra cleaning power.
My all time favorite natural cleaner is Thieves cleaner . It really works great for everything! I love the smell, it is totally natural, a great mold killer, and a little goes a long way!
Thieves Household Cleaner Kit – includes Young Living Thieves Cleaner 14.4 fl.oz, Plastic Amber Spray Bottle 16oz (PET #1 – BPA Free) w/ reusable Chalk Label, and Microfiber cloth
Cleaning the toilet is probably everyone's least favorite household chore, but using a DIY toilet bowl cleaner made from Borax, Castile Soap and Tea Tree Essential oil makes the job simple and green!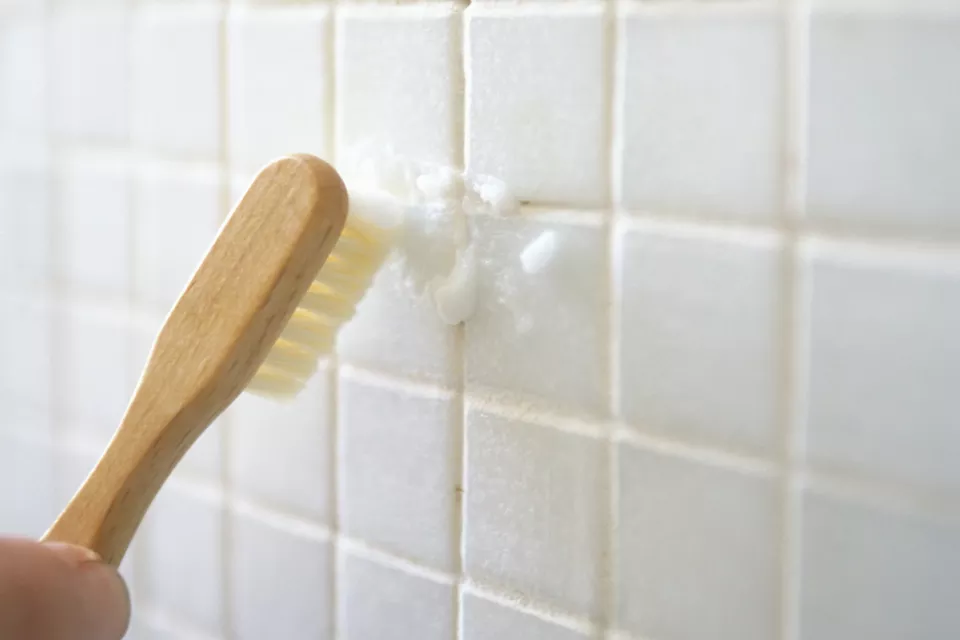 I still haven't gotten around to scrubbing the grout (I hate that job worse than toilet cleaning!) I am going to try several different DIY non-toxic grout cleaners, and I will give you feedback about which ones work best.
I hope these natural products really work for the tile and grout.  I like the tile in our bathroom, but I have never really gotten it cleaned to my satisfaction. I have been so frustrated that I thought about  replacing the tile if I can't get it clean, but before I do that I might even consider using a professional tile and grout cleaning  company which would be better than the mess of tearing it out and replacing it all.
My tile goals…
I have a lot of different projects going on, but later in the summer I hope to do a bathroom update and refresh. In the mean time I will be happy just to have a clean bathroom! I will post a follow-up to this post today to let you know which natural grout cleaners worked best.
Do you have any non-toxic, tried and true bathroom cleaning tips? I love hearing from you!
Thanks for stopping by!
Amber

&nbsp


<script type="text/javascript">
amzn_assoc_tracking_id = "amberferguson-20";
amzn_assoc_ad_mode = "manual";
amzn_assoc_ad_type = "smart";
amzn_assoc_marketplace = "amazon";
amzn_assoc_region = "US";
amzn_assoc_design = "enhanced_links";
amzn_assoc_asins = "B00SC3ZBTM";
amzn_assoc_placement = "adunit";
amzn_assoc_linkid = "35b3d0e2a8aa887e9d78315e1290e95b";
</script>
<script src="//z-na.amazon-adsystem.com/widgets/onejs?MarketPlace=US"></script>
<script type="text/javascript">
amzn_assoc_tracking_id = "amberferguson-20";
amzn_assoc_ad_mode = "manual";
amzn_assoc_ad_type = "smart";
amzn_assoc_marketplace = "amazon";
amzn_assoc_region = "US";
amzn_assoc_design = "enhanced_links";
amzn_assoc_asins = "B074K21GK7";
amzn_assoc_placement = "adunit";
amzn_assoc_linkid = "4f73ed460632cb7c5f14c2e267e5d4da";
</script>
<script src="//z-na.amazon-adsystem.com/widgets/onejs?MarketPlace=US"></script>