After weeks of chilly and rainy weather, Spring seems to finally be in full swing and summer is just around the corner! What better time for an easy and stylish spring-to-summer decor refresh in anticipation of warmer and sunnier days ahead? Today I am sharing how I easily refreshed my dining room and living room for spring and summer with some beautiful new decorative items from Birch Lane. Take a look!*This post is sponsored by Birch Lane. All opinions are my own.

Earlier this spring I shared this "new" view looking in from our living room into the dining room that I am still just loving! The whole dining room changed drastically with the simple addition of a gorgeous Oriental Spice Marine Area Rug from Birch Lane. The colorful rug has completely enlivened the overall neutral room with bold color and fresh style. The rug's pattern is the perfect combination of vintage-boho and traditional style which fits right in with the rest of our decor.
=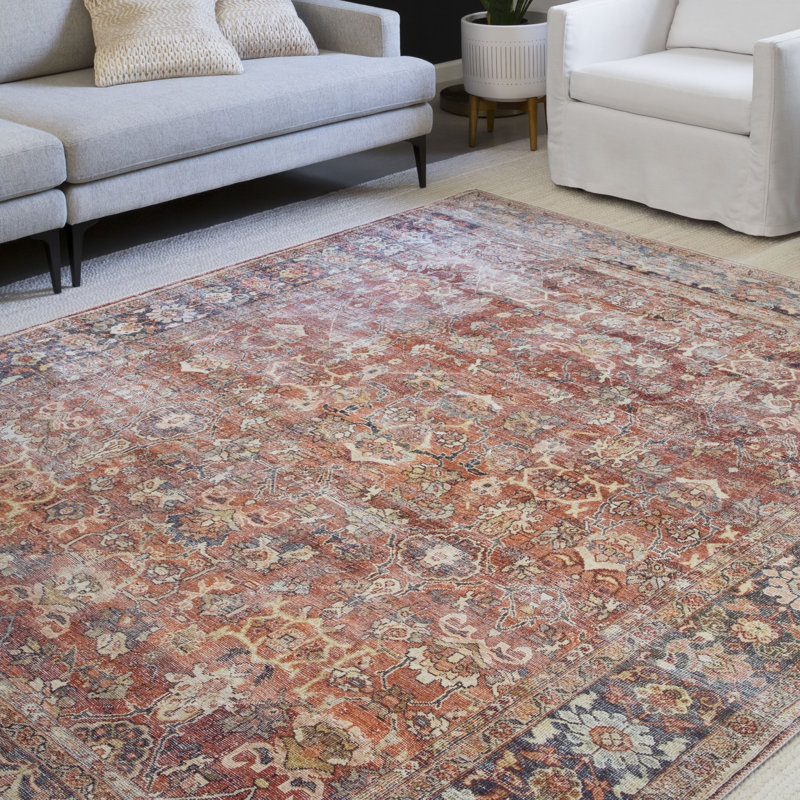 My main spring decor refresh goal was to bring in more color overall and especially to refresh the dining room, which has been looking a bit "tired" with the overall neutral scheme I have used for the past five years. As soon as I spotted the Oriental Spice Marine Area Rug I new it would be perfect! The colors in the rug are a bit warm and "spicy," so I did have to get creative to find ways to make it work for spring and summer.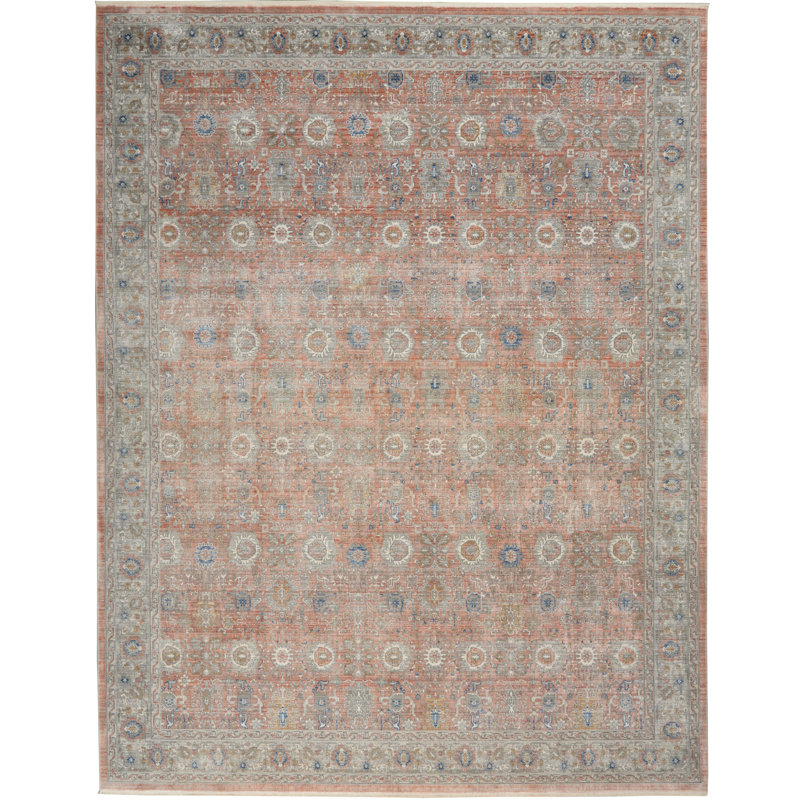 Currently the Oriental Marine Spice Rug is out of stock, but the
Aneah Bordered Power Loom Pink/Gray Rug
from Birch Lane is similar and has even more of a vintage look, which is just gorgeous. I am thinking about ordering this rug for our family room when it gets a makeover this fall!
Using the rug as inspiration, I came up with a pretty spring-to-summer color palette for the dining room and living room which includes ivory and green (my go-to neutrals,) and pops of color with coral tones and navy blue.
Even with all the color in the rug I decided to stick with mostly neutral pillows on the antique church pew for early spring. A combination of ivory and green velvet pillows (pillow covers) paired with cream-colored macrame pillows provides nice contrasting textures. When shopping my pillow stash, I rediscovered a pretty French robin pillow that I had forgotten all about. It ties in with the colorful rug and adds visual interest among the neutral pillows.
Easy and quick seasonal decorating changes can be achieved simply by switching out pillows and pillow covers. Green is my favorite color, so I fell in love with the gorgeous green Safflower Ally Cotton Velvet Pillow Cover Pillow Cover from Birch Lane. I ordered two of the green pillow covers and I just love them! Unlike the heavier velvet pillow covers I have used in the past, this velvet cotton fabric is so soft and lightweight, making the pillow covers appropriate for using year round.
There is just a small amount of green in the rug, so I used additional green decorative accents in the dining room such as artwork, moss spheres and topiaries to really bring out the green and to coordinate with the green pillow covers on the church pew.
The accessories I used were all inspired by the Birch Lane products I shared in my Spring Decor Refresh Mood Board post.
The whole family loves the rug! It is so soft underfoot, and so far it has been very easy to keep clean by lightly sweeping.
I really had been wanting to experiment with incorporating more blue around our home for spring and summer, so the rug was the perfect place to start since it has so much blue in it. Our dining room and living room are adjacent to one another, so it was important to carry some of the rug's colors over into the living room for a stylish and cohesive look.
Here you can see how I used blue pillow covers on our leather chesterfield sofa in the living room to coordinate with the blue in the area rug in the dining room. Additional moss spheres and greenery in the living room also provided continuity of style between the rooms.
When I ordered the green velvet pillow covers I was so happy with them that I ended up ordering some additional velvet pillow covers in slate to use on the sofa.
Safflower Ally Cotton Velvet Pillow Cover in Slate
In my opinion the slate blue is more of a classic "Kentucky" blue…the perfect blue for my old Kentucky home! For summer I combined a beautiful orange tree tapestry pillow with the blue velvet. The oranges pick up on the "spicy" colors of the rug in the dining room.
It's amazing how easily new textiles and a few simple accessories can stylishly transform any space in no time. I am loving how my Spring-to-Summer decorating refresh with Birch Lane has turned out! The bright colors in the living room and dining room along with all the pretty sunshine just give me all the happy spring and summer vibes!
I hope this post has inspired you to check out all the beautiful decor at Birch Lane to easily refresh your decor for spring and on into summer. Are you a fan of green, blue and coral colors for spring and summer too? What changes are you making around your home as we prepare for warmer days ahead? I love hearing from you, dear readers!
Thanks for visiting today!
Amber