It's the time of year once again when we start thinking about cozying up our homes for fall, but it's still 100 degrees and sunny outside! If you are unsure how to decorate during August and September, think "Simple Sunflowers!" They are the quintessential transitional flower that will brighten up any area indoors or out from now through Thanksgiving!
Today I have invited several sunflower-loving blogging friends in sharing how we decorate with sunflowers. Be sure to check out all of the beautiful and sunny inspo at the end of this post.
Sunflowers in Bloom!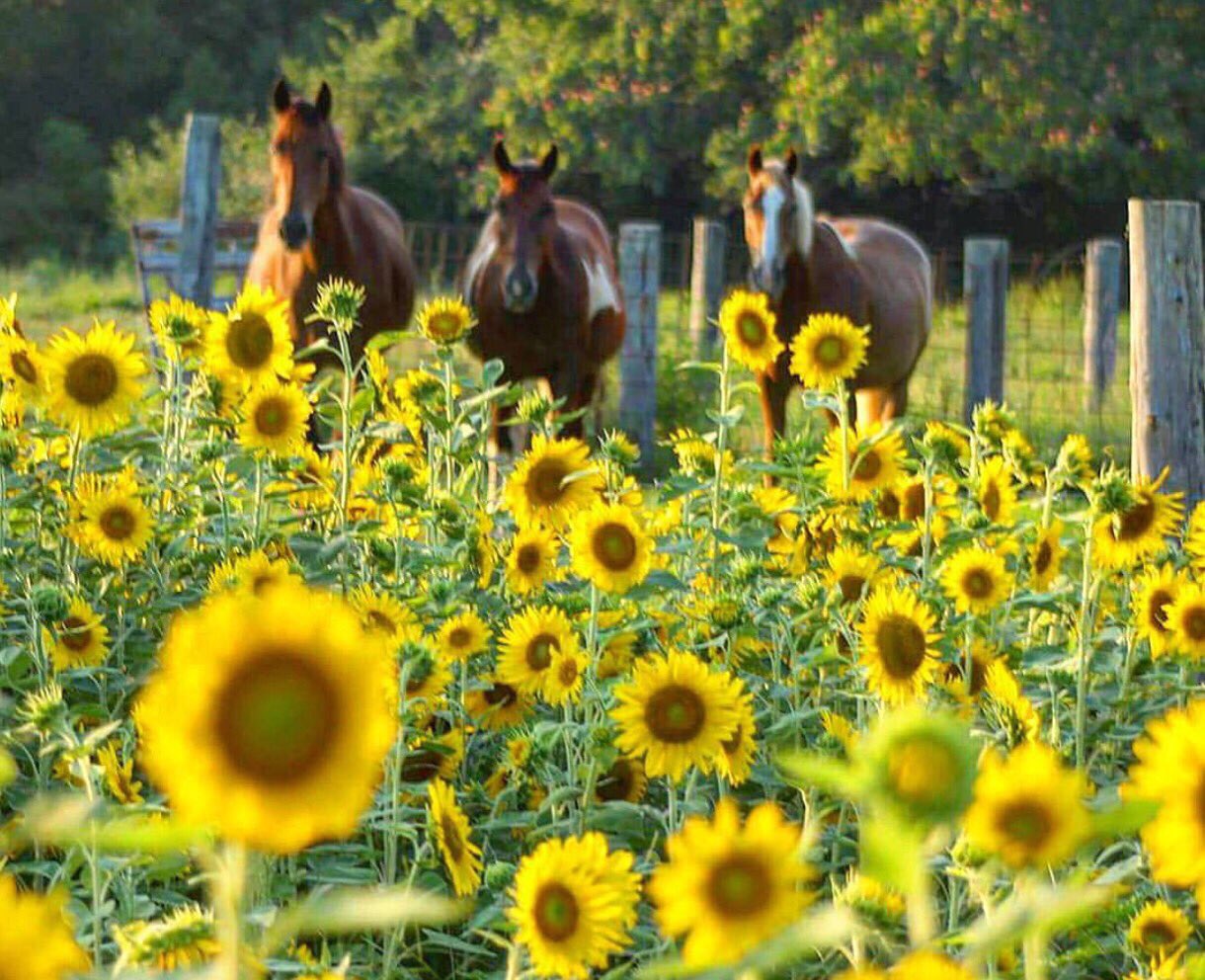 Photo: Carrie Mofield/ Kentucky Tourism
Sunflowers bloom from June-October in different parts of the United States, but they are "in season" from late July through Mid-October here in KY depending on the variety.
I have had little success with growing sunflowers here, since they are a favorite of the ravenous deer. I am lucky to get two or three to last.
I always associate Sunflowers with "Back-to School!" Every year I buy a big bouquet of sunflowers to brighten up the classroom and welcome my students during the first week of school. I just bought this bunch to place on the grand piano at school this week. I love the cheerful yellow centers! When the flowers fade I will dry the heads.
Dried sunflower heads are beautiful in late summer-through- fall vignettes too.
In Mid-August I bring out my favorite sunflower pillow covers. I have used them in just about every room and on the porch to create new looks each year when Transitioning from Summer to Fall.
If you have a hard time growing sunflowers like I do, you can almost always pick up sunflowers inexpensively at the grocery store.
I love combining sunflowers with late summer garden treasures from my own garden or local farmer's market.
Sunflowers and Lemons!
In July and Early August I like to transition from summer-to-late summer by combining sunny sunflowers and lemons. The beautiful sunflowers shown here are faux.
My French Farmhouse Lemons and Sunflowers Tablescape is still one of my favorites. I think sunflowers and lemons are beautiful together. The sunflowers need to be a brighter yellow kind with few orange undertones to work well with lemons.
Sunflowers in Fall Decorating
It can still be pretty hot and sunny here all through October, so sunflowers are perfect in fall arrangements.
Here I combined grocery store sunflowers, a clearance bouquet, and flowers from my own garden to create a unique "Fall Garden Day Bouquet" arrangement for fall.
The arrangement was inspired by my thrifted Chinoiserie vase.
Faux sunflowers come in a variety of warm hues. Individual sunflowers can be tucked here in there in in fall vignettes.
I hope you have enjoyed seeing just a few ways I use simple sunflowers in summer-to-fall decor. Now it's time to continue the hop with some beautiful sunflowers inspo over at A Stroll Thru Life. Don't forget to click through all the links below.
Thanks for visiting!
Amber
You are invited to the Inlinkz link party!