Hello dear readers! Today I am so excited to share how I have been refreshing the living room for summer and some changes that absolutely made me fall in love with it for the first time since moving to our home four years ago! The amazing transformation began with the simple addition of a stunning  8′ x 10′ natural jute rug from Soft Surroundings. It's amazing how the right rug can pull a room together like magic! I truly believe this is the perfect jute rug, and as you read on you will see why. *This post contains affiliate links and is sponsored by Soft Surroundings. All opinions are my own.
In the past couple of weeks our living room seems to have changed drastically, but the main change in the whole look and feel of the room happened the minute we laid down this beautiful, handwoven jute rug from Soft Surroundings.  This spring it was also time for a new couch, and after waiting many years for "the right one," my husband and I found a steal on our dream leather Chesterfield sofa (I will be sharing more about the sofa in an upcoming post!) With the addition of some trendy new throw pillows and some summer accessories, the whole room feels more refreshed, stylish and inviting.
For over four years I have been on the hunt for the perfect rug to define the sitting area in front of the fireplace in our living room. When I came across the gorgeous  natural jute rug on the Soft Surroundings website, it was exactly the style, size and color I was looking for.
Soft Surroundings Natural Jute Rug
Our living room is decorated with lots of neutrals and I have been incorporating more organic and natural elements into the decor, so I knew a jute rug would be a great choice for the look I have been wanting to create.
The 8′ x 10′ size is large enough to place under all the furniture in the sitting area, and it really defines the space. This beautiful jute rug has created a classic and modern feel at the same time and was the missing piece in bringing the whole room together.
Before
After
We get a lot of natural sunlight in the late afternoon which casts such beautiful golden glow in the living room and makes it feel so cozy and inviting. The addition of the jute area rug just cozied up the space even more.
It was definitely time for a living room refresh, and I am so happy with the new jute rug, Chesterfield sofa and trendy boho throw pillows! It really feels like a "new" room with just a few changes.
I especially love the combination of textures and colors between the leather sofa, jute rug and other textiles.
As an interior decorating enthusiast, it is hard to believe that I went four years without a rug in the living room, but I had a good reason. Our family has a lot of allergies, so I knew I didn't want any kind of wool or fabric rug that would need a lot of vaccuming. I loved the look of natural jute, but in our previous home we had a large jute rug in our dining room, and I had a lot of problems with it shedding natural fibers and debris all over the place. It would never lay down flat either and that drove me crazy! It also had a strong "natural" smell which was somewhat unpleasant and never really faded. I eventually ended up throwing the rug away because it was just too messy and would never lay down right no matter what I tried.
I was a little hesitant about having another jute rug due to the negative experience I had with our former jute rug.  However, my old rug was from another company, so I decided to take a chance on Soft Surroundings. I am so glad I did, because I could not be happier! We have had it down for over a month and it has stayed in place without wrinkling up, losing shape, or rolling up on the edges and corners which was a big nuisance with my other jute rug. This rug is extremely well made and heavy, and it laid nice and flat from the moment we put it down. Also, there was absolutely no smell upon unpacking and no shedding whatsoever!
I am extremely sensitive to chemicals and even have some allergies to certain fabrics and dyes, but I have not had one problem with this amazing jute rug from Soft Surroundings. It is handwoven from all natural jute, and it is unbleached and un-dyed which makes it a greener choice for the home. Another plus is that it is reversible.
It is truly the perfect rug for our living room, but is it really the perfect jute rug? I truly believe it is! As I mentioned, I had another (very expensive) jute rug from another home decor company, and it was not nearly as well made. I have also had several jute throw rugs and door mats, which usually shed and have some type of odor. I certainly give this jute rug from Soft Surroundings a 10/10. Although it isn't particularly soft on bare feet, it isn't necessarily scratchy or itchy. The natural weave of the rug makes it a little bumpy, but that is normal for any jute rug so I am not factoring softness into my assessment of it being the "perfect" jute rug.
I also love how the rug looks with our linen wing back recliners. The combination of linen and jute along with other natural and organic textiles is always a winning one! The great thing about choosing jute rugs for any room is that they are neutral and will work well for many decorating styles. Jute rugs are especially popular choices in today's French Country and farmhouse style homes.
I am totally crushing on blue ticking  and blue French grain stripes right now, and the Slipcovered Tristan Chair at Soft Surroundings makes my heart skip a beat! This chair is definitely on my home decor wish list! Doesn't the jute area rug and French chair look gorgeous together?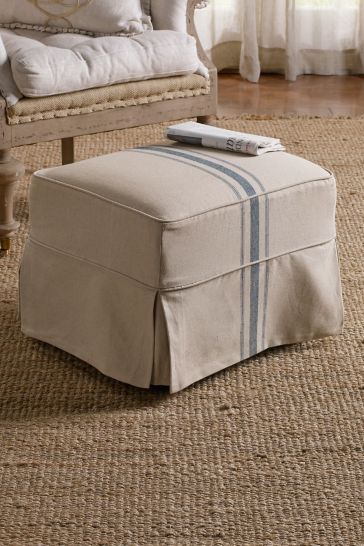 I am also a little obsessed with foot stools, poufs and ottomans currently, so I am also considering the Slipcovered Tristan Ottoman to put in front of our Chesterfield sofa. Here the ottoman is pictured with the jute area rug so I can easily visualize how it would look in our home. Love the look!
Next week I am participating in the Summer Home Tours with thirty bloggers hosted by Marty at A Stroll Through Life! On my tour I will be sharing more summer decorative touches around the living room, including a few nautical and coastal accents. Natural jute is a perfect textile for coastal inspired decor and I am really happy with how our living room is looking for summer. I can't wait to show you more of the beautiful jute area rug and bits of beachy, summer blue accents too!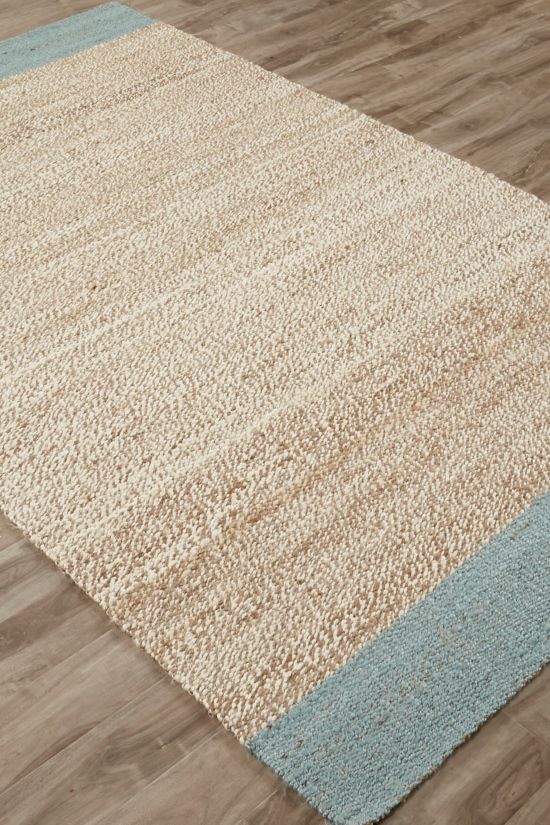 If you love also love coastal decor or maybe just a little bit unexpected color in a neutral themed room, Soft Surroundings also offers this fun Manzinita Jute Rug with contrasting dyed ends in a soft hue which is perfect for summer and coastal themed rooms.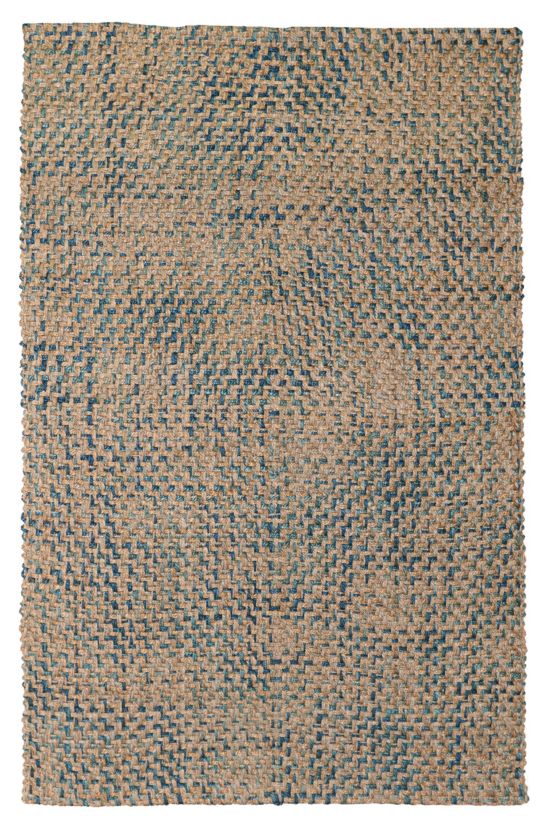 The Milena Rug is also made from natural jute with a bit more blue woven through. I think this rug is going on my wish list too!
If you are looking for a stylish, low maintenance, natural area rug, then I highly recommend a jute rug from Soft Surroundings. Because this is a sponsored post, I was unsure about giving the rug a 10/10 on a review for the risk of sounding dishonest or like a sales pitch, but I have no complaints whatsoever and I have been nothing but thrilled with it! Because of the high quality, natural materials, beautiful style, lack of shedding and smell, and the fact that it stays in place without curling up on the ends or wrinkling in the middle, I think it certainly warrants a "10" as far as rugs go!
If you are new to Soft Surroundings, be sure to check out their stunning website. In addition to home decor, Soft Surroundings offers gorgeous clothing and accessories. I am already checking out the website for some summer dresses, tote bags and sun hats for our beach vacation in July.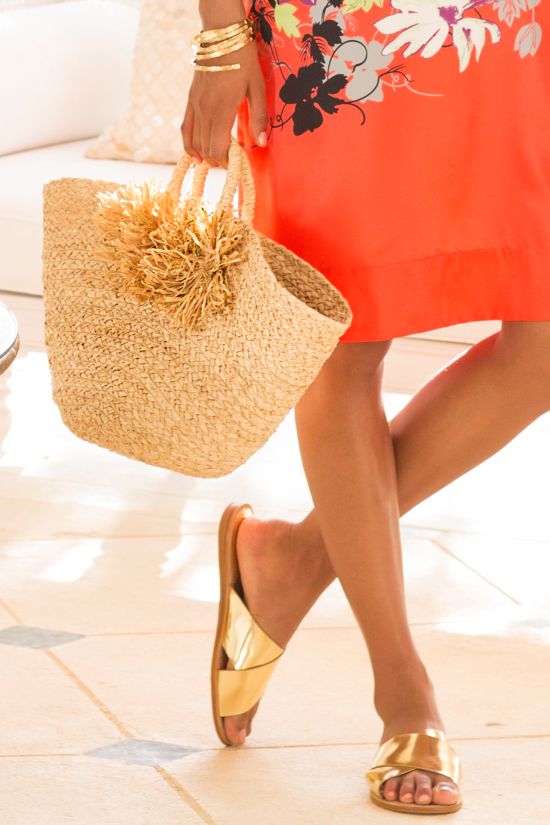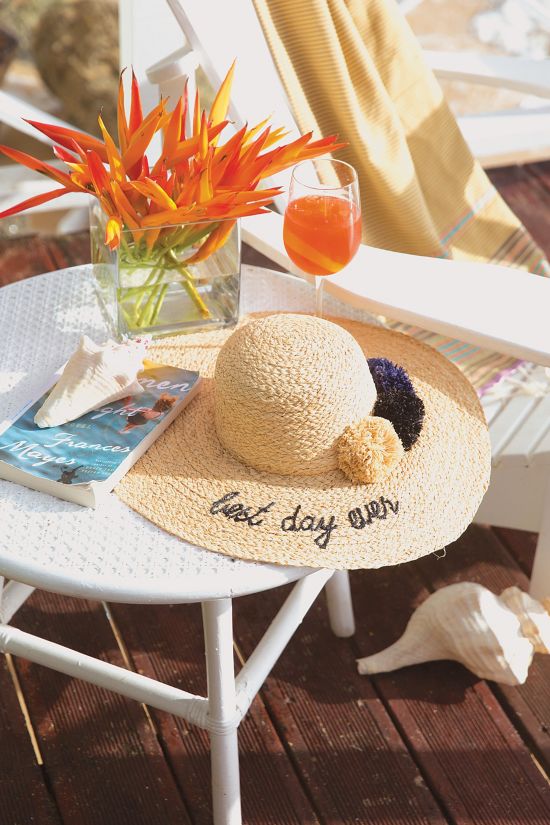 How is your summer decorating coming along? I love hearing from you! Thank you so much for stopping by today, and please visit again soon!
Sharing at: The Charm Of Home Wonderful Wednesday Blog Hop Amaze Me Monday Wow Us Wednesday Share Your Cup Share Your Style