Summer is here, so that means sipping tea on the front porch, picnics and dining al fresco! I have been gathering some ideas for new outdoor furniture for our patio refresh, extra front porch seating and maybe a picnic table for the side yard. While browsing Pinterest I found some beautiful outdoor furniture inspiration to share with you. *This post contains affiliate and/or sponsored links.
Target Mayhew 6 Piece All Weather Wicker Dining Set Threshold
Outdoor Sectionals
Our front porch is semi-enclosed and is almost like an outdoor room. Currently we are using some 1920's metal garden chairs, and they work very well on our porch. My husband and I have discussed the possibility of moving them to the back porch if we end up building a deck off our garage, and using an outdoor sectional on the porch so we have more room for family and friends to hang out. For now though I am perfectly content with unique these chairs, especially with our recent Vintage (French) Cottage and Garden Style Summer Porch refresh.
Target Elizabeth 6 Piece Sectional
I love the idea of installing a patio over a small patch of grass in our side yard.During the winter, cold temperatures and frosts tend to make the grass look dull and lifeless, and in the summer the intense heat and sunshine can make the grass wither and turn brown. Since it is such a small area I think a patio would be perfect with the benefit of not having to mow the side yard anymore! Of course I would want to landscape a bit around the patio with beautiful plants and flowers but I wouldn't even have to worry too much about watering if we have our sprinkler connected to an app.
Concrete patio contractors can transform a patch of grass or flower bed into an outdoor space both you and the family can enjoy. Of course you can always DIY, just be sure you haven't given yourself too much work with all of your summer gardening and chores. You can't relax on your patio if you are stressed out!
I especially love natural looking outdoor wicker. This gorgeous sectional and the whole space is dreamy! With the right patio heater entertaining and relaxing outdoors could extend well into fall. Check out Best Patio Heater 2018 – Top Ten Reviews And Buyer Guide to find the best heater for your outdoor space.
Metal Patio Sets
Source
I really adore vintage wrought iron and metal garden furniture. In addition to the three antique chairs on the front porch, we also have an old set similar to the one pictured above which we use around back on the patio. Every spring I have to touch up some spots with Rustoleum paint, but then it looks great!
I just finished painting our table with four chairs and it looks so good! You would never know that our set is from the 1960's other than the classic styling. I see that I missed a little spot on the front of the chair shown here, but that will be a quick fix. I lucked into too smaller similar vintage metal chairs for the small back deck, and I will be painting those this week. I am going to share a before and after post on the blog this week so be watching for that post.
I love the classic look of black, but also I like the idea of painting the furniture bright colors too! This would be perfect for dining around a pool.
Metal garden furniture tends to be the best if you like to change decor, since it is classic and can be well suited to all kinds of gardens and outdoor decor styles. If you are specifically looking for metal designs, check out Patioproductions.com/aluminum-patio-furniture.
Patioproductions.com/aluminum-patio-furniture
Classic Wood Picnic Table
Of course a traditional wood picnic table is classic and charming! I have so many happy memories of spring and summer picnics on the old red picnic table at my Grandparent's house. Wooden picnic tables can be expensive if purchased new, but they are relatively common at yard sales and flea markets.
Used picnic tables that have sat out for years in the weather might look a bit rough, but with a little TLC they can be absolutely beautiful. If proper wood sealant is used then a picnic table will last for years. I am crazy about the idea of painting an old picnic table to give it new life!
Small Patio Furniture
If you have only a small patio or garden space, there are still so many cute options, from rustic- modern dinette sets to classic bistro style tables and chairs.
Target Smith Hawken 3 pc Wood Patio Bistro Set Tan
Target 3pc Metal Patio Folding Turquoise Bistro Set
A good compromise in a small garden or patio area is to use either stackable or foldable furniture. This way, you can have open space or a dining area as needed.
Target French Cafe 3 pc Wicker Patio Folding Bistro Set Threshold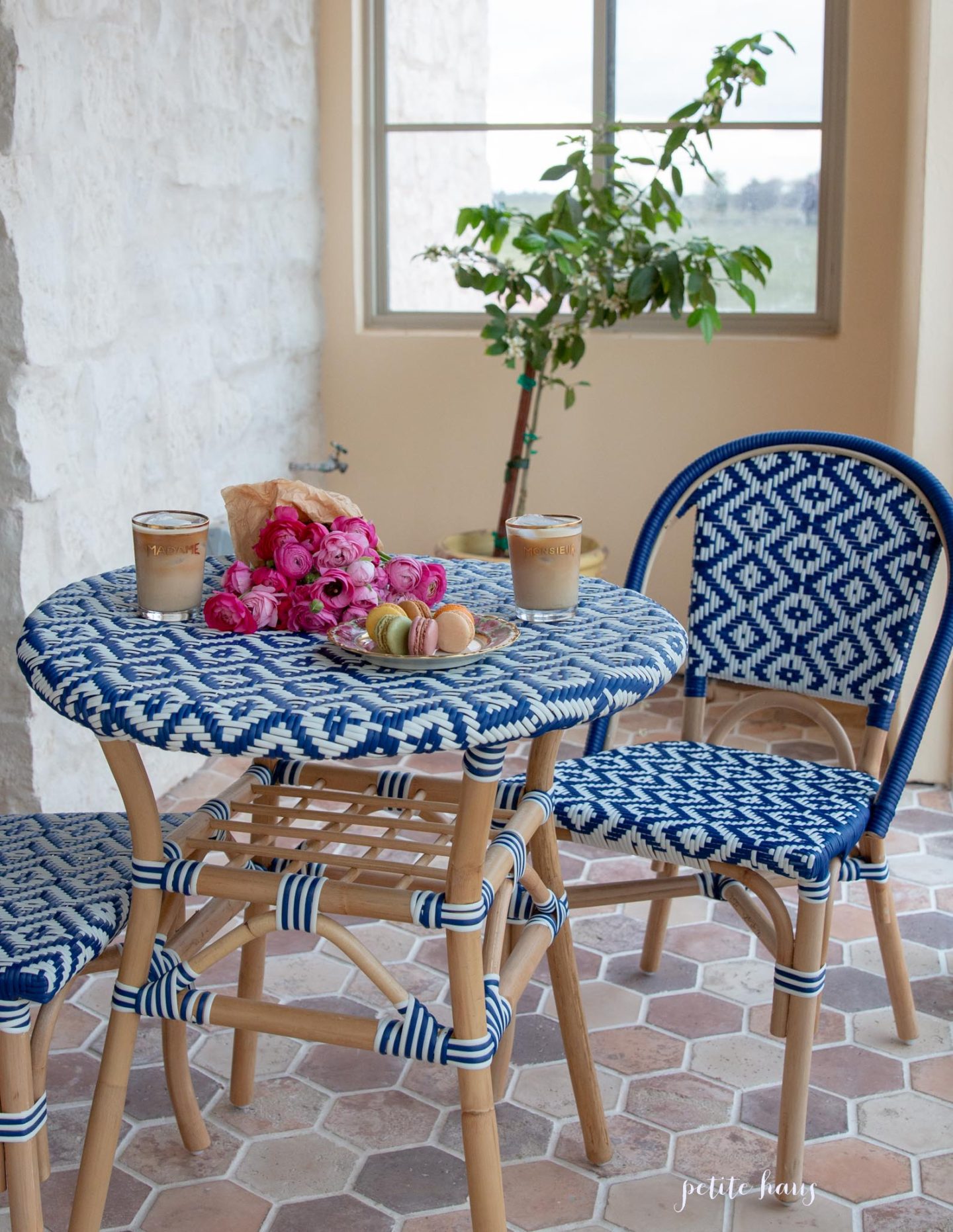 My friend Angelina of Petite Haus just shared her new French Bistro Chairs and they look gorgeous on her patio!
DIY Outdoor Furniture
Even with small budget, you can still have some gorgeous garden furniture. If you are particularly creative and have a few pallets lying around, you could even build your own garden furniture.
Shanty2Chic
Working on this post definitely has gotten me excited for picnic weather! It also got me thinking about upcoming summer junkin' days when I will be keeping my eyes out for vintage picnic junk!
For more ideas on designing outdoor entertaining areas, check out Inspiring Ideas For Creating Beautiful Outdoor Entertaining Areas:
Which style of outdoor furniture is your favorite? Let's talk outdoor decor!
Thanks for visiting!
Amber
Target Mayhew 6 Piece All Weather Wicker Dining Set Threshold




Sharing at: