Hello friends and welcome back for another post in my Pin Away Wednesdays series! Today I am sharing highlights from my Serving Up Fall Tablescapes Pinterest board. Thanksgiving Day is just over a month away, so it's time to start gathering ideas for beautiful fall table settings. I love fall tablescapes and Thanksgiving is my favorite holiday, so it was hard to narrow down my favorite pins for today's post but I have chosen several that I think you will enjoy. If you are looking for fall and Thanksgiving tablescape ideas, get ready to pin away!
Al Fresco Fall Tablescapes
If you are lucky enough to enjoy beautiful fall weather, why not set a special outdoor fall tablescape? These beautiful tables are sure to inspire!
Soft and Subtle Farmhouse Fall Tablescapes
In recent years pumpkins in muted tones and hues have become favorites of fall decorating enthusiasts. Use white, pink, peach, or light green pumpkins and gourds to create a soft and serene fall tablescape.
Neutral Fall Tablescapes
Neutral fall tablescapes often incorporate white pumpkins and rustic and natural elements such as antlers, pine cones and acorns. White or ivory dishes look classic and elegant when combined with these rustic treasures.
Neutral and Rustic Fall Tablescape
Mad For Plaid Fall Tablescapes
When it comes to setting a classic fall table, why not go mad for plaid? My absolute favortie fall tablescapes incorporate plaid tablecloths, blankets, napkins, plates and chargers.
Unique Fall Tablescapes
While we often think or orange, brown and gold as traditional fall colors, a stroll in the woods, countryside, or garden during the fall will reveal a variety of other vibrant colors and jewel tones. Purple, burgundy, and dark green can be used to create stunning and unexpected tablescapes that showcase some of the lesser used colors of the season.
Bold and Colorful Thanksgiving Tablescape~Reinvented Collection
Traditional Fall Tablescapes
Traditional fall tablescapes often incorporate all of the fruits of the harvest, vivid fall colors, turkeys, pheasants, cornucopias, Indian corn, flower arrangements in autumnal tones, and any number of vintage or personal touches that reflect family holiday traditions.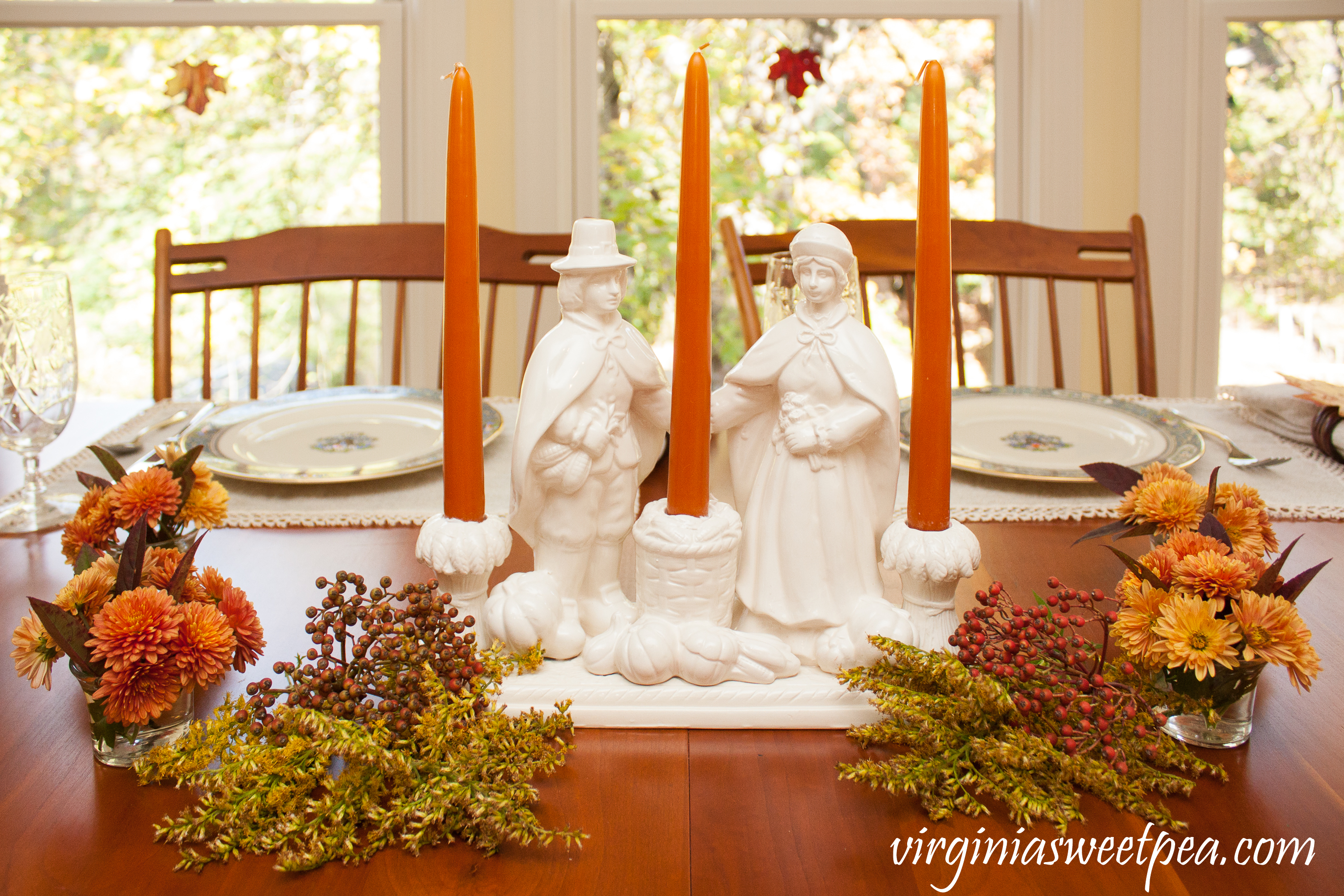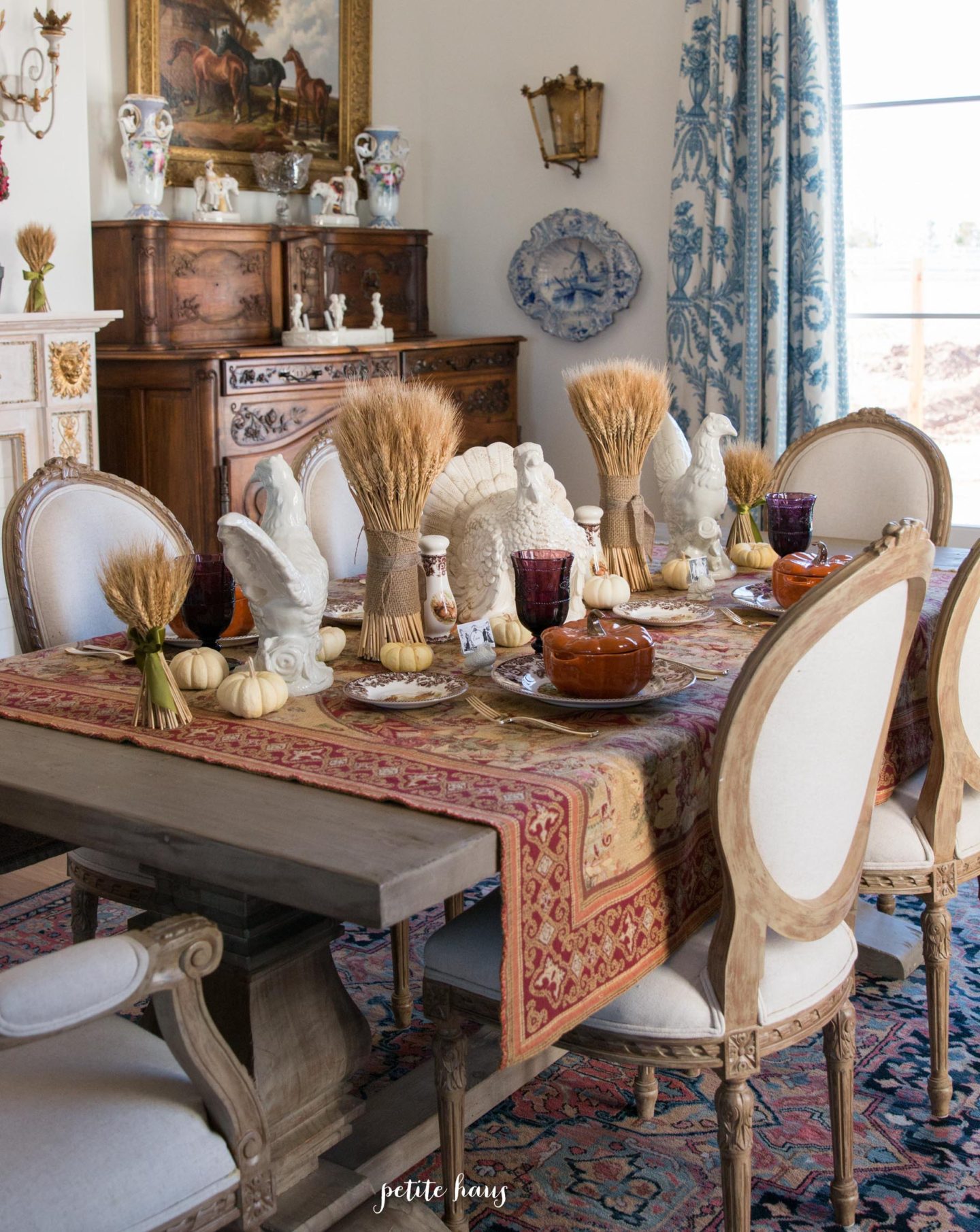 Traditional Thanksgiving Table Setting~ Petite Haus
Autumn Elegance Thanksgiving Tablescape
I hope you have enjoyed seeing all of these lovely fall tablescapes and that you have found some favorites here to pin away! There are many more beautiful fall tables to check out on my Serving Up Fall Tablescapes Pinterest board if you are like me and just can't get enough of all things fall!
Is your table already set for fall? Are you planning an entirely new tablescape for Thanksgiving? I love hearing from you, dear readers! Thanks for visiting today!
Amber
Sharing at these great link parties:
All About Home Thursday Favorite Things