DIY home security plays a vital role in letting you handle your security issues on your own with mobile alerts, live feeds, and smart home automation. However, the market is flooded with a sheer number of alternatives that can be overwhelming. For this reason, there are some things you need to look at when finding the best security and home alarm system. This includes affordability, comprehensive mobile notification, and professional, flexible monitoring. While the systems tend to be less costly than a professional installation, they still offer you the required devices to protect your home.
Safety.com points out that it's wise to invest in a wireless home alarm system as it offers numerous benefits. If you are looking for a little more security than the standard "Beware of Dog" sign can offer, here are some of the best DIY home security systems to consider. *This post contains affiliate links.
DIY Home Security Systems
Simplisafe
Simplisafe redesigned its kit with better functionality and a new look. Some of the new features include the WIFI connection and dual cellular to prevent the system from being disrupted by a power outage. Simplisafe provides equipment packages together with an alternative pick your preferred security tools.
SimpliSafe 12-Piece Home Security System with HD Camera & Smoke Detector
Each equipment package comes with a hub and keypad, but you can add sensors and cameras. The system is easy to set up and start using it since you don't need an app for installation. Additionally, you don't need to use software to pair the gadgets since it's a plug and play equipment.
One of the great benefits of this device is that it doesn't need a long contract. This means you can cancel any moment without being charged any fee. Simplisafe provides incredible flexibility with a 2-months free trial duration. You will get a refund if you are not satisfied during that period.
ADOBE
The Abode's starter kit comes with a gateway that serves as a hub, door and window detector, movement detector and key fob to guarantee access. The system is designed to work with various technologies like Z-wave, Zigbee and WIFI, supporting numerous third-party integrations comprising the gadgets you might have.
Adobe allows you to add as many sensor options as you and this system is the best for expansion and integrating with other gadgets. Additionally, it is compatible with Google Assistant and Alexa for voice commands.
ADT Starter Kit/ Samsung SmartThing
ADT collaborated with Samsung to build a home security platform that can be integrated with Samsung Smart Thing devices but mainly focused on ADT's growing DIY friendly security system. Therefore, the system is the best choice for homeowners who love the work that ADT has performed in home security.
The system features a large touchscreen, a movement sensor, and two windows/door sensors. The ADT system comes with detectors to detect various dangerous situations like water leaks, carbon monoxide. The Smart Things comes with gadgets that control lighting, thermostat and door locks.
Scout Alarm
With this system, you can decide to purchase a pre-built set or curated gadget or create your own. Has a cheaper package known as Scout Small pack that comes with one hub, door panel, a movement detector, two access sensors, and two key fobs.
Scout Alarm Home Security System Wireless & DIY – 24/7 Professional Monitoring – No Long Term Contracts – Works with Alexa – 5 Piece Kit –
The system can accommodate numerous security devices. For instance, you can beef up its effective security system with automation gadgets from third-party brands like Hue, Nest, and IFTTT.
Nest Secure
Nest home security system is a popular name in the home automation field. Nest secure is the latest to the brand's suite of smart home gadgets. Easy to incorporate with other nest devices, the Nest secure is an excellent choice for the homeowners who want to invest in a high-end and fully automated security system.
Note that most security systems need you to sign up for professional monitoring. The good thing about the Nest Secure is that it provided both DIY and professional supervision.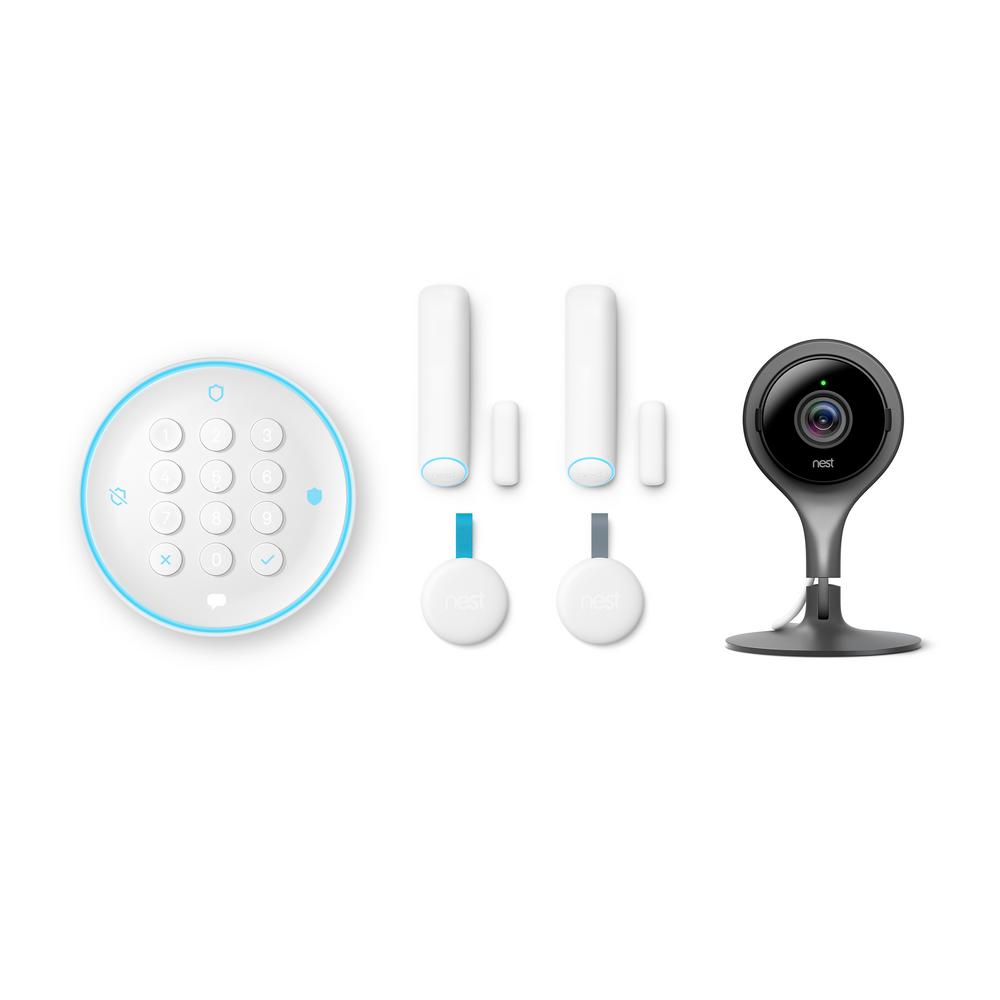 Note that most security systems need you to sign up for professional monitoring. The good thing about the Nest Secure is that it provided both DIY and professional supervision.
Canary
Canary is one of the best DIY security systems if you stay in an apartment or you need necessary protection. The system keeps home security simple, anchoring it to one unassuming feature-packed hub known as the canary view all in one. The hub features a 1080p streaming camera with top notch quality night vision, movement detector, 90-decided siren, and air quality detector.
CANARY View: Indoor Security Camera | Home Monitoring, WiFi, Wide-Angle Lens, Motion Alerts, Compatible with Alexa & Google Home
Once a canary senses a movement, you receive a notification on your smartphone that results in a live stream of your house to know what's happening.
OOMA
OOMA's DIY security system is priced in less-costly range. The system comes with a Telo hub and a movement detector. You are offered a free home monitoring for the motion sensor together with the capability to route a 911 call via your home phone.
Ooma Smart Home Security: Free Real-time DIY Monitoring, Audio alerts and Notifications to Unlimited recipients. Optional auto arm/Disarm, Remote 911 and More.
While the system doesn't let you add movement, leak and door detector to the home alarm system, it's a better fit for an apartment or smaller houses. There are instances whereby people need to disconnect their alarm system. Yet it is never recommended to disconnect alarm systems permanently. All properties need to have a level of security and protection in place. Nevertheless, alarm systems may need to be disconnected so that they can be removed for a new and improved one to be put into place. It's best to get a local electrician to help with this. The importance of being safe while working with electrical goods is something that cannot be stressed enough. You need to ensure that all potential power supplies have been shut off properly and also restored properly.
Conclusion
DIY security systems allow you to protect your home without the need of using the hard-wired system. As safewise.com illustrates, home security has numerous. For instance, you will have a chance to decide what gets into your home alarm system. So, this is the best time to go the do-it-yourself route.
Best of luck when in choosing and installing a DIY Home Security system. Be safe!