Hello everyone! I am back again for another post in my interior decor and styling series. As summer creeps closer and closer, the old kitchen countertops we have now will soon be a thing of thing of the past. The only problem is that I still haven't decided exactly what type of countertops to use, because I like so many different ones! While looking through Pinterest I found a lot of pretty French Country kitchens with a variety of countertops. While they all are beautiful, durability and price are big factors. For this post I decided to look into five popular countertop choices for French Country kitchens.
1. Marble
Marble is 100% natural stone. These countertops are stunning, but they are also considered "high maintenance,"  because they will require a sealant every few years. They also chip and stain easily. Even a few drops of wine or other acidic liquid can etch the surface, while a piece of metal jewelry can scratch the surface. With proper care however they will last and will definitely increase the property value of a home. Price: $100-150 per square foot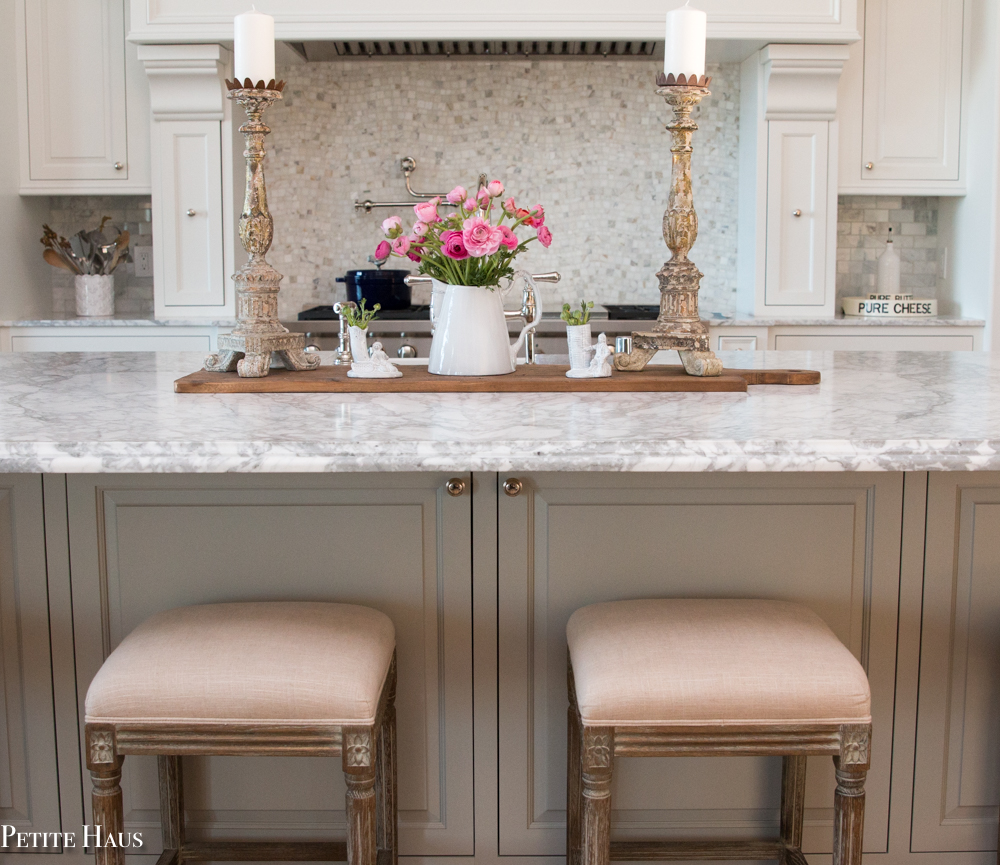 2. Slate
Slate countertops are very durable. Th non-porous surface makes them easy to clean and slate requires less maintenance than other natural countertop choices. Slate does not easily harbor bacteria which is great choice. $50-$65 per square foot for tile; $100+ per square foot for slab
3. Granite
Granite countertops are made from a naturally occurring composite of quartz, mica, and feldspar. They are durable, but they can also crack or chip if something is dropped on them, and it is very difficult to repair a chip. They also require a sealant every six months or so.  Price: $60 to $100 per square foot.
4. Butcher Block
Wood countertops give a beautiful warmth to the kitchen, but they are also high maintenance. They need to be resealed every six month to avoid mold and bacteria growth. Butcher block counters do not typically increase resale value because of the problems that come along with maintenance. however there are now gorgeous faux wood laminate countertops that can give a kitchen the same look with minimal upkeep. Price: $45 to $100 per square foot
4. Concrete
Natural concrete countertops are super popular thanks to Joanna Gaines, but they have to be custom poured and take time to cure. They are extremely durable, and cracks and chips can be easily fixed. Like other natural countertops, they will need to be resealed every few months. Price: $65 to $130 per square foot
When you're busy scrolling through Pinterest and looking for kitchen inspiration, you will likely find other options that suit your decor preferences. The infographic below will you a few more ideas too.

Infographic Design By Econ Granite
Today I shared five choices for French Country kitchens. Of course there are many other beautiful options for farmhouse and cottage kitchens too like corian, quartz, soapstone, and high end Formica.
Do you have a favorite countertop preference or experience with any of these materials? Let's talk countertops!
Have a great weekend!