Hey friends, just a quick post on this "farmhouse Friday" to let you know about eight great farmhouse Friday "steals" over at Decor Steals! Decor Steals has the cutest vintage style farmhouse decor that you won't find in local retail shops (and who really wants to shop retail during a pandemic anyway?) I have been looking for some unique decorative items at Decor Steals for my kitchen makeover and tonight I stumbled across some decor I am loving.
The first three deals I am sharing were just listed today, and the rest are cute decor pieces with limited quanities that all of you farmhouse lovers might enjoying checking out too. *This post contains affiliate links. All photos courtesy of Decor Steals.
1. Vintage Inspired Architectural Railing Sconce
Vintage Inspired Architectural Railing Sconce
The gorgeous architectural wall sconce is on sale! Each sconce is made from actual salvaged architectural railing. I have been eyeballing similar wall sconces for a few years.
This sconce is truly a steal at $84.99! I have seen similar electric wall sconces for nearly $500!
I am wondering if somehow I can work this lighting into my new kitchen makeover? I have to make a decision fast before they sell out! Hmm… decisions, decisions!
2. Chippy Wood Storage Hutch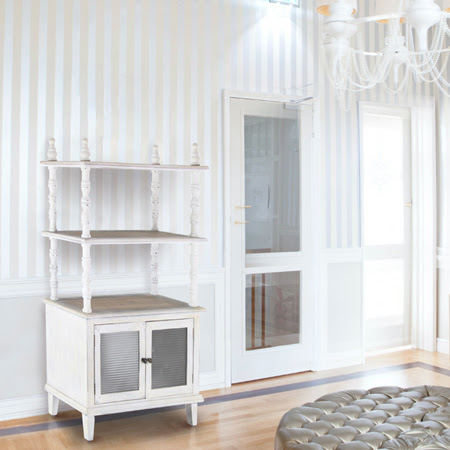 This distressed farmhouse style chippy wood storage hutch would be great in a kitchen, but I think could also use it in my craft room. As a kitchen piece, I would love the open shelves on the top which would be perfect for setting up a little coffee station and displaying my Rae Dunn pottery. If you are looking for the an adorable storage piece oozing with chippy farmhouse charm, head over to Decor Steals and steal it! The hutch is a new item at Decor Steals and it is already almost sold out!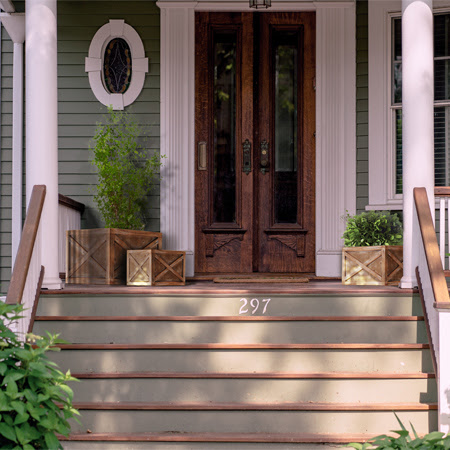 Distressed Barnwood Planters, Set of 3
I love this distressed set of 3 Barnwood Planters. I have always loved this style of planter, especially when topped by an elegant boxwood sphere. I think they would look great filled with mums or stacked with pumpkins for fall. They would also look awesome planted with small evergreen trees for Christmas and winter.
The planters also look like farmhouse style crates, so they would also work for indoor decorating and even for storage.
4. Cookhouse Towel Rack
I am also really loving this Cookhouse Towel Rack! I have a new blank wall space in our kitchen where we reconfigured some cabinets, and I think something like this would be perfect for filling the space.
Isn't this rack just oozing with vintage farmhouse charm? It's truly a steal at $29.99!
5. Rustic Magnolia Wreath
This Rustic Magnolia Wreath is the perfect shade of green for adding a pop of color to neutral farmhouse rooms, but it would also look beautiful in more traditionally decorated rooms.
A magnolia wreath is really beautiful as front door decor on any style of home and will work year round. A simple plaid bow or the addition of some berries would take this wreath from fall straight into the holidays.
6. Distressed White Metal Truck Planter
This Distressed White Metal Truck Planter is too cute! It just screams to be filled with mini-pumpkins for fall!
I would certainly replace the pumpkins with a bottle brush tree for the holidays. How fun!
7. Decorative Antique Style Scale
I would also have a lot of fun playing around with "measuring" my seasonal treasures or unique vintage junkin' finds on this Decorative Antique Scale.
8. Cups for
I just decorated finished decorating with lemons for late summer, so right now I would probably display some of my farm fresh peaches until they are all gobbled up!
8. Cups for Days Metal Rack
I would like try to find a spot in my "new kitchen" for this huge Cups for Days Metal Rack to display my surplus Rae Dunn mugs, cute farmhouse dishtowels, drying herb bundles, or small baskets.
These are just a few of the current farmhouse Friday deals at Decor Steals and some other "almost gone" items that I am loving. There are some additional farmhouse items with limited quanities that you might be interested in, so if you love farmhouse decor for a bargain, head over to Decor Steals to see if something catches your eye.
What do you think about these deals? Would you like to snatch up any of these great steals for your home? I love hearing from you dear readers!
Thanks for visiting today!
Amber
*Affiliate Disclosure: If you purchase a suggested item from Decor Steals , I may receive compensation at no additional cost to you. See my full affiliate disclosure policy for details
Sharing at these great link parties:
All About Home Thursday Favorite Things