Did someone say frames? Actually, my friend Cindy of County Road 407 did! She has organized a fun frames-themed blog hop today for our vintage Lifestyle of Love group!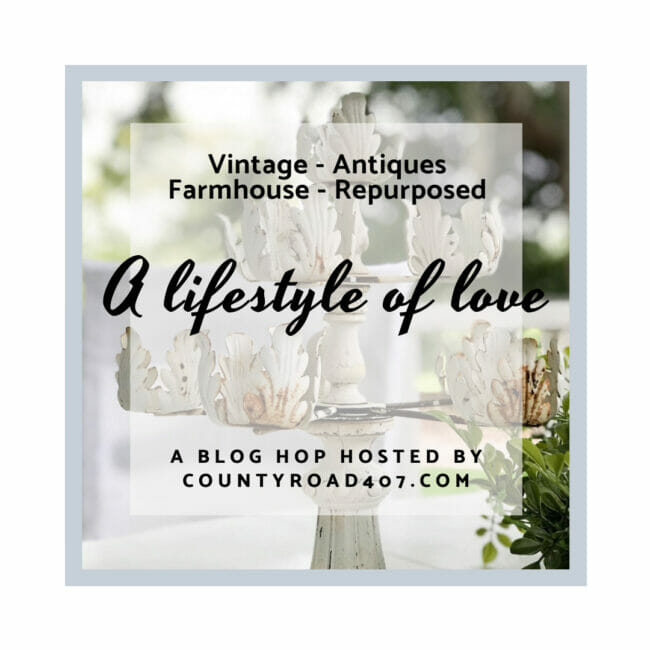 I am excited to be sharing some of my favorite antique and vintage frames that I have collected over the years. If you are coming over from Cindy's blog or if you just happened to be stopping by today, I am so happy you are here! Weren't Cindy's framed sugar sacks just the sweetest?
I recently thrifted this gorgeous antique frame, just in time to share for the hop! Very old frames with ornate details are my absolute favorites, and I can hardly ever pass them up if the price is right.
The details on this chunky frame are gorgeous! I had originally intended to paint it creamy white and just let some of the gold come through, but the more I look at it I am thinking I would rather keep the gold. Perhaps a dark glaze would bring out some of the details like on the beautiful gold antique frame and vintage mirror pictured below.
My music room is where I keep a lot of my brass, gold, shabby brocante, French and Victorian- cottage style treasures. I have several ornate frames around the room. Some are empty, some are old pictures or mirrors. Here you can see a reflection of the beautiful frames and mirrors on and above my piano.
I have quite a large collection of old pictures in beautiful antique frames (another post for another time!) This lovely lady with a dark green dress is a recent find. I use a lot of dark green in my Christmas decorating, so she is sure to turn up in my Christmas vignettes.
This thrifted vintage style pillow looks so pretty combined with the green velvet pillow, the picture with the lovely oval frame, and the frames on the wall. Since this chair is rarely used except when company is here or during the holidays, I can keep this little gathering on display until I start decorating for Christmas.
During the holidays I like to hang mini-wreaths on the frames tied up with pretty velvet ribbon.
No wall space? No problem! I often display frames and mirrors on decorative chairs, corralled in baskets , or layered on shelves if I can't find a spot to hang them.
This unique black and gold antique frame was an estate find from last summer. It eventually found a spot on the wall this summer in the music room, but that doesn't mean it will stay there forever. If you follow my blog you will see that I am always switching around my antique frames and vintage mirrors all through our home.
In my Summer Home Tour with Vintage Finds and Flowers I shared how I layered vintage and antique pictures of beautiful ladies in pretty frames on the piano.
When it comes t0 collecting antique and vintage frames, the more frames I can layer, the better!
I have amassed a collection of various frames with beautiful designs. Some I have painted to give them a shabby-chic or farmhouse look. Others are stunning in their original state, such as the ones pictured here in the Unique Vintage Fall Vignette using Thrifted Treasures that I shared last week.
I am loving these layers for fall!
I found this old frame on a late summer junkin' adventure. I just love the little painted roses and leaves. It matches the larger oval frame I used in the layered fall vignettes and a couple of other frames and mirrors in our living room.
Last fall I used a light and dark combo of frames in French Vignette Fall Vignette with Bittersweet, and I loved that look too.
This week I tweaked my unique vintage fall vignette just a bit to get ready for Turkey Day, but I kept the combination of layered frames and mirror the same.
I love that changing the combination of frames and mirrors creates a brand new look any time of year. Here is the dresser with vintage treasures as I was transitioning the dining room decor from late summer to early fall. The pretty floral painting is actually in one of those cheapy-plastic faux frames, but I still love it! Could you tell it was plastic? I almost forgot until I packed it away!'
The pretty floral painting is actually in one of those cheapy-plastic faux frames, but I still love it! Could you tell it was plastic? I almost forgot until I packed it away!'
I love that changing the combination of frames and mirrors creates a brand new look any time of year.
A French Inspired Vignette with Fresh Eucalyptus
Spring…
Upcycle Vintage Chair Spindles into Farmhouse American Flags
The amazing oval blue, gold and red vintage frame was a gift from my elderly neighbor. He and I share a love of antiques and I enjoy talking to him about collecting and junkin' finds. The frame is perfect for patriotic decorating.
I do actually have some of my vintage mirrors and frames hanging on walls around our home, and not just in chairs and baskets and every nook and cranny! The gallery wall up the staircase is one of my favorite spots to look at. I love how old frames add seem to add architectural interest to any space. They look so pretty during the holidays!
I also have a collection of frames and mirrors that I rotate in and out hanging above the little landing at the top of the stairs.
I just love old frames! I often think "outside the frame" for new ways to use them. At Christmas, vintage frames may turn up in unexpected places.
It's Simply Christmas! Embracing the Beauty of Elegant and Old World European Style Christmas
Well friends, I hope this post has inspired you to use picture frames and mirrors with beautiful frames in unique ways! You can often find them for just a few dollars at yard sales, consignment shops and thrift stores. I have several more in my collection, so if you would like to see them be sure to subscribe by email if you haven't already, as I am often sharing posts which feature my frames and mirrors. I already have some fun ideas for using frames in my Christmas decorating this year, so plan to stop back by often during the holidays!
Of course I had to find a way to use an old frame in my new kitchen! I used a shabby ivory and gold empty frame behind the stove to add a little visual interest. I just leaned it instead of hanging it so it can easily be removed when it's time to cook.
Now it's time to continue the inspiration over at Common Ground. I can't wait to see how Debra is using vintage frames in her Thanksgiving decorating! Don't forget to visit all the other fantastic bloggers on the hop via the links below.
Thanks for visiting today!
Amber
You are invited to the Inlinkz link party!
Sharing at these great link parties:
Tuesday Turnabout Charming Home and Gardens A Morning Cup Of Joe Snickerdoodle Sunday Best Of The Weekend Saturday Sparks Flaunt It Fridays Tuesdays At Our Home Vintage Charm You're The Star Happiness is Homemade Silver Pennies Sundays Create, Bake, Grow, Gather The Farmhouse Friday Link-Up Funtastic Fridays Fridays At The Fire Station Wonderful Wednesdays Waste Not Wednesday Keep In Touch Share Your Style Party in Your PJs Celebrate Your Story Inspire Me Tuesday Love Your Creativity Over The Moon Fabulous Party