Hello everyone! I hope you all are enjoying summer! After a month of the family being home on summer vacation and lots of lazy days, the house is looking a bit untidy and our floors are really in need of some TLC. It seem that no matter how clean everything else is, if the floor is dirty then the whole house looks messy!  I am in the mood to do some mid-summer cleaning, and I have been looking for ways to freshen up our floors a bit. I also have been thinking of replacing the kitchen floor, so I have been taking cleaning, care and maintenance of various floor styles into consideration while looking at options. Today I am sharing some basic cleaning and care tips for popular floor choices.  Whatever your flooring style, here are some basic floor care and maintenance tips to keep them looking their best.
Caring For Hardwood Floors
Caring For Hardwood Floors
Hardwood floors are beautiful – the organic feel of wood is a great way to bring a little of outdoors into your home. In winter they are warm, and wonderfully cool underfoot in summer. They do require some extra care to make sure that they always look their best. First things first, taking your shoes off in the house will keep floors from getting scratched. Also be sure not to scoot furniture across the floor without protective pads. Basic care of hardwood floors simply involves sweeping or vacuuming them on a weekly basis and mopping once a week or as needed. I have found that a very damp mop and with a bit of vinegar and water and a couple of drops of pine or lemon essential oil works well to clean my hardwood floors.
 Floor waxing and polishing can help to give it a protective coating, and it will keep shiny for longer. It is a bit like seasoning a cast iron pan ready for use. You can hire a professional floor cleaning company to come in to get the job done efficiently and quickly. Of course you can always DIY with many many non-toxic products to keep your hardwood floors looking clean and shiny too.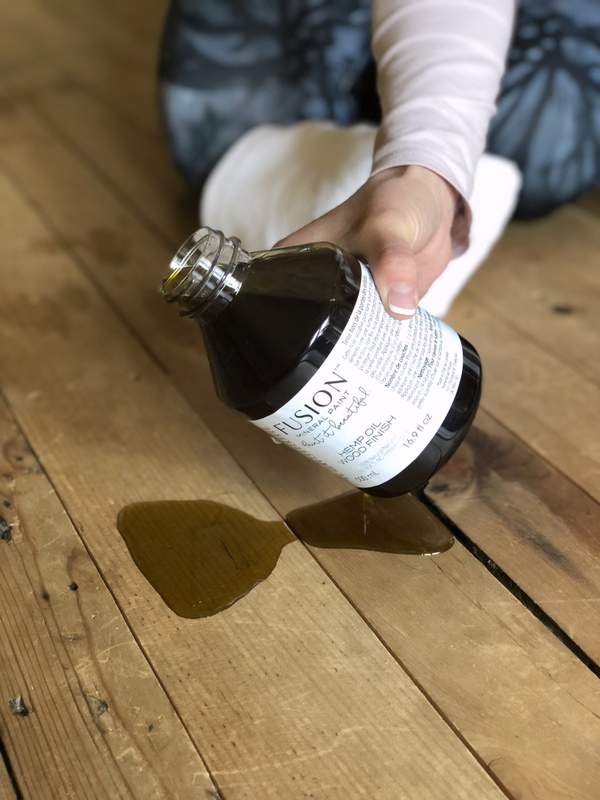 Linoleum and Vinyl
Linoleum and vinyl flooring is extremely easy to keep clean, and very versatile. I really love the realistic looking faux wood vinyl floor that is on the market these days. It is so easy to care for and perfect for a laundry room or mud room.
Caring for linoleum and vinyl is simple too. Sweep or vacuum the floor in order to get rid of any excess dust and dirt. Using hot and soapy water is the most ideal way to clean the floor if it a solid linoleum piece – you should definitely not use anything abrasive, as lino is a very soft material and can easily get permanent scratches and marks in it.  If you have used vinyl planks, you don't want to let a lot of water seep into the seams, so using a damp soapy mop or Swiffer style mop is best.
Adding some lemon juice to the water and soap mix will give your floor a lovely fresh scent. If you have any stains on the floor, mix half a cup of vinegar with a tablespoon of bicarbonate of soda – scrub this onto the stained area. It is a great all-natural stain remover, and not hazardous to pets and children.
If your linoleum is looking outdated and dirty even after cleaning, you can paint it a solid color or even create a high end designer look using a tile stencil. Today's hottest floor trends include patterened tiles for kitchens, bathrooms, and laundry areas.  Simply use a primer, a high quality chalk paint,  and polyurethane sealer or top coat. Painting and stencling my bathroom linoleum is on the agenda for early fall!
Cleaning Stone and Tile FLoors
Stone and floors are absolutely stunning but require a little bit extra care. When you are cleaning stone floors, make sure that you use a detergent cleaner, rather than a general floor cleaner – as these often contain acidic ingredients that can etch the stone. Use a ratio of 1:5 with warm water. If there is any ingrained dirt, then use a scrubbing brush to remove this.
Rinse the floors using clean water and a soft mop, then dry using a towel. Once your stone tiles are dry you will have to actually reseal them using a few drops of water on each tile. Sweep your floors regularly to keep them looking their best.
Flooring is one of the first things people notice upon entering a home, so it's important not to neglect them when trying create a beautiful and cozy living space. Today I have shared some tips for taking care of  wood, vinyl, linoleum, stone and tile flooring. If you have carpet,  you  can sweep regularly and give it a good DIY steam clean periodically, or hire a professional carpet cleaner to keep it looking it's best.Keeping all of the floors in each room of your home cleaned and well maintained will help them last longer, and beautiful floors will also add value to your home. Working on this post has gotten me excited about painting and stencling my bathroom floor, and I am also  wanting to try out the hemp oil to refreshen our hardwood floors a bit. I will be share all about my bathroom floor as the process unfolds.
Thanks for stopping by today!