Hello and welcome to the 124th All About Home Link Party! I hope everyone had a wonderful Christmas! I am still celebrating "the Holidays" through the New Year and extending Christmas with family parties this week. After all of the excitement and busy-ness of Christmas I am looking forward to some new non-holiday inspiration at the party that will carry over into the New Year. I can't wait to see what everyone shares here for our last party of 2021!
Debra and I love getting together each week to host this fun party, especially during the holidays! Before moving on to the features, here's what we've been up to:
No new posts to share this week as I took several days off from blogging to be present with my family. I did share my this pic on my Instastories of my favorite Christmas present this year, a Smeg coffee maker. I have wanted one for several years. I love it's vintage style, but my favorite feature is the "aroma boost" button! I have been drinking k-cups for a few years so it has been nice to smell a freshly brewed pot of coffee over the past couple of days. Makes it seem cozy, even if we don't have too much of a need for coziness with the 65 degree temps we have been having!
Okay, Christmas is over…time for new DIY's! On the 26th my husband got busy on the great bedroom swap (we are switching rooms with our teenage son) and putting in a dividing wall in our new room to create a master walk-in closet. My son was ready to update his pre-teen room and we realized we would be better off switching rooms. My son's current room pictured here has an odd l-shaped area behind the arch pictured here that will be perfect for a walk-in closet that my husband and I can share. I will be blogging about this whole process over the next several weeks.
After January I am "over" winter, but right now I am really pining for some snow. I would love to have a white New Year at least! I am not quite ready to part with all of my snowy decor just yet, so I have been thinking of ways to transition into winter. Here's a throwback of an older post full of beautiful Simple Christmas to Winter Decorating Ideas.
Wooden Christmas Star on the Potting Bench~Common Ground
Now it's time for some inspiring features from last week's party!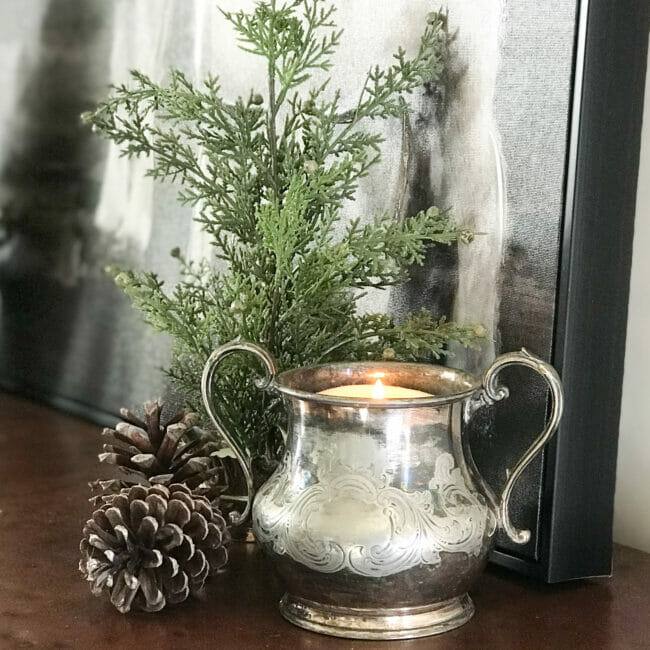 Transitioning from Christmas to Winter Decor~County Road 407
Cozy New Year's Day Tablescape~My Hubbard Home
As It Comes~Get Cottage
Thanks for visiting! Enjoy the party and have a very "Happy New Year!"
You are invited to the Inlinkz link party!