Happy fall everyone! Have you finished your fall decorating or are you just getting started? I have been transitioning to fall over the last few weeks in my decor, and I have had so much fun styling my new colorful pumpkins set from Antique Farmhouse. I have been moving them all over the house and no matter where I put them, they look great. *This is a sponsored post by Antique Farmhouse and contains affiliate links. All opinions are my own.
Colorful Pumpkins Harvest Set Of Six
When I realized I was going to be participating in the Fall Home Tours in early September before real pumpkins hit the local farmer's market, I started looking for some faux pumpkins and gourds to use in my early fall decor. Antique Farmhouse always has the most beautiful vintage style farmhouse decor, so I headed straight to their website. While browsing around, I fell in love with the Colorful Pumpkins Harvest Set of Six.
I was so excited when I received the pumpkins from Antique Farmhouse for review! I started decorating with them right away. First I scattered them on top of a bed of faux seeded eucalyptus in a long dough bowl on the large vintage buffet in our living room.
The pumpkins are perfect for the bright fall color scheme I am using this year.
I love all the shapes and colors of each pumpkin. They are slightly lumpy, bumpy and perfectly imperfect!
The pumpkins are a combination of off white, soft butter yellows, avacado green, slightly peach and orange. All of them have realistic color variations and even some faux rough, grungy spots which make them look as if they were picked straight from the patch.
I especially love the twisted stems.
I have had so much fun playing with these pumpkins and trying them out in different vignetttes. When displayed with the eucalyptus in the dough bowl, they have a French Country farmhouse look.
For the Thrifty Chicks September Challenge: Vintage Hardware, I added some old door knobs, door plates and keys to my dough bowl display for fun.  You can see more of my "Junk-N-Pumpkins Fall Dough Bowl Display" in my  Vintage Cottage Style Early Fall Home Tour.
In the kitchen the pumpkins look a little more country farmhouse when styled in with vintage farmhouse kitchen wares.
These little pumpkins are just so versatile. They look great when displayed together, but I also love placing them singularly in different vignettes.
The little green pumpkin is my favorite!
I really love this Colorful Pumpkins set! Even though I have purchased several other small faux pumpkins elsewhere, these are definitely my favorite due to their unique shapes, hues, and textures. The colors are perfect for early fall through Thanksgiving. I know I will get years of enjoyment out of them.
Colorful Pumpkins Harvest Set Of Six
I absolutely love all the decor at Antique Farmhouse! In addition to the Colorful Pumpkins Harvest Set of Six, I am also really crazy about the Kentucky Field Pumpkin Collection Set of Five  and French Pumpkin Collection Set Of Six. Those lumpy shapes and colors are so fun!
Kentucky Field Pumpkin Set of Five
French Pumpkin Collection Set of Six
I am also thinking a set of four wrapped potted artificial herbs would be great for my Thanksgiving kitchen vignettes. Of course these herbs would be perfect decor in the kitchen year round too.
There are just so many beautiful decorative items at Antique Farmhouse! You might want to check out the awesome current sales in the  Botanicals of Autumn and Harvest Supper Collection. Items do sell out fast so if you see something you love, don't hesitate! If a desired product is sold out, you can always check with Antique Farmhouse about availability. They sometimes restock popular items too.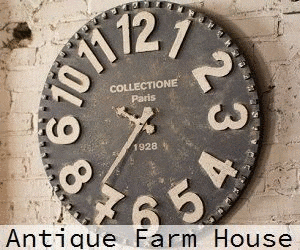 I hope you have enjoyed taking a look at these adorable colorful pumpkins from Antique Farmhouse. Which ones are your favorites? I love hearing from you dear readers!
Thanks so much for visiting today dear friends! Happy fall decorating!
Reader Tip Tuesday A Morning Cup Of Joe Sweet Inspiration The Blogger's Pit Stop Snickerdoodle Sunday Best Of The Weekend Saturday Sparks Flaunt It FridaysTuesdays At Our Home Reader Tip Tuesday Vintage Charm Wow Us Wednesdays The Scoop Make It Pretty Monday You're The Star Happiness is Homemade Silver Pennies Sundays Feathered Nest Friday Friday Features Flaunt It Fridays Home Matters Best Of The Weekend Pink Saturday Saturday Sparks Create, Bake, Grow, Gather The Farmhouse Friday Link-Up The Charm Of Home Funtastic Fridays Fridays At The Fire Station Wonderful Wednesdays Waste Not Wednesday Creative Inspirations Keep In Touch Style Showcase  Thursday Favorite Things Share Your Cup Inspire Me Monday  Busy Monday Make Life Pretty Monday Project Inspired Link Party  Celebrate Your Story  Tuesdays at Our Home Reader Tip Tuesday   The Scoop A Stroll Thru Life  Amaze Me Monday   Dishing it Digging It Creative Inspiration Party Sundays At Home Pretty Pintastic Pin Party Friday Feature Creative Inspirations DIY Show Off Sundays At Home Grace At Home