Good morning! Did you get a good night's sleep? I unfortunately did not! I believe it is time for a new bed and mattress! There are many different home improvement projects going on around here, but our bedroom has taken a back seat.  I have been waiting to find a beautiful bed before getting started but I just haven't decided on a style. Today I will be sharing some classic bed styles for inspiration and tips for purchasing the right mattress.
No matter which bed style we ultimately choose,it is more important to consider the mattress when choosing a bed. The wrong bed and mattress can really affect the spine and neck leading to serious health problems. *This post contains affiliate links.
There are a huge range of styles of beds on the market from platform beds to ornate canopy beds, and it's easy to be drawn to one type of bed for aesthetic reasons, but the quality of your sleep is of utmost importance. If you are looking to purchase a new bed and really love a particular style shown here today, remember that not all types of mattresses will work exclusively in all bed frames. As we explore five classic bed styles today, take note of the mattresses as well, especially if you are considering purchasing a new bed and mattress in the near future.
Five Classic Bed Styles
1. Traditional Four Poster
Four Poster (Canopy)
Royale Home Canopy Scarf Bed, White Sheer
2. Panel Bed
3. Platform Bed
Modern Studio Platform Bed At Target
4. Metal  or Wrought Iron Bed
Tilden Standard Metal Bed At Target
Corsican Wrought Iron Bed, Queen
5. Sleigh Bed
I hope you have enjoyed exploring these five classic bed styles today! Remember that no matter which classic bed frame style you may have, the most important thing to consider is your peaceful and restorative sleep. Even the perfect bed can be rendered unbearable by the wrong mattress.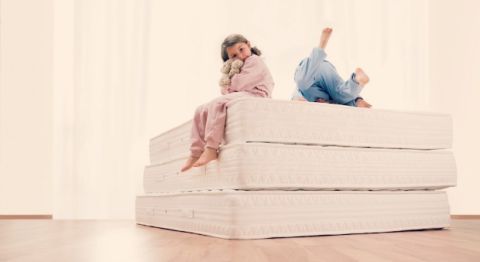 Spring it the time of year when so many of us get the nesting instinct to make our "nests" as comfy and beautiful as possible. There are many home improvement and DIY projects planned for spring summer around here, but my back is telling me that the bedroom may have to move up on the list! We purchased a new mattress in the fall, but it is just not working for me. If you have a great mattress to recommend, I would love to hear from you!
Amber