Happy Monday and welcome to the 189th All About Home Link Party! I hope your week is off to a great start! This weekend was crazy with extreme winds causing damage to our roof (easily repaired), losing electricity for two days AND all of our groceries, and continuing "The great hardwood floor fiasco" at our new house, as my husband had to rent the sander and re-sand 3/4 of the house for third time in a month! The color we used on a sample section of flooring turned out looking too dark and orangy for our tastes and we just couldn't use that color. So, we are back to where we were last week still hoping to find a way to keep our red our floors looking natural without turning pink and red. I am sure we will figure something out! Enough of that negative stuff…now on to this fun party with so much positive spring inspo! I am so glad you are here to celebrate spring's arrival and to joinin all the fun.
As much as Debra and I love all things spring and neither of us can wait until spring weather is here to stay! Here's what we have been up to:
As mentioned above, the weeknd was spent at the new house dealing with the hardwood foors, missing roof shingles from the storm and also finishing up the front door makeover we started last November. I am so excited with how it is looking and I can't wait to show you the makeover soon!
I haven't been very well since winter with autoimmune issues, and with moving coming up I haven't really decorated for spring or Easter. Still, I have been enjoying daffodils, tulips and pansies outdoors and perusing Pinterest for all the spring inspiration. Check out my Spring and Easter Joys post to see all the pretty spring things that bring me the most joy! I am sure they will bring you joy too!
Debra shared her beautiful Spring and Easter Hearth Room.
Now here are some springy features from last week's party!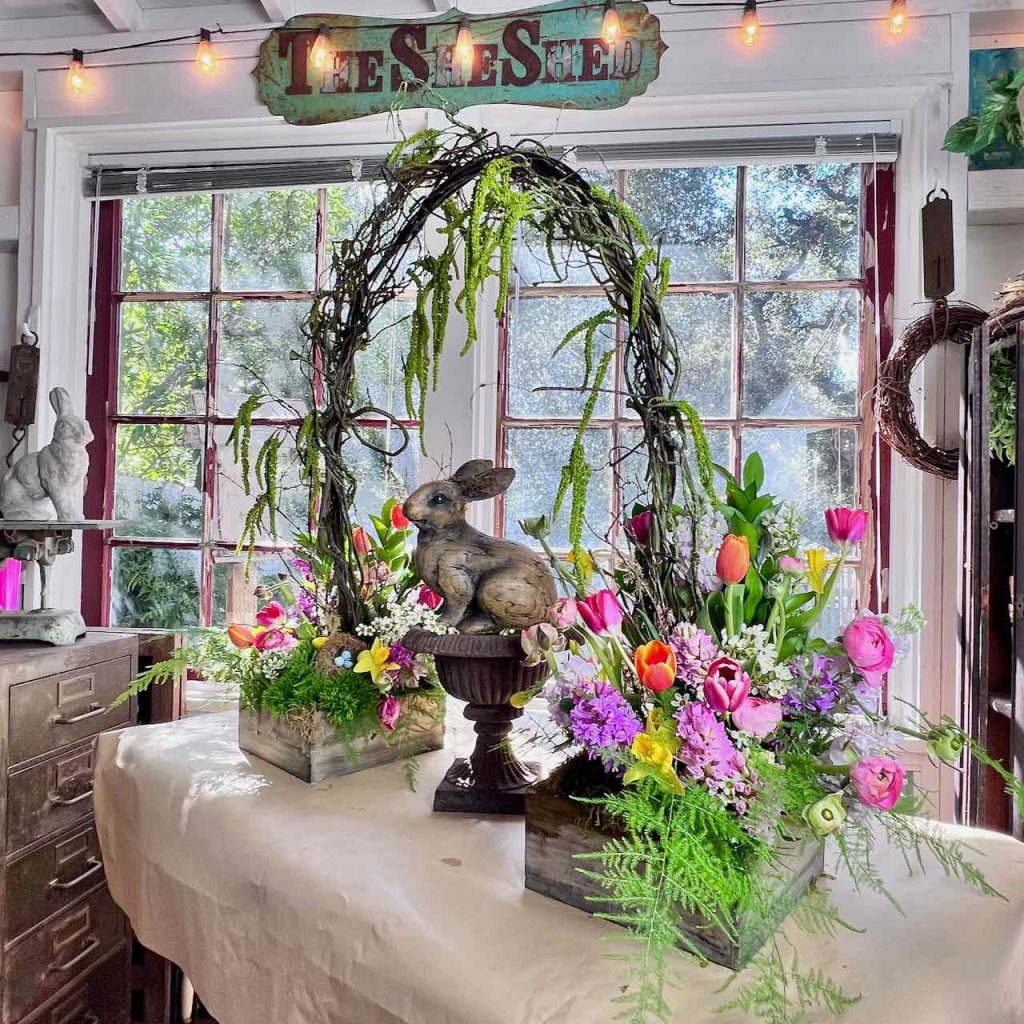 How to Make Charming Easter Flower Arrangements South House Designs
Easter Tiered Tray ~ Penny's Passion
Vintage Oil Lamp Base Repurposed Into Vase~ Penny's Vintage Home
Thanks for visiting, enjoy the party!
You are invited to the Inlinkz link party!