Hello everyone! It's a bright and sunshiny day and I am in such a mood to do some spring decorating and cleaning around here! Unfortunately I am just recovering from a horrid case of the flu with some autoimmune involvement which has been pretty rough going. I am not yet well enough to do any physical activity but I have so many ideas for spring decor!!! Luckily I have felt well enough over the past 24 hours to do some reading and a little blogging which has kept me from going stir crazy! To keep things on the bright side I am sharing some "Monday Musings" about 10 things I am loving right now.
1. All Things Jane Austen
Currently I am reading Sense and Sensibility and I am totally lost once more in Jane Austen's World! Last summer I read Pride and Prejudice which is now one of my all time favorite books.
While I was under the weather this week I binged watched the PBS series from the mid 1990's and you must allow me to tell you how ardently I admired and loved it!  I highly recommend it for anyone who loves period dramas with beautiful costumes and scenery.
2. Poldark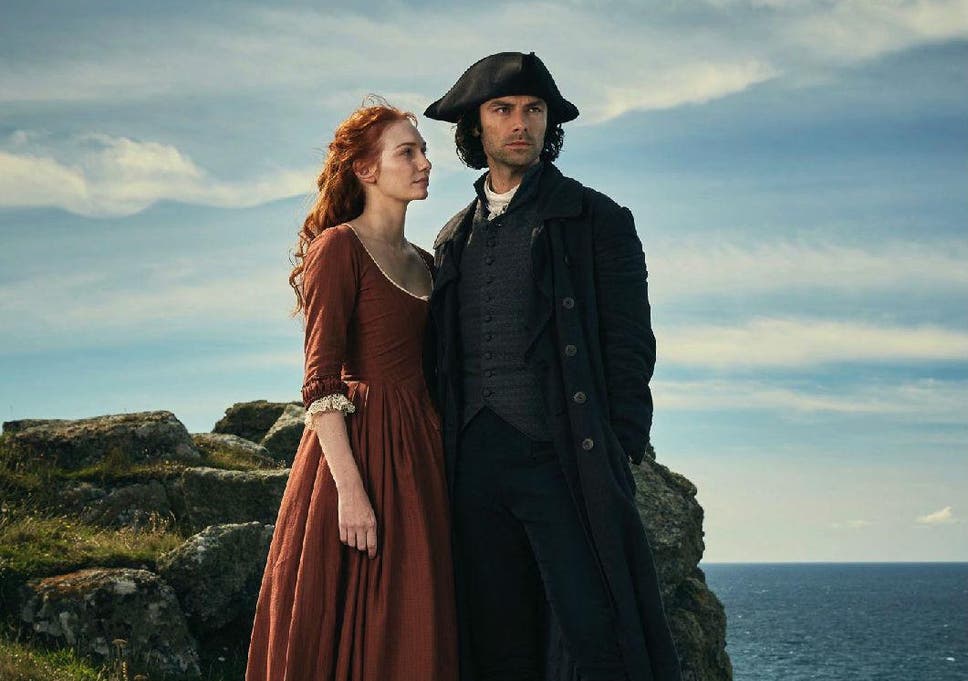 During the cold and dreary month of February I got lost in the late 18th century along the coast of Cornwall when I discovered Poldark. This PBS series is based on a set of novels written by Winston Graham in the 1940's. I immediately fell in love with the characters, costumes, scenery, plot lines and twists. Amazing!
For Valentine's Day my husband surprised me with the first two books in the series. They were so good that I finished them both in a matter of days. I am hoping to get the rest of the books for my birthday at the end of March!

Seasons 1-4 are available online and the final season is set to premiere in 2019. I can't wait for season five!
3. English Cottage/ English Country House Style
Perhaps it is the influence of reading both the Poldark books and Jane Austen at the same time, but I am just loving English cottage style right now. Actually I always gravitate toward this style in the spring as I want to see more flowers and pretty things around our home after a long winter.
I actually like looking back at some of my older decor books from the late 80's and early 90's when referencing this style. I find that English cottage style hasn't changed much, and that many of the design elements can be found in today's modern country and French country style homes too.
A room filled with lots of books, blue and white pottery, fresh flowers, various textiles and patterns, and of course a bit of leather creates a cozy, quintessential English cottage look.
Blue and White
Anything blue and white is on my radar right now. I haven't really used a lot of blue in the past but I have been drawn to it more and more over the last few years. I especially love blue transferware which has been kind of hard to come by on my junkin' adventures.
I am looking forward to trying out some new looks with blue accents for late spring and summer.
4. Decorating With Moss
March is less than a week away and soon I will be adding more green around the house. I think moss is wonderful for use in decorating year round, but it is especially appropriate for March when all the rain brings out all the moss again.
I love the organic and elegant look of moss spheres in urns or bowls. Moss topiaries are beautiful too.
5. Embroidery and Needlework
I love that embroidery is making a big come back. Years ago I used to enjoy cross-stitching, but I never tried embroidery. Recently I have seen some of the cutest little embroidery kits and I have been inspired to give it a shot. I think it is important to keep the handmade arts of yesterday alive.
I love the look of embroidered or crewel work pillows. Aren't they so beautiful?
6. Raspberry Sorbet and Smoothies
I love frozen raspberries! They have to be one of my favorite little snacks. I didn't discover how much I loved them until I was sick last year and I was on a very limited diet for quite some time. When I couldn't eat anything else, the cold, slightly tart raspberries were so refreshing, and as result I really developed a liking for them.
Having the flu has meant resorting to raspberries once again and I had almost forgotten how much I love them! For my smoothies I just blend up the berries with half of a banana and a little unsweetened, organic fruit juice.  Yummy!  When I am not sick I might use a little coconut milk or almond milk for a creamier texture.
7. Gnomes
I am not a real "trendy" decorator, so  I never would have guessed I would have fallen for Scandinavian gnomes when I first saw them on the shelves at Home Goods last year. It wasn't until I made my own that I really decided they are just too cute! DIY Gnomes are so easy to make and you can create different gnomes for almost any occasion.
8. Daffodils
Spring is making it's presence known as the daffodils are poking through the ground. Some friends have shared that their daffodils are starting to bloom. I can't wait to pick a fresh bouquet from our yard. It can't be more than two weeks!
For more beautiful images of daffodils, check out my post Dreaming of Daffodils: Early Spring Decor Inspiration.
9. Plantlife Soap
I have "a thing" for all natural  and handmade soaps and I am always trying out new kinds. For a few years I have been using Plantlife Aromatherapy Herbal Soap and I absolutely love it. I have bought several different scents and they all have been wonderful. I find mine for $3.99 at TJ Maxx or Marshalls but I will include some affiliate links at the end of this post if you are interested in trying them out.
I usually buy a few bars at time to keep stocked up. I store them in the linen closet at the top of the stairs and the whole hallway smells so good!
I am very sensitive to chemicals so I have to use all-natural bath and beauty products. The lavender Plantlife soap is one of my favorites.
From Plantlife:
Our soaps are made the old-fashioned way. They are hand-crafted using natural ingredients and include pure essential oils and organic botanicals. Known as Castile soap, our base is one of the gentlest and moisturizing of all soaps. We employ the "cold processing" method and do not add heat or chemicals to the soap pots. This process produces a bar full of natural glycerin, which is a by-product of the soap making process. Unlike most soaps on the market today, we do not remove this glycerin from our soap because it is a humectant, which helps attract moisture to the skin and can be gentle enough for even the driest and most sensitive of skin. Additionally, we do not add preservatives, colorants or fragrance oils to our products. Our soap is made with your skin's well-being in mind – no harmful synthetics, just pure ingredients from nature. From Ambrosia to Vanilla Orange, there is something for everyone. Try one of our wonderful 27 types today!
10. Biblical Prophecy 
Current world events have had my soul disturbed for quite some time and have led me into more in- depth study of Biblical prophecy and how it relates to current world events. It may seem strange to list this as one of the ten things I am loving, but I do love that the more I study God's word, the more I find it to be the only truth I can depend on in the midst of trials and turmoils. I love knowing God is in control. It is important to be aware of what is going on in the world around us, to have a spirit of discernment, and to stand firm on the Word of God.
Well friends, I hope you found something of interest of among the ten things I am loving right now.  Maybe this random bit of Monday Musings will become a regular series where I share something totally different each week depending on what I am thinking about.  I would love to hear your thoughts on the things I shared today. I bet some of you like many of the same things too!
Thank you so much for visiting today!
Amber