Hello everyone and Happy "Christmas in July!" It's hard to believe that summer is flying by, and before we know it Christmas decor will be everywhere! This year we sadly didn't get to take our annual beach vacation due to the pandemic, so I didn't get my fix of beautiful seashells and all things nautical.
Treasures of the Sea Beach Keepsakes and Mermaid Garden
Nevertheless, the beach has still been on my mind lately so I have been planning to share some kind of coastal-themed post. This week I also came up with the idea to host a fun "Christmas in July" link party to end the month. I wanted to create a special post that was still summer-ish, but also with a Christmas theme to share at the party. I decided to share this round-up of simple, chic and classy coastal Christmas decor that will be perfect for Christmas in July (and December too!)
My husband and I plan to retire near the coast or at least buy a vacation home near the beach, so I often think of ways that I will decorate my holiday beach cottage. Many of the commercial coastal Christmas decor isn't really my style. Instead, I like the idea of adding touches of natural and rustic coastal accents here and there among traditional Christmas decor, rather than going completely over the top with a beach Christmas theme. I think a beautiful evergreen wreath with a few shells, starfish, and tiny ornaments like the one above is perfect for a beach cottage Christmas welcome.
Au Naturel Coastal Christmas via Coastal Living
I love the idea of displaying large shells in a wire basket year round. The simple addition of pine branches and lights adds instant Christmas magic.
Miss Mustard Seed via HGTV
Even just a few sea stars adorning a gorgeous chandelier or lining a pretty mantel is a super simple way to create a chic and classy coastal Christmas look.
Beach Inspired Christmas Decor via BHG
I would love to sip tea by the fireside in a cozy Christmas cottage by the sea!
I love this coastal Christmas dough bowl centepiece filled with magnolia, pine, seashells, coral and pretty ornaments by Design Indulgence.
A rustic and natural DIY Oyster Shell Garland as a table runner is another very simple and elegant look for the holidays.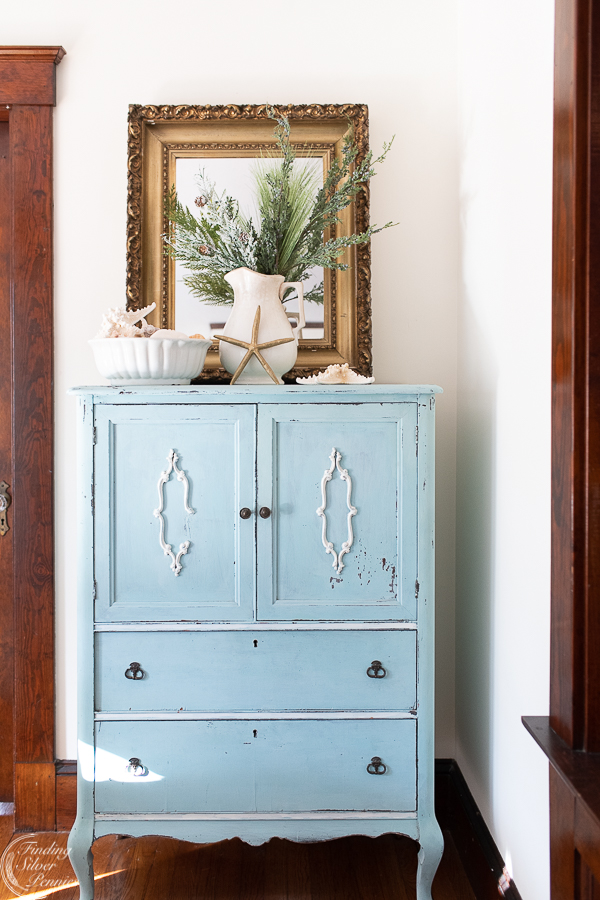 Danielle of Finding Silver Pennies decorates her coastal New England home year round with simple nautical touches mixed in with her everyday decor. Here she created a simple and elegant Christmas vignette by filling an ironsone pitcher with Christmas greenery and diplaying some of her seashells and starfish. Isn't that blue dresser dreamy too? Light blue is the perfect color for chic and classy Coastal Christmas decorating.
These neutral coastal Christmas stockings tied up with light blue ribbon and adorned with a starfish are just gorgeous.
I also love these simple blue and white painted clay coastal Christmas ornaments. Aren't they just so pretty?
Flocked trees look stunning when adorned with coastal ornaments.
Coastal White Christmas Family Room~Sand and Sisal
Light blue, teal, and white blend perfectly together in coastal Christmas decorating as they are reminiscent of the variations of the colors of the sea.
Coastal Christmas Mantelpiece~ Celebrate and Decorate
A little bit of traditional Christmas red looks beautiful with teal and blue in coastal Christmas decorating.
Beach Christmas Tree Decorations~ Beach Bliss Designs
Handmade Christmas ornaments like these adorable DIY Sailboat Ornaments make great Christmas gifts for any beach lover. We love sailboats, so I think these would be great on our no-theme, "anything goes"
family Christmas tree.
I love these Coastal Mod Podge DIY Christmas Ornaments too. I can definitely forsee making some Mod Podge ornaments for my future coastal Christmas tree.
I think those Mod Podge ornaments would be perfect on this blush, neutrals and soft blue Christmas tree. What a gorgeous color combination!
I just love this farmhousey-coastal Christmas tree skirt and beautiful gift wrapping! When I decorate our beach cottage I will certainly be mixing vintage cottage, farmhouse and coastal styles together, so this tree skirt would be perfect.
I hope you have enjoyed this round-up of simple, chic and classy coastal Christmas decor! If you are looking for tons of beautiful Christmas inspiration, be sure to swing back by for the "Christmas in July Link Party" on Friday, July 31st-Sun. Aug. 3rd to join in the fun and to find plenty of wonderful ideas to pin away for the holidays.
Have you ever decorated a coastal-themed Christmas tree or added some nautical touches to your cozy Christmas home? Which of these ideas shared here today do you like most? I love hearing from you, dear readers!
Thanks for visiting today!
Amber
Source