Hello dear friends! A year and a half ago my husband and I completed our cottage bedroom makeover and I love it!  There are still a few areas of the room that need some updating, so today I am revisiting an older post with some new photos of dreamy bedroom inspiration.*This post contains affiliate links.
Here is the original post:
Source
The bedroom should be a tranquil place, so I try to consider this aspect when putting ideas and design concepts together. I love rooms that incorporate calm colors and soft lighting and make the bed the focal point of the room. Of course  your bedroom is your sanctuary that you need to fill with the things you love!
Lush Decor 3 Piece Quilt Set, White
Choosing a style…the hard part!
We are just beginning our fourth year here, and our bedroom is really nothing to blog about! Actually, I do almost all of my blogging in the bedroom, so I would eventually love to create a space that I enjoy spending time in. I also want to design a room that will set the tone for sleep. My husband also enjoys winding down in the evenings by reading in a comfy corner wing back chair in our bedroom. While he is pretty tolerant of all my shabby chic, vintage cottage, and French country design preferences, (dollies, doilies and rosy patterned dishes all over the place) both of us would like to create a more masculine, or neutral, traditional cottage bedroom with a bit of cozy English, Scottish, or Kentucky equestrian style. 
I have always loved the idea of a big thick, comfy mattress layered in linens and tartan blankets like the one pictured above. Choosing the best mattress for our back issues is really more important than the decor, so that is something else on the agenda. Our mattress is relatively new, but I am not sure my back is liking it much. When we finally decide on a bed frame and new mattress, I hope to create a look like the one in the picture above, although I will probably need a cute little stool to get in and out of the bed easily! Buying a mattress is an important investment, so next time I will be sure to check out Kingsdown Mattress Reviews before purchasing.
Although I really think a masculine and traditional bedroom would be great for our home, I still find myself gravitating toward dreamy romantic cottage bedrooms. Perhaps we could have the best of both worlds. Just look at this amazing mix of masculine and feminine  tartan, florals and tweeds bedding by Ralph Lauren!
And another perfect mix…
Even if we do decide to go for a more masculine bedroom, I guess there is always the possibility of creating a shabby vintage guest room in the future, so I am indulging in pinning away some pretty, shabby chic and Frenchy farmhouse bedrooms (just in case)!
Here are some more dreamy, romantic cottage bedrooms for inspiration…
This light and airy, romantic French Country bedroom is quite the opposite from the traditional and masculine bedroom look, but I can't help but follow my shabby chic heart when it comes to decorating!
A bed frame can really give the bedroom character and can serve as a unifying element for the whole style of the room. Since we don't even have a headboard, I have been keeping an eye out for a beautiful frame or salvage pieces that we can use to upcycle or build a new piece from scratch. I actually have been eyeballing an antique wrought iron bed at a local antiques store that is similar to the bed  pictured above. It would need to be stripped and repainted for safety if we planned to use it for our actually bed (lead paint), but if I painted it black it could still work with the masculine and plaid or neutral bedroom theme. Then again, the old patina on the one shown here sure is beautiful with all the pretty pinks and romantic cottage touches!
Here is another gorgeous iron headboard in a neutral bedroom. Love it! I really think a neutral scheme might win out in the end. Neutral colors just seem to help everyone feel calm, and that is really important when it comes to a bedroom! It is also important to consider that a carefully placed spot or a more prominent light armature can transform the room completely.
The mix of dark wood and whites in this bedroom is lovely too. We have a lot of dark woodwork in our home, so this look could be a definite possibility.
Does anyone else have multiple personality decorating disorder??? I love all the English, masculine style bedrooms with tartans and Equestrian touches. Then again, here I am pinning away these beautiful and romantic English cottage bedrooms. I am quite a bit of an Anglophile, so I guess I love English cottage style in general. Or, I just like pretty things. Yep, that's it!
This is the third iron bed I pinned and I didn't realize it until working on this post. Maybe I should really consider that antique iron bed since I apparently love them so much!
Then again, take a look at this old wooden headboard… just gorgeous! I don't know what is more swoonworthy, the headboard or the lace bedskirt! DREAMY!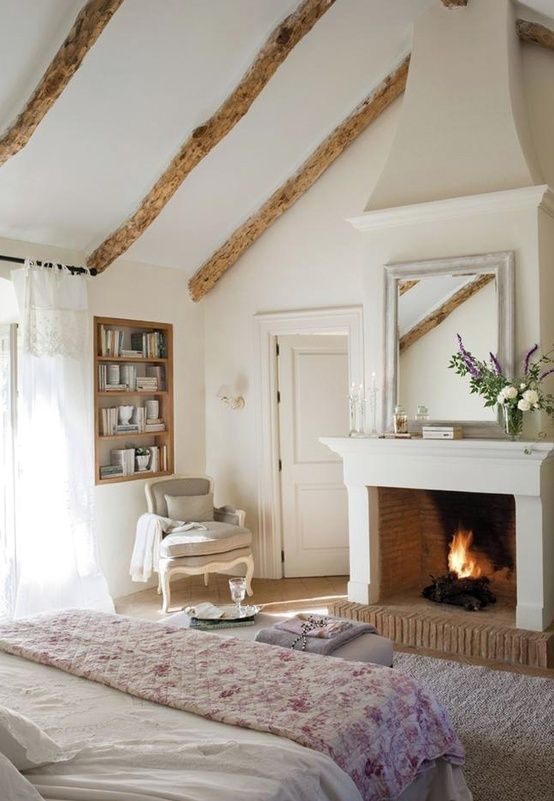 To me there is nothing more romantic and cozy than a fireplace in the bedroom. While there is no possible way to add a fireplace  (or a faux fireplace) to our bedroom, a girl can dream! And while I am dreaming, add a hefty dose of vintage goodness in! The bedroom below just has to be my favorite of my recent searches for dreamy bedroom inspiration!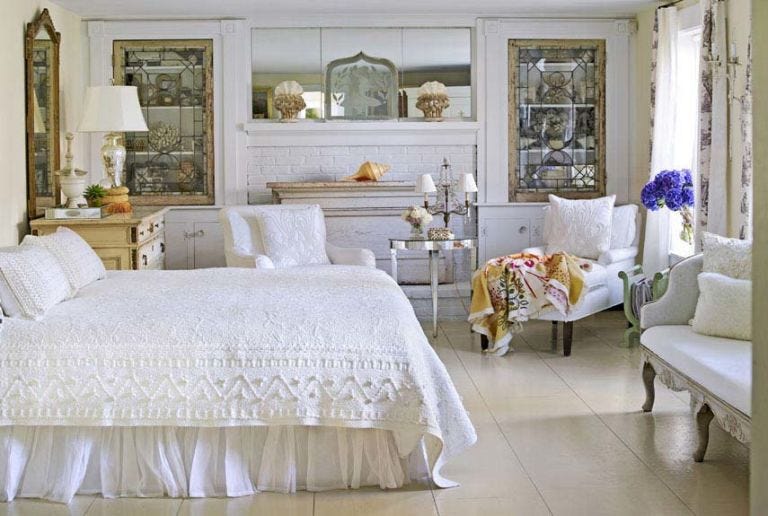 And with dreaming in mind, it's time to actually get a good night's sleep! Choosing the best mattress  for our back issues is really more important than the decor, so that is something else on the agenda.
I have a full day planned of deep spring cleaning and purging tomorrow which must be done before any real redecorating and renovating projects get started around here. Wish me luck though…the weather is supposed to be nice and the thrift stores are calling my name!  When it all comes down to it, the bedroom decor will probably evolve out of inspiration found in some special junkin' find such as an old painting or even the perfect vintage bed. Still, I HAVE to purge some excess junk! If you would like to be my spring de-hoarding cleaning accountability partner, leave a comment and we will come up with a game plan…one that indulges in a little spring junkin' too!
Sweet dreams!
Amber
Linking Up With:
The Fireman's Wife
Thursday Favorite Things